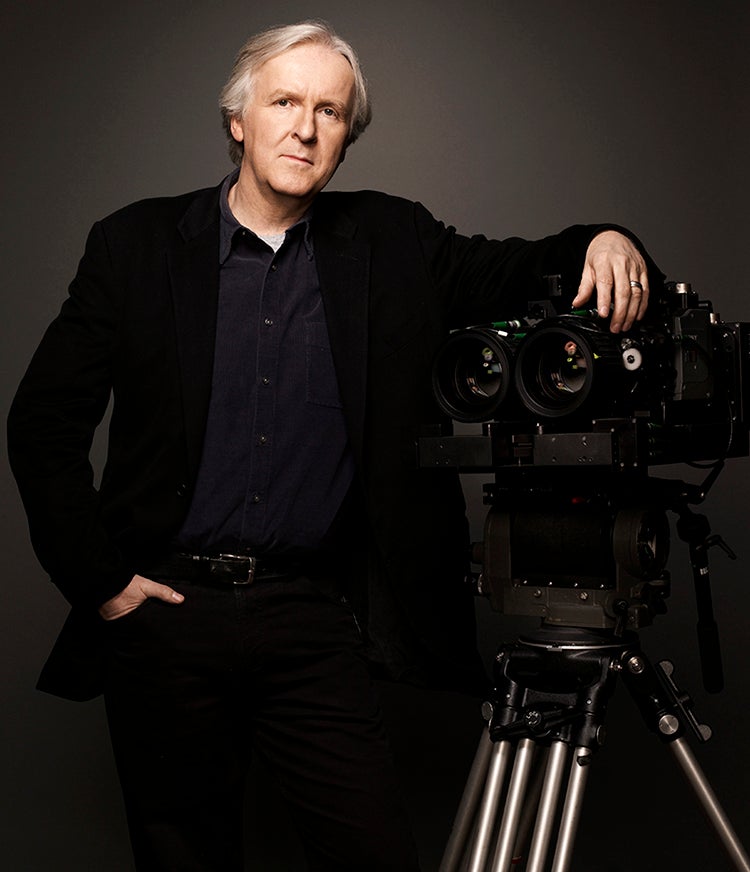 Director James Cameron
James Cameron, director of Titanic (1997) and Avatar (2009), became the first person to reach the bottom of the Mariana Trench in a one-man craft; a feat he accomplished on March 25, 2012. The Mariana Trench is the deepest known point on Earth, at 11 km (6.8 miles) below the ocean surface. The vehicle he piloted was the Deep Sea Challenger (DCV 1), designed and built by Acheron Project Pty Ltd in Sydney, Australia. He later famously commented: 'Hitting rock bottom never felt so good.'
Liz & Lawford in their younger days
Towards the end of his life, Peter Lawford had very few friends left. His drug and alcohol addictions had seen him prepared to do anything that would enable him to get a fix, however temporary. Liz Taylor was also in the grip of alcoholism by the end of 1983, but she decided to do something about it. Concerned for Peter's health (it was even worse than her own), she talked him into accompanying her to the Betty Ford Clinic in Rancho Mirage, a drug and booze rehabilitation clinic. He agreed but, unbeknown to her, promptly sold the story of her alcoholism to a supermarket tabloid for $15,000! While at the clinic he arranged for helicopters to meet him in the desert nearby to supply him with cocaine and vodka.  
Victor Buono as Edwin Flagg
Director Robert Aldrich wanted Peter Lawford for the supporting role of Edwin Flagg in Whatever Happened to Baby Jane (1962), the thriller that co-starred Bette Davis and Joan Crawford. Lawford gladly accepted what was a solid role in a promising picture, but immediately started having second thoughts that caused him to withdraw a couple of days later. Not only did he reach the conclusion that the role was too great a stretch for him, he also realized that, by playing the unsavoury character of Edwin Flagg, he would run the risk of embarrassing his in-laws, the Kennedys. He was still three years away from divorcing Pat Kennedy, sister of the late JFK. And Bobby Kennedy was still Attorney-General in the Lyndon Johnson presidency. The role went to oddball actor Victor Buono instead.
Evie Lynn Abbott & husband Van Johnson
Evie Lynn Abbott was a minor actress, once engaged to Tyrone Power, who married actor Keenan Wynn in 1938 and had two children by him before they divorced on January 25, 1947. Four hours later she married his good friend Van Johnson! That union lasted 21 years and produced one child until it, too, ended in divorce. Back in 1946-7, the Hollywood rumour mill suggested that British actor Peter Lawford was sexually involved with Evie, Van and Keenan, in a kind of ménage a quatre. When Evie wed Johnson, the most frequently asked question in Tinsel Town became, 'Who's going to get custody of Peter?' According to Evie, Peter was not sexually involved with Van and Keenan, but he did have an affair with her in the late forties. 'It wasn't an affair', she hastened to add, 'just a quick thing one night on a beach. We had a few mint julips or something and I got very relaxed, and the next thing I knew, pow!'
Bianca & Mick Jagger
Mick Jagger of the Rolling Stones met gorgeous Nicaraguan beauty Bianca Rose Moreno Perez de Macias, and married her in Saint Tropez, in May 1971. At the big party, afterwards, there was the usual orgies and wild carousing, resulting in police being called to restore calm. The marriage, too, would be a riotous one as Jagger continued to bed women whenever he felt like it. Bianca was also not above indulging herself in extra-marital romps. Before long she was intimately involved with American actor Ryan O'Neal. The marriage was, for all intents and purposes, over by 1974 and would officially end in 1979.
Marisa Berenson in Barry Lyndon
Berry Berenson & husband Tony Perkins
Marisa Berenson played the female lead opposite Ryan O'Neal in the 1975 costume drama Barry Lyndon. Her sister, Berry Berenson, was married to actor Anthony Perkins when she became one of the 87 victims aboard American Airlines Flight 11 when it was hijacked and flown into the North Tower of the World Trade Centre on September 11, 2001.
A scene from The Quick & the Dead shot in the Old Tucson Studios
The Quick & the Dead (1995) was one of the last movies filmed at the legendary Old Tucson Studios prior to the big fire of April 25, 1995. Much of 'Old Tucson' was destroyed, including rare 'behind the scenes' footage of John Wayne, as well as wardrobe artefacts from Little House on the Prairie (1974), and the saloon from the movie McLintock! What remained of the studio has since been rebuilt and is now open to the public but a considerable amount of irreplaceable movie history was lost.
In Michael Caine's second biography titled Blowing the Bloody Doors Off, he writes of his three year-old brother and he being evacuated to the country when the Blitz began flattening London. The family that six year-old Michael was sent to treated him abominably. 'Mine fed me one tin of pilchards on toast a day', he recalled, 'and kept me locked in a cupboard under the stairs when they went away for the weekends. My mother barged in and rescued me, covered with sores, as soon as the Germans stopped bombing the railway lines, but not before I'd developed lifelong claustrophobia and an absolute detestation of any cruelty to children.'
Michael Caine did not get a driver's license until he was fifty years old. The police officer behind the desk in Los Angeles outlined the procedure very clearly to him. 'The person who will perform your test is sitting outside in the car…He will give you instructions, you will listen and respond. There will be no personal remarks whatsoever.' Michael nodded, went outside and got into the car. 'I loved you in The Man Who Would Be King', the guy in the car said. 'You're going to have to be shit not to pass this test!' It sometimes pays to be famous.
The one and only Spencer Tracy
An important part of movie and television acting is the ability to find one's 'mark' and hit it in scene after scene. Michael Caine, for instance, has always worked his out beforehand, then sensed it with his peripheral vision. That was because he preferred not to look down searching for it, for to do so would mean the camera would 'lose his eyes'. Spencer Tracy, on the other hand, used a different approach. More often than not you will see him walk, look down, then speak. That was because he was always looking for his mark. His technique gave the impression that he was thinking about what he was about to say.