THE REBEL (1959-61) 76 EPISODES       
Johnny Yuma (played by Nick Adams) is a former Confederate soldier who roams through the West with a chip on his shoulder, yet always ready to defend settlers from marauding Indians, crooked land developers and evil ranchers. Oddly enough, this 'Son of the South' has not the slightest inkling of a Southern accent when he speaks, Adams preferring instead to maintain his rather pronounced New England accent throughout the series. The role of Johnny Yuma was originally written for Steve McQueen who turned it down, so Nick landed it by default. It made him a household name around the world. A good friend of pop singer Elvis Presley, he went in to bat for his pal to sing the theme song, but the producers opted for Johnny Cash instead.
An aspiring writer, Johnny Yuma keeps a journal of his exploits as he fights injustice wherever he encounters it. Most of the time he uses his revolver or his father's sawed-off double-barrelled shotgun. Guest stars in the 76 episodes represent a 'Who's Who' of early US television, featuring the likes of Michael Ansara of Broken Arrow fame, Dan Blocker of Bonanza, Robert Blake of Baretta, Frank DeKova of F Troop, James Drury of The Virginian, Agnes Moorehead of Bewitched, Leonard Nimoy of Star Trek, Jamie Farr of M.A.SH., Jeanette Nolan of Wagon Train, Ed Nelson of Peyton Place, Kenneth Tobey of Whirlybirds, William Demarest of My Three Sons, Mark Goddard of Johnny Ringo and Lost in Space, and Robert Vaughn of The Man from U.N.C.L.E. The list of fine character actors who graced episodes is even longer and equally distinguished, such was the popularity of the series.
Nick Adams was the heart and soul of the show. His death at thirty-six in 1968, (officially explained as 'a prescription overdose'), stirred speculation, as did his close friendships with both James Dean and Elvis Presley. Born the son of a Ukrainian coal miner in Northern Pennsylvania, Nick was eventually noticed in New York City by actor Jack Palance, (also the son of a Ukrainian coal miner from Northern Pennsylvania), who suggested he try acting for a living. Small parts in Mister Roberts and Rebel without a Cause (both in 1955), enabled him to befriend James Dean, Dennis Hopper and Sal Mineo, and to date Natalie Wood for a while. A year later he met and befriended Elvis. Adams even wrote a first-hand account of his friendship with Elvis in 1956, which he titled 'The Rebel and the King'. The manuscript was discovered by Adams' daughter 45 years later and published in 2012.
In 1963 he was nominated for a Supporting Actor Academy Award for his performance in Twilight of Honor. However, his best scenes were cut and he lost to Melvyn Douglas, despite personally spending $8,000 on campaigning ads in trade magazines. Back in 1959, Adams wed former child actress Carol Nugent who later presented him with two children. Rumours of his infidelities damaged the union, however, and by 1967 divorce proceedings were underway. They were still proceeding when, in February 1968, he was found dead in his upstairs bedroom. There has since been speculation that the young actor was intending to publish a 'tell-all' account of the sexual secrets of his Hollywood acquaintances and that he was silenced before he could do so, but no evidence has come to light to support that theory. His close friend, actor Robert Conrad, maintains to this day that Nick's death was accidental. Carol Adams was listed as 'spouse' on his death certificate.
For every account claiming that Nick Adams was either homosexual or bisexual, there is another that claims he was not. According to American Film (1986), not only was he gay, but he was also the butt of anti-gay humour on the set of the movie Pillow Talk (1959). Also in 1986, gossip writer Boze Hadleigh, in Conversations with my Elders, wrote of the following remarks made by actor Sal Mineo to him in 1972: 'I didn't hear it from Jimmy [James Dean], who was sort of awesome to me when we did 'Rebel', but Nick told me they had a big affair.' Nineteen years later [in 2005], Byron Raphael and Elvis biographer Alanna Nash wrote that 'Adams may have 'swung both ways', like his good pal (and Elvis' idol) James Dean. Tongues wagged that Elvis and Adams were getting it on.' On this last slice of gossip regarding intimacy between Nick and Elvis, the jury is still well and truly out, and will probably remain so.
Finally on this subject, a brief biographical article penned by journalist Bill Kelly, stated that Adams 'became James Dean's closest pal, although Nick was straight and Dean was bisexual.' Kelly added that there was absolutely no evidence, no documents nor personal letters from Adams, nor any directly attributable statements by any alleged male lovers, to support the assertions regarding his sexuality. And there the debate on the matter must surely rest.
REDIGO (1963) 15 EPISODES
Jim Redigo (played by Richard Egan) was the manager of the fictitious Garrett Ranch in 1960s New Mexico in an hour-long series, titled Empire, which aired for a season in 1962. Redigo is the truncated follow-up season. Jim is no longer the manager of the Garrett Ranch but operates a smaller spread nearby. Unfortunately, the episodes, were reduced to just thirty minutes each for Redigo and that decision proved fatal. This half-hour format made developing complex characters difficult and the series suffered because of it. It also lost out in the ratings to the immensely popular ABC sitcom McHales Navy that starred Ernest Borgnine and Tim Conway and aired at the same time on Tuesday evenings. It came as no surprise to anyone involved with Redigo when the series was discontinued after just fifteen weeks.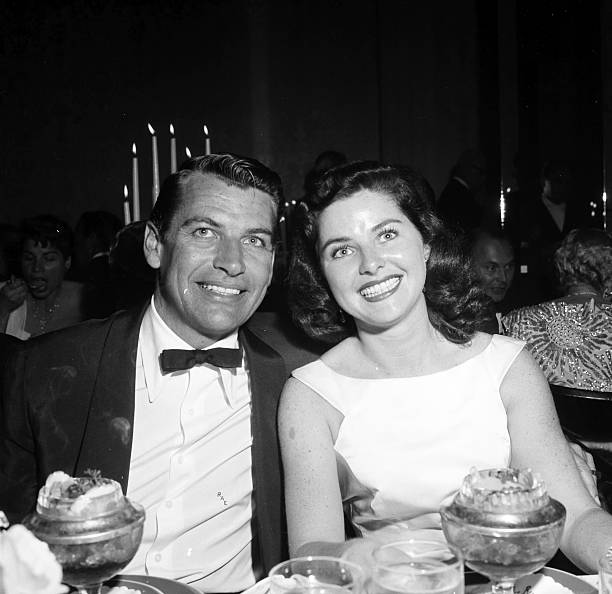 Egan & his wife Patricia Hardy
Egan was a much-respected actor who helped several young actors to enjoy long and fruitful careers, among them Ryan O'Neal. He worked out at the same gym as Egan who landed him credited work in four episodes of Empire. In 1958, Richard married 27 year-old actress (and triple beauty queen) Patricia Hardy who bore him five children over their thirty-year marriage. One of the original 'beefcake' stars, Richard brought a sense of order and integrity to his roles despite a somewhat wooden acting style. He was still happily wed to Patricia when prostate cancer took him at 65 in 1987.