MCLEOD'S DAUGHTERS (2001-09)       
This was one of Australia's all-time favourite and successful television series, as evidenced by its eight seasons consisting of 224 episodes, each of 45 minutes duration. The story revolved around five women running a cattle station, 'Drover's Run', in outback South Australia. Over its eight-season run several of its major players moved on and were replaced without, seemingly, affecting the show's popularity.
(L to R) Bridie Carter & Lisa Chappell
The first leading player to depart was Lisa Chappell, who portrayed the elder sister Claire McLeod. A native of Auckland, New Zealand, Lisa left after three years and 74 episodes, partly because she wished to focus on her singing career. Her first album 'When Then is Now' was released in May 2006. Her character was killed off in a jeep accident. Lisa had won Logies for her portrayal of Claire in 2002 and 2004. The role of Becky Howard, played by another Kiwi, Jessica Napier from Wellington, was written out of the series after appearing in 70 episodes, shortly before Lisa exited. Jessica's real life father, Marshall Napier, played the hard-boiled 'heavy', Harry Ryan, in 85 episodes before his character, too, was killed off in 2006. In the series the father and daughter actors were unrelated.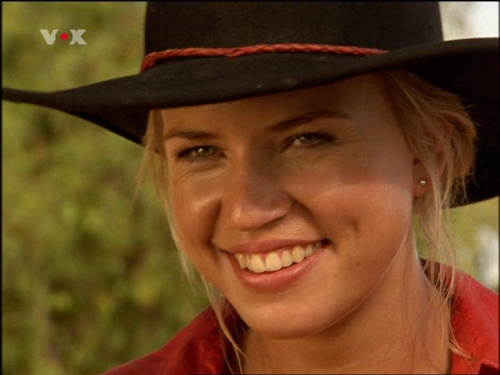 Jessica Napier as Becky Howard
Simmone Jade Mackinnon as Stevie 
In preparation for the demise of Claire, her schooldays friend Stevie, played by Simmone Jade Mackinnon, was introduced in episode fifty-nine. The stunning Simmone is an accomplished horsewoman who was born in Mount Isa, Queensland in 1973. In 1999 she landed the role of Allie Reese in 24 episodes of the Baywatch Hawaii series (1999-2001). When offered the role of Stevie, two years later, she took it upon herself to study the characters and their stories. 'In the couple of weeks before I started shooting', she recalled, 'I watched all fifty-eight episodes, from the beginning to what was on air at the time. I became a little obsessed with it and I thought, 'Oh no, I'm going to be like a stalker for the people that I am going to be working with.'
Simmone & former fiancee Jason Momoa
Simmone had met and fallen in love with Honolulu's top male model, the 6'4" (1.93m) Jason Momoa, who was also in Baywatch Hawaii. The couple were engaged to be married from June 2004 until December 2006. Their relationship probably ended when he met American actress Lisa Bonet (formerly Denise Huxtable on The Cosby Show of the 1980s), given that Jason and Lisa welcomed their first child in July 2007! A second child arrived in December 2008, although it was not until October 2017 that they finally tied the knot. Simmone has never married but has, herself, given birth to a son on her 37th birthday in March 2010.
Aaron Jeffery, Zoe Naylor & their children
The undisputed male lead in McLeod's Daughters was also a New Zealander, Aaron Jeffery. Aaron, too, began life in Auckland, although he moved to Australia at the age of seventeen. He graduated from the National Institute of Dramatic Art (NIDA) in 1993, but withdrew from the industry for two years after being harassed and eventually attacked by a stalker. Working as a station hand in outback New South Wales, he studied theology while he was away from the cameras. Seven years later he was lured back by the role of Alex Ryan in this series. His first marriage ended in divorce after two years in 2005. In 2010, he entered into a relationship with former 'McLeod's' star Zoe Naylor who hails from Sydney. She portrayed Regan McLeod in the show. In 2016, she gave birth to their second child.
Matt Passmore & Rachel Carpani
Also from Sydney is blonde beauty Rachael Carpani, the actress who plays Jodi Fountain McLeod in 179 episodes. In August 2020, she celebrated her fortieth birthday and is still single, although from 2006 until 2011 she was romantically involved off-screen with actor Matt Passmore. Fans of the series will recall him playing Marcus Turner, Alex's half-brother, in seasons seven and eight. (Oddly enough, he had also played a character named Greg Hope in a single earlier episode). Rachael studied ballet for ten years, is an avid surfer and passionate horsewoman. She also enjoys skiing and dirt bike racing.
Inge Hornstra as Sandra Kinsella
Bridie Carter, who portrayed Tess Silverman McLeod in 135 episodes between 2001 and 2006, graduated from NIDA in 1994 in the same graduating class as Netherlands-born actress Inge Hornstra. Inge most effectively portrayed the scheming, ruthless Sandra Kinsella in 49 episodes. Her character went on to wed Harry Ryan with tragic results. As a couple, Sandra and Harry were extremely easy for viewers to hate.
Marshall Napier as Harry Ryan
McLeod's Daughters was a soap opera with a rural setting, not unlike the Canadian series Heartland that commenced in 2007. Both are located on cattle farms (a ranch in Canada; a station in Australia), and both feature beautiful people of both genders, most of whom are excellent riders and permanently adorned with a cowboy hat. Maybe, the western is making a comeback – albeit in a modern day format. Several of the characters in each series are somewhat aggravating, but there are enough beautiful people to draw viewers in season after season. Then again, that is what 'soapies' do, I guess.
The series was filmed on location on a farm near Adelaide, South Australia that was purchased by the production company in 1999. All interior scenes at Drover's Run were filmed inside the farm's 150 year-old house known as 'Kingsford'. It had taken thirty years to construct and was not completed until 1856. The illusion was created that this was a 20,000 acre property when, in reality, it was a mini hobby farm heritage estate, (55 hectares of farming land), that ran working dogs, 15 horses, 100 cattle and about 150 sheep. The country town of 'Gungellan' is fictional and was portrayed by the actual town of Freeling situated about sixty kilometres north of Adelaide.
McLeod's Daughters became the third most watched television drama series in Australia in 2002 and was picked up by TVNZ in New Zealand where it became an instant hit with viewers. Many later fans of the series in both Australia and New Zealand may not have been aware that a highly rated tele-feature of the same name, but with a different cast, had been screened five years before the first episode of the series was broadcast in Australia.