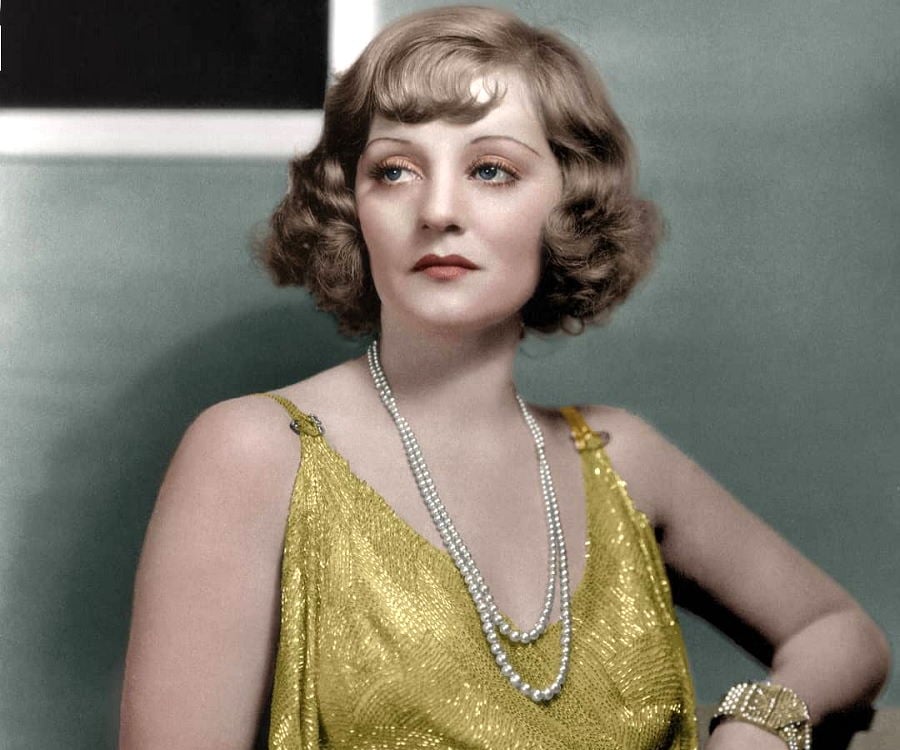 Tallulah Bankhead
The outrageous Tallulah Bankhead sent the Stork Club into an uproar one evening when she encountered director Otto Preminger and actress Marlene Dietrich there, and decided to have a little fun with them. 'Daaahlings, I haven't seen you in a long time', she gushed. 'Do you like my new breasts?' In an instant she unbuttoned her blouse and displayed her surgically enhanced bosom to an unimpressed Marlene and her considerably more impressed dinner companion. Incredulous diners nearby were equally stunned. 'I've just had them done. Aren't they marvellous?' the one and only Tallulah announced as she swayed to her table.
Juanita Hansen
Juanita Hansen's name has long since disappeared into the mists of Hollywood time, despite her once being on the top of the heap, Mack Sennett's favourite bathing beauty during the silent era of World War One. In fact, Sennett often billed her above the other girls in his films, a decision that caused enough friction to see Juanita leave his studio in 1918 and head to Universal Studio. Her huge $1500 a week salary fed her penchant for fast cars. Unfortunately, it also financed her mounting cocaine addiction. By 1923 she was washed up as an actress as her love of the white powder took hold. Five years later she had cleaned up her act and was signed to appear in a Broadway play, until an accident with some scalding-hot water resulted in her being given morphine to ease the pain. She quickly became addicted. Alternating between drug use and sobriety, Juanita attempted suicide with sleeping pills in 1941. For the remainder of her life she devoted her time to the Juanita Hansen Foundation, an institution set up to fight against drug addiction. She succumbed to a heart attack in 1961 at the age of 66.
Elizabeth Taylor in BUtterfield 8
Liz Taylor did not want to make the 1960 potboiler titled BUtterfield 8, but ultimately changed her mind once the studio (MGM) acceded to her various demands, particularly the one that cast her newly acquired husband, singer Eddie Fisher, in the plum role of the protagonist's platonic best friend. The film's title, incidentally, refers to the old-fashioned telephone exchanges in New York City. They used place names instead of numbers in those days, (for example, PEnnsylvania 6-5000 for 736-5000). Taylor's recent involvement in Hollywood's biggest scandal, her torrid affair with Fisher who was wed to 'America's sweetheart', actress Debbie Reynolds at the time, gave her the clout to demand just about anything from those who wished to capitalize on her notoriety. To cap off her good fortune, she picked up a Best Actress Oscar for her performance.
Dietrich & Gilbert
John Gilbert was a very big star of both silent films and 'talkies' in the twenties and early thirties, even starring opposite Greta Garbo in Queen Christina (1933) towards the end of his career. When his alcoholism ended his marriage to Ina Claire, it was Marlene Dietrich who took him in and dried him out. She set him up as her leading man in Desire (1936), but soon after successfully negotiating the screen test, he suffered a seizure and was replaced by Gary Cooper. Marlene soon replaced Gilbert in her bed also – with Cooper – and poor, heartbroken John cracked up and hit the bottle again. A heart attack finished him on January 10, 1936. At his funeral, Marlene fell down sobbing in the aisle and continued to weep copiously. Shortly afterwards, at the auction of the dead man's personal effects, she successfully bid for thirty of his bedsheets.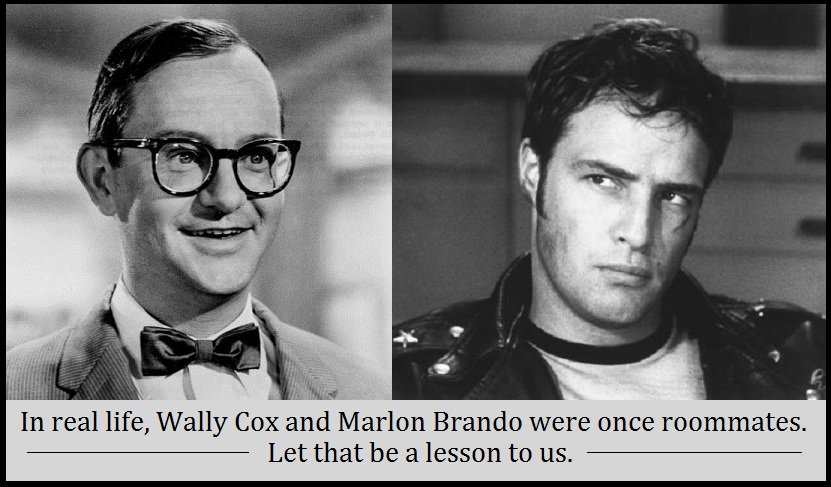 The iconic star of On the Waterfront (1954) and The Godfather (1972), Marlon Brando formed a strong friendship with his childhood pal, fellow actor Wally Cox. The two roomed together while Brando was getting his theatrical training in New York City. Wally starred in two TV series, (Mister Peepers (1952-5) and The Adventures of Hiram Holliday from 1956 to 1961), neither of which set the world on fire.
The two friends resided together until Wally suddenly moved out, reportedly because he could not stand his pal's pet raccoon! They were still fast friends when Wally suddenly died at 48. Newspapers wrote that he had suffered from an overdose but Brando steadfastly maintained it was a heart attack that took his buddy. Whatever the cause of death, Brando was shattered by Wally's unexpected demise. 'If Wally had been a woman', Brando later said, 'I would have married him and we would have lived happily ever after.'
According to his autobiography, there was not a day that went by when Brando did not think of Wally. So close did he feel to Cox, he even kept the pyjamas his friend was wearing when he died. He also took possession of Wally's ashes from his widow, promising to scatter them at sea. Instead, he kept them hidden in a closet at his house and, (according to his autobiography), frequently talked to Cox.  Following his own death in 2004, Brando's ashes were scattered at the same time as Wally's in Death Valley.
John Belushi
John Belushi made his movie debut, as a crazed Mexican deputy sheriff, in Jack Nicholson's rambling western comedy Goin' South (1978), a film in which the star and director (Nicholson) snorted cocaine at will throughout the shoot. Belushi himself was already out of control; a consumer of vast amounts of cocaine which he mixed with Quaaludes. By the time he made The Blues Brothers in 1980 he was a physical wreck, holed up in his caravan on location, in a stupor, amid pools of urine on the floor and a mound of the white powder on the table at his side. On the set his distraught wife Judy noted at least 25 regular users. A Universal Studios doctor told the film's producer that, in his opinion, the hopelessly addicted comedian had maybe two, possibly three, years left to him. He was snorting coke and mainlining heroin when he died on March 5, 1982 in Bungalow # 3 at Los Angeles's Chateau Marmont Hotel. He was 33. The last two stars to see him alive were Robert De Niro and Robin Williams, both of whom had visited shortly before his demise.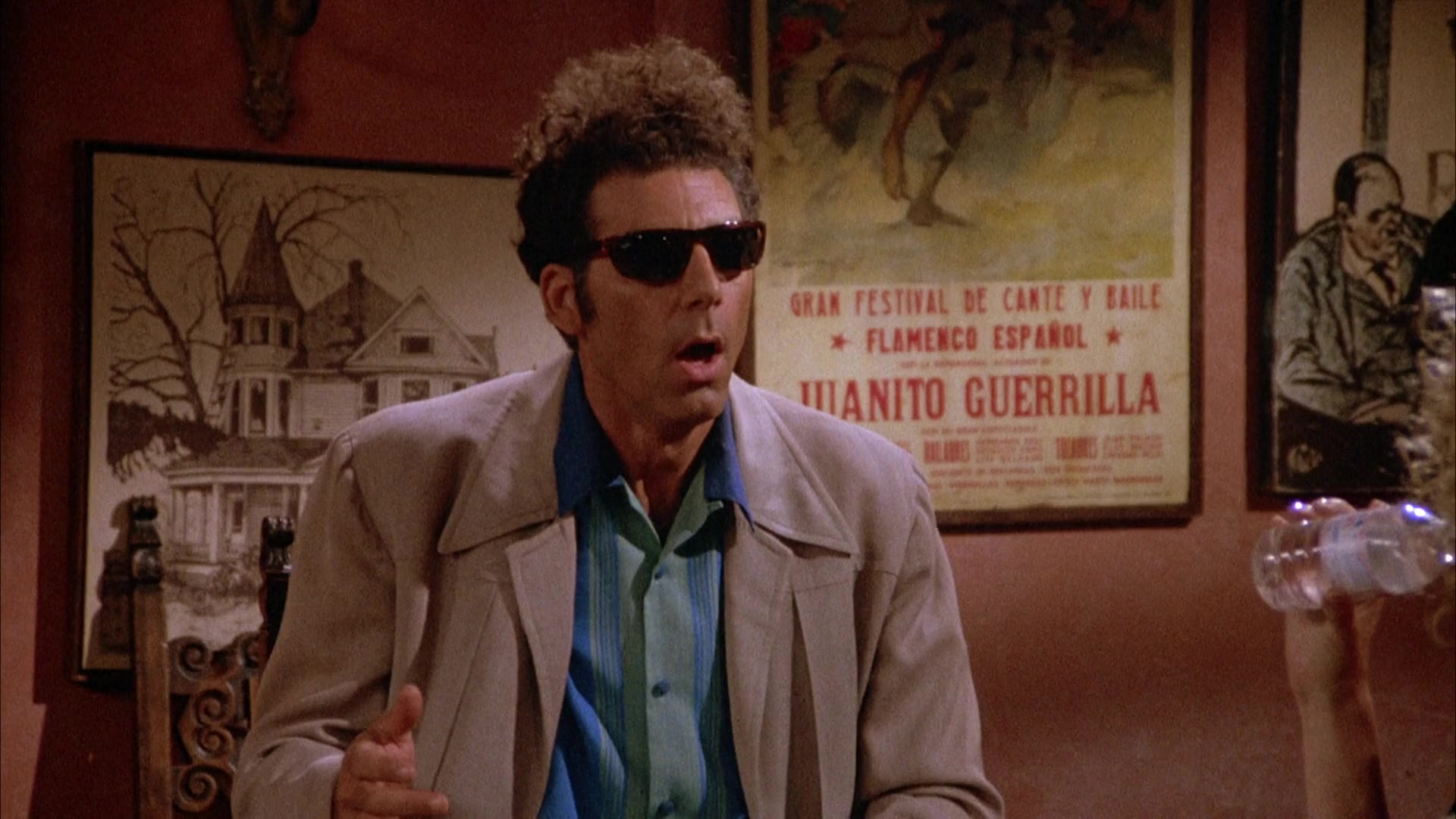 Michael Richards as Cosmo Kramer in Seinfeld
When Seinfeld's Michael Richards was performing his stand-up comedy routine in 2006, he became embroiled in a battle of wits with an audience member, during which he made a split-second decision that instantly destroyed his entertainment career. Responding to the heckler's criticisms, Richards indulged in several racial slurs that culminated in him demanding that the African-American customer be thrown out of the club. Richards' career, both in clubs and on TV, ended on the spot.