LITTLE HOUSE ON THE PRAIRIE (1974-83) 204 EPISODES                        
This long-running dramatic series was based (very loosely) on the books written by real life pioneer Laura Ingalls Wilder. She was born in 1867 and passed away in 1957. Her family settled on the banks of Plum Creek, not far from the small town of Walnut Grove, Minnesota. Mostly only key events and a few elementary facts survived the transition from book to screen. Her father, Charles Ingalls, was the community's first justice of the peace. The Laura Ingalls Wilder museum can be visited today in Walnut Grove; the TV series, however, was shot in California. It has been often argued that Laura's real life daughter, Rose Wilder Lane, was the ghost-writer of the 'prairie' books. After all, she was the established writer in the family. The story was indeed Laura's life but the entire series may well have been ghost-written by Rose.
Melissa Gilbert & Michael Landon
Melissa Gilbert (as Laura) and Michael Landon (as her father) were the principal players in the TV series. In her autobiography Prairie Tale, Melissa wrote of Landon's habit of smoking three to four packets of unfiltered cigarettes daily, suggesting this might well have contributed to him contracting pancreatic cancer at such a young age. He and crew members would consume a lot of alcohol on the set each day as well. 'He was always a hard worker and hard drinker', she wrote. He also cheated on all of his wives regularly. Cancer would claim him at the age of fifty-four in 1991.
In the late 1970s, the show moved from Paramount to MGM and it became necessary to tear up old MGM sets in order to build replicas of the 'prairie' sets that were left behind at Paramount. One of the sets uncovered in the process, much to the delight of Melissa and the other children on the set, was the famous 'yellow brick road' from 1939's The Wizard of Oz!
Dean Butler as Almanzo James Wilder & Melissa
Dean Butler played Almanzo James Wilder in 65 episodes, and in one of them he was required to give Laura (Melissa) her first kiss. Dean was in his mid-twenties, Melissa in her mid-teens, yet he was extremely nervous on the set that day. Everybody appeared to be chaperoning, a situation not helped by Melissa's real life mother, Barbara, continuously wailing, 'My baby!' over and over. In the end the distraught woman had to be consoled.
Melissa often spoke of her relationship with her on-screen father Landon. 'He was very much like a second father to me', she said. 'My own father passed away when I was eleven, so, without really officially announcing it, Michael really stepped in…I loved that man and I loved the way I always felt safe, crying with him. Now, granted, it was on film. But generally, I was crying about what was going on with me for real when I was with him. And he was always there to hold me. That's the only time I let that stuff out. So, he was there in most of these scenes, comforting me. It was sort of a father/daughter relationship in my eyes.'
THE LONE RANGER (1949-57) 221 EPISODES             
John Reid and five other Texas Rangers, one of them his brother, Dan, are ambushed by Butch Cavendish and his gang of outlaws and all are left for dead. However, John is found barely alive by a Native American named Tonto and is nursed back to health by him. He becomes 'The Lone Ranger' when he dons a black mask, made from his dead brother's vest, and vows vengeance against Cavendish. Tonto digs a sixth grave and places at its head a cross bearing the name John Reid, so that Cavendish will think all six rangers died in the ambush. The Lone Ranger rides a white horse named Silver and he and Tonto (aboard Scout) track down bad guys throughout the west. It helps a great deal that he owns a silver mine that enables the two men to eat and not have to earn a living. It also furnishes our hero with silver bullets!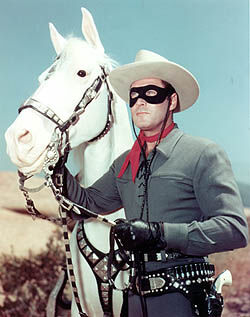 Clayton Moore & Silver
Throughout the radio and television programmes, The Lone Ranger could regularly be heard urging on his noble steed with the catch-cry – 'Hi-yo, Silver! Away!' Those he rescued from dastardly criminals were often heard to say as he and Tonto rode off into the sunset, 'Who was that masked man?' Even so, it was the theme music that captured the imagination of fans around the world. It has often been said that one can tell an intellectual from a non-intellectual, simply by playing that particular piece of music. An intellectual is someone who can hear Rossini's 'William Tell Overture' without thinking of The Lone Ranger!
Jay Silverheels when he was a lacrosse star
After meandering through numerous B- westerns, Clayton Moore was asked by producer George Trendle if he might be interested in playing the lead in The Lone Ranger, the first western specifically written for the new medium of television. 'Mr. Trendle', Moore replied, 'I am The Lone Ranger!' And over the next eight years, to fans around the globe, he was; although for a single season, due to a pay dispute, he was replaced by John Hart. But the public preferred Moore so he was re-instated. Hence, Jay Silverheels (Tonto) appeared in 217 episodes while Moore appeared in only 169. Hart played the lead in 54 episodes.
Jay as Tonto aboard Scout
Jay Silverheels was a star lacrosse player, born as Harold J. Smith on Canada's Six Nations Reserve to Mohawk parents. After serving in the Second World War he entered films as a stuntman. Fans of the Bogart drama Key Largo (1948) may be surprised to learn that he played Tom Osceola (uncredited) in that picture. He was also Geronimo in Jimmy Stewart's 1950 western Broken Arrow, but it was his portrayal of Tonto that made him a household name. In his later years he was a successful harness racer. When asked if he had ever thought of running Silver or Scout in a race, he laughed and replied, 'Heck! I can beat Scout!' Jay died from a stroke in 1980. He was probably 68, although his date of birth is obscure.