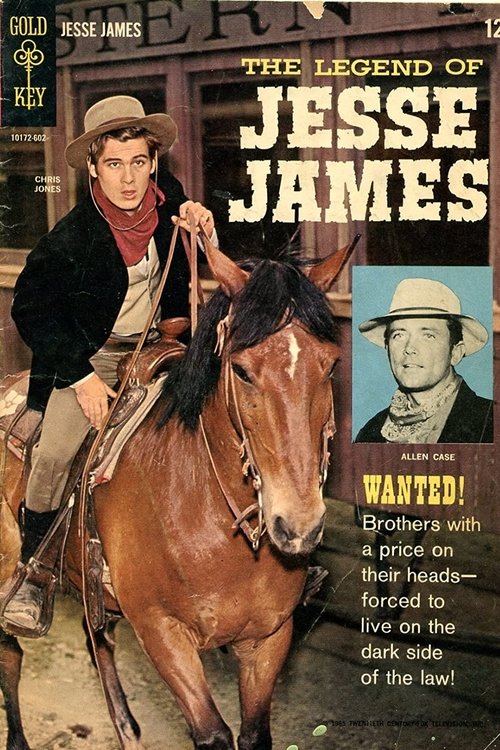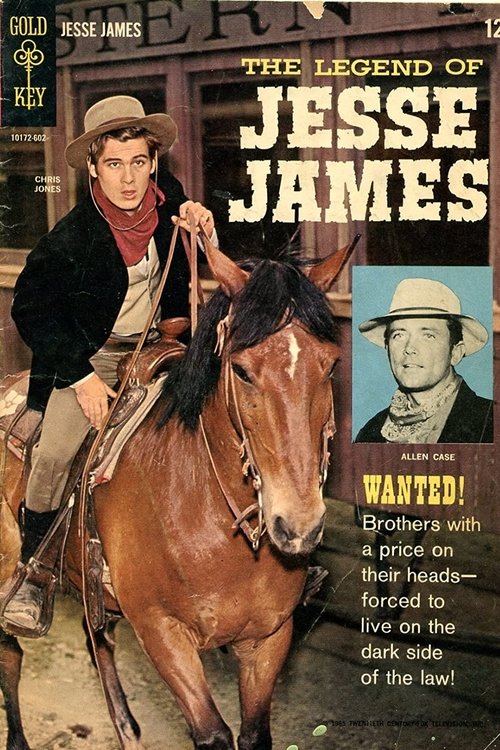 THE LEGEND OF JESSE JAMES (1965-66) 34 EPISODES      
This series was shot in black and white by 20th Century Fox and released on the ABC network. It received an unprecedented volume of fan mail, most of it directed at the charismatic Christopher Jones, who starred as the outlaw Jesse James. Even so, the series was cancelled after just a single season. Perhaps, viewers struggled to come to terms with its portrayal of the notorious James brothers as good guys, 19th Century Robin Hoods in Missouri who robbed trains and banks to repay local residents whose property had been confiscated by those super-nasty railroad barons and greedy bankers. In reality, of course, the brothers were anything but Robin Hoods robbing from the rich and giving to the poor.
Jones enjoyed brief cult status in the sixties, possibly because he bore an uncanny resemblance to the late James Dean. He studied acting at Lee Strasberg's Actors Studio and, in 1965, married Lee's daughter Susan Strasberg. However, Jones's erratic behaviour soon sent her packing after three years together; the union producing two children. It would be his only venture into matrimony, although two subsequent relationships produced five more children. His own mother had died in a mental facility in 1960, having been institutionalized when he was just four. He shifted back and forth between foster homes and orphanages before being placed in Boys Town at one point, in an attempt to straighten his life out.
Christopher Jones (L) & Allen Case
In 1968 he earned cult status in the movie Wild in the Streets, playing a rock star who becomes president. He landed the role of Sarah Miles's lover in Ryan's Daughter (1970), but the trappings of success saw him fall into the Sunset Strip drug scene, resulting in entanglements with Sharon Tate, Olivia Hussey and with Jim Morrison's girlfriend at the time, Pamela Courson. Morrison's drug-related death and Tate's murder at the hands of the Manson Gang affected Jones deeply and led to a breakdown. He died of gall bladder cancer in 2014, aged 72.
Allen Case portrayed Frank James in the series. He hailed from Dallas, Texas and was a nightclub and Broadway singer before landing spots in several Warner Bros TV westerns. In the mid-fifties, he toured with shows such as South Pacific, Damn Yankees and My Fair Lady. His big television break came in 1959 when he was picked to be Henry Fonda's co-star in The Deputy, a series that ran for two seasons and 76 episodes. As seemed to happen to just about every star of a western series, Case was stripped, tied to a post, and whipped in one of the episodes. A heart attack claimed him at the age of fifty-one.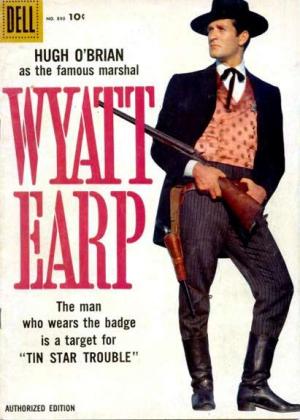 THE LIFE AND LEGEND OF WYATT EARP (1955-61) 226 EPISODES       
In 1955, it was this series and Gunsmoke that together launched the western craze on American television that, at its peak towards the end of the decade, saw as many as forty western series being screened in prime time. From 1956 until 1959, the Wyatt Earp series was set in Dodge City (the same city that Marshall Matt Dillon operated in Gunsmoke), and even had episodes in and around the Long Branch Saloon, an establishment that actually existed in Dodge back in the cow-town and cattle drive era. Had fellow actor George Montgomery not already committed himself to several western movies, Hugh O'Brien would not have landed the starring role as Earp in the series. Most of the series was fictionalised, but it did follow Wyatt's career as a lawman from town to town, starting in Ellsworth, then Wichita, then Dodge City, before culminating in the famous gunfight at the OK Corral in Tombstone, Arizona.
The Life and Legend of Wyatt Earp premiered just four days before Gunsmoke did in September 1955, and two weeks prior to the first screening of Clint Walker's Cheyenne. It was a Desilu Production. The myth of the Buntline Special, a pistol with a 12-inch barrel that featured throughout the series, but there is no evidence that such a weapon ever existed. Writer Stuart N. Lake's best-selling 1931 biography Wyatt Earp: Frontier Marshal, a highly fictionalised work, created the myth of the Buntline Special. It never actually existed. Nevertheless, its introduction to the series triggered a mild toy craze in the USA. As for Earp's involvement in Tombstone, it should be noted that his brother, Virgil, was Deputy U.S. Marshal as well as Tombstone City Marshal. Wyatt was only ever temporary assistant marshal to his brother.
Hugh O'Brien was a New Yorker who enlisted in the US Marine Corps at nineteen in 1942. At war's end he was discovered by actress Ida Lupino who paved the way for his signing with Universal Studios. He rebelled against the beefcake image the studio lumbered him with, so his sojourn there was not as productive as it could have been. Consequently, Rock Hudson was given all the glamour boy parts that could have been Hugh's and became a star because of them. In 1958, after spending time in Africa with Dr Albert Schweitzer, O'Brien founded the Hugh O'Brien Youth Leadership, an organization aimed at helping to develop young people into future leaders. He never did find that one prominent movie role that might have lifted him into the upper bracket of movie stars. Hugh passed away at the ripe old age of 91 in 2016, of natural causes.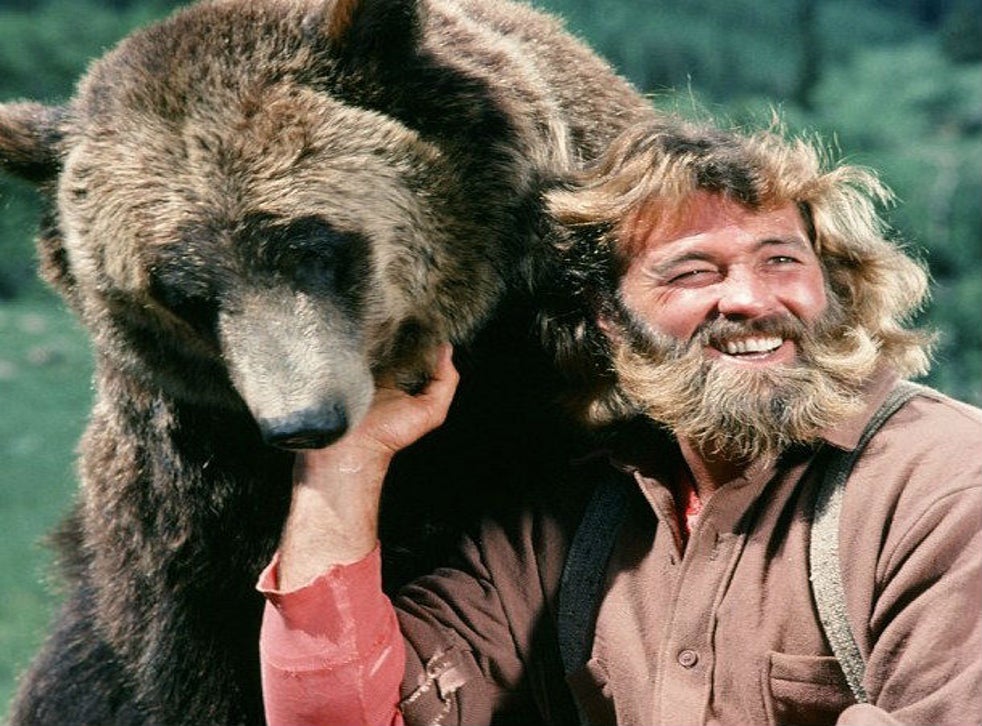 THE LIFE AND TIMES OF GRIZZLY ADAMS (1977-8) 37 EPISODES        
Dan Haggerty portrays James 'Grizzly' Adams, a man who flees into the mountains in the 1850s, after being falsely accused of a crime. There he rescues a grizzly bear cub (Ben) and raises it to adulthood. Throughout the series Adams helps travellers unfamiliar with the woods, while all the time avoiding bounty hunters bent on claiming the reward for bringing him in. Ben was played by a female grizzly named Bozo. She died at the age of thirty-nine in 1999. Denver Pyle plays an old trader named Mad Jack and Don Shanks plays Nakoma, a Native American. These two men are Adams' only regular human contacts in the series. In his private life, Haggerty was arrested in 1984 after he furnished cocaine to two undercover policemen and was sentenced to 90 days jail and three years' probation. He died in 2016, aged 73.