The remarkable Shirley Temple       
Four year-old Shirley Temple made her second movie, a short titled War Babies, in December 1932 at the Fox Criterion Theatre in Santa Monica, California. In her 1988 autobiography, Child Star, she described the system used to extract obedience from her and her toddler co-players. Two boxes were available. One was hot and stuffy and used for sound mixing. The other was empty except for a large block of ice that chilled the stale air within as it steadily melted. A disobedient child was first shoved inside the sound box while he or she was still perspiring from working under the bright Kleig lights, then moved to the chilly darkness of the ice-box, shut inside, and left until he or she became sufficiently cooled and chastened! While inside the box the child was compelled to either stand until too tired to continue or to sit on the block of ice. Few chose the third option of lying down in the surrounding puddle of icy water. Eventually, the naughty boy or girl would be removed, heated up under the lights, and returned to work.
Readers might wonder where all the mothers of these children were whilst this was taking place. Studio rules forbade them to be on the soundstages, but they were assured that their charges would be well taken care of by the 'ever present', female child welfare supervisor. Once inside, however, and away from the mothers, this woman would adjourn to a nearby dressing-room that was furnished with a radio, refreshments and a soft couch. There she would remain until it came time to open the soundstage doors and re-unite the children with their mothers. It was an effective system, Shirley wrote, for few children re-offended. Of course, the toddlers were warned against tattling to their mums. Anyone doing so, they were told, would be recommitted to the ice-box the following day! Shirley was punished just once and promptly told her mother about it. Mrs. Temple simply refused to believe her, so the four year-old decided to play ball. 'Time spent working is more fun than standing in any icy black box and getting an earache', Shirley would later write. As the star of these 'shorts', she got $10 a day, her mother was paid $5 a week as her chauffeur, agent, hairdresser and seamstress! In time these payments would be increased dramatically.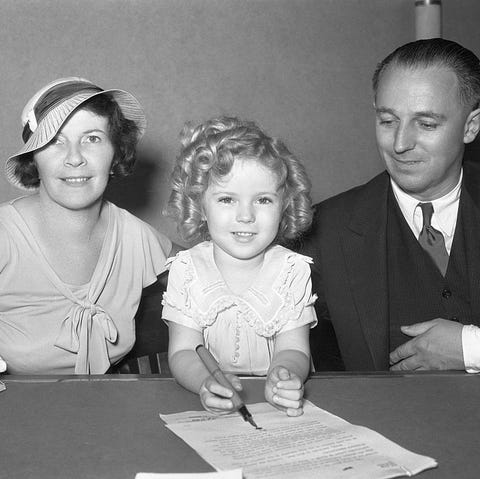 Shirley & her parents
It is interesting to note that prior to her hitting it big, Shirley spent a lot of time chasing bits in shorts and movies, utilising the dance steps she had learnt at the Meglin's Dancing School. She was anything but an 'overnight discovery' whose natural talent propelled her into the spotlight. She had already made eight Baby Burlesks, five comedy shorts, six walk-ons, and one bit part by the time she had turned five years of age, earning in the process the grand sum of $702.50 in total. But then her employer went broke and she was suddenly out of a job. In December 1933, her small role in a film titled Stand Up and Cheer, convinced Fox that she showed promise, so they signed her to a contract. Her mother agreed to her being paid $150 a week for one year with an option for seven. Mum would get another $25 a week. Shirley's birth certificate was immediately 'doctored', so that she could celebrate her fourth birthday on January 13, 1934.  In truth, she was almost six by then, having been born on April 28, 1928! Sceptics rightly queried her 'no formal training' reputation, asking how does anyone learn stylized buck-and-wing dancing routines without some training? The answer, of course, is that they don't. On her seventh birthday, when her movies were being seen all over the world, Shirley received no fewer than 135,000 gifts and greetings! To physically open so many parcels and letters was a far too daunting task for anyone, much less a little girl, so the studio took charge. Letters of thanks were sent out and most of the gifts were redirected to worthy local children's charities.
Tamara Drasin
Tamara Drasin is probably a name that is unfamiliar to most people. She was a Ukrainian singer who performed on Broadway under the name 'Tamara' and also appeared as Sonya in the 1940 musical No, No Nanette. Bob Hope fondly remembered working with her in 'Roberta' on Broadway. In March 1943, she was aboard a seaplane that crashed in the Tagus River, Lisbon, Portugal, when its wingtip clipped a wave as it was circling to land. Just prior to the crash, singer Jane Froman had agreed to switch seats with her. Miss Froman, although badly injured, survived the crash but Tamara and twenty-three others did not. Luther Adler delivered the eulogy at her service, attended by five hundred mourners in April 1943.
Many of those whose job it is to write subtitles for movies and TV series have been known to get it wrong from time to time. In the 2015 British TV series titled Arthur & George, there is a scene at the very end of third episode in which the star of the series, Martin Clunes, is travelling in a carriage, in 1903, when a woman's voice can be heard in the background. The subtitles then appear on the screen: 'Fresh blowjobs and panties.' A second or so later, we see a flower-seller hawking her wares: 'Fresh snowdrops and pansies', she calls. A case, no doubt, of a sub-titling Freudian slip, methinks.
Lana Wood 1964
At the age of eighteen, Lana Wood (Natalie's sister), was hired as one of Judy Garland's 'protectors' while the singer was on tour in Australia in 1964. 'It was a major responsibility', she wrote in her book titled Natalie. 'I was the only other female in her entourage of six. I was pretty much left to handle Judy alone. They would send me to her room when she wasn't there and say go through all her clothing – anything that's sharp, that she could hurt herself with, – remove! All the things I'd heard about her, that she was pathologically insecure, unstable and one of the most delightful people you'd ever want to know were absolutely true.'