THE HIGHWAYMEN (2019)                    
The Highwaymen (2019) is not a great movie but at least it focuses on the pursuers involved in the Bonnie Parker/Clyde Barrow saga of the 1930s and less on the two killers. Some newspapers at the time of the duo's murder spree depicted them as glamorous, the 'Robin Hoods' of their day. This image was reinforced in 1967 when they were portrayed by the truly glamorous Faye Dunaway and Warren Beatty in the extremely popular film Bonnie and Clyde. In truth, the real Parker and Barrow were neither glamorous nor 'Robin Hoods', not by any stretch of the imagination. They were callous cold-blooded, vicious murderers who killed for pleasure without displaying even a hint of compassion for their victims. And they were anything but glamorous in the flesh.
Frank Hamer
Kevin Costner plays former Texas Ranger Frank Hamer, the man who doggedly hunted them down before finally, in the company of several law enforcement officers and another former Ranger named Maney Gault (played by Woody Harrelson here), ambushed and killed them near the town of Sailes, Louisiana on May 23, 1934. Bonnie was twenty-three at the time of her death; Clyde was twenty-five. They had been together and on the run for two years, during which time Parker had participated in the commitment of more than a hundred felonies! The couple eluded capture mainly because they had a high-powered motor vehicle that could cover large distances quickly on rudimentary back roads between state lines, an advantage aided by the lack of federal laws at that time that prevented pursuit by anyone other than local police, whose jurisdiction frustratingly ended at state borders.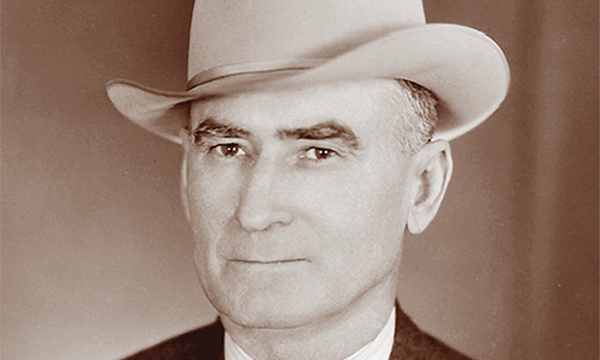 Maney Gault
Bonnie Parker was born in Rowena, Texas in 1910 and she dropped out of school to marry Roy Thornton, six days before her sixteenth birthday. The couple parted company after two years but never divorced. She was still wearing his wedding ring when she was gunned down in 1934. She probably met Barrow when she was 19 and he 20, although there are several different accounts of their first meeting. Most historians are convinced she joined the ex-con because she had fallen in love with him. It was generally accepted by the public that she smoked cigars but this is not so. Bonnie Parker smoked Camel cigarettes, Barrow smoked Lucky Strikes. However, law enforcement officers discovered a reel of film at one of the gang's hideouts and had developed the shots for publication. Among the photographs was a posed picture of Bonnie with a cigar clenched in her teeth. It had been done for a laugh but the public assumed she was a cigar smoker because of it.
Parker posing with cigar and gun
There was considerable controversy over the way in which the duo's car was ambushed and shot to pieces. Many felt that Parker should have been given the opportunity to surrender. The posse members gave conflicting accounts regarding whether or not she was called on to surrender. But it appears most unlikely. She was actually eating when the shooting started, for food was later found in her lap. Barrow was still clad in his socks, not shoes, incidentally, when he was shot. Throughout their crime spree the Barrow Gang had murdered thirteen people and had not hesitated to kill anyone standing in their way, whether it be a policeman or an innocent bystander. Parker and Barrow were extremely bad individuals and undeserving of any compassion, but Clyde (the driver) was killed with the very first shot, Bonnie was eating and most of their guns were on the back seat. The chances of her making a move towards the back seat or attempting to pull the pistol taped to her leg were negligible and the car was rolling to a stop. There was probably no need to shoot her to pieces.
Clyde Barrow & Bonnie Parker
Back on June 10, 1933, Clyde had flipped their car into a ditch and Bonnie's leg was severely burned by battery acid that had leaked through the floorboards. Gang member, sixteen year-old W.D. Jones later recalled: 'She'd been burned so bad none of us thought she was gonna live. The hide on her right leg was gone, from her hip down to her ankle. I could see the bone at places.' She would limp for the remaining eleven months of her short life. In January, 1934, they orchestrated the Eastham Prison Farm Breakout that sprung two members of their gang along with several other individuals. The Texas Department of Corrections contacted Hamer and persuaded him to hunt the gang down. A tall, burly, tough, no-nonsense lawman, Hamer was credited with fifty-three known kills and had suffered seventeen bullet wounds in the process!
In the movie much is made of the way in which two highway patrolmen were murdered by the gang on Easter Sunday, April 1, 1934. An eyewitness (since discredited) told police he saw Bonnie deliver the coup de grace to one of the dying officers and the story received widespread publicity. Gang member Henry Methvin later admitted that he had fired the first shot, but claimed that Bonnie had actually approached the dying officers intending to help them. Barrow, he said, had fired the fatal shots. According to him, Bonnie was asleep in the back of the car when the shooting started and had taken no part in it. The public, however, believed the newspaper accounts and sympathy shifted away from Bonnie and Clyde.
The posse
Gault and four other posse members joined Hamer, convincing a relative of Methvin to position his truck in the road near their ambush position at 9 pm on May 21. The posse then settled down and to await the arrival of the car bearing Parker and Barrow. They waited for all of May 22 with no sign of the outlaws, and were about to give up at 9.15 am on the 23rd, when they saw the duo's car approaching at high speed. The posse had briefly discussed whether or not to call 'Halt!' before shooting but decided against doing so. Parker and Barrow had a reputation for always trying to shoot their way out of troublesome situations, so the posse opened fire while the vehicle was still in motion. The first shot hit Clyde in the head, killing him instantly. Bonnie began screaming as more than 130 bullets were then emptied into the vehicle. A number of their subsequent wounds would have proved fatal to both occupants. The coroner's reported listed seventeen bullet wounds in Barrow and twenty-six in Parker! 'I hated to burst a cap on a woman', said Hamer later, 'especially when she was sitting down, however if it wouldn't have been her, it would have been us.'
Gault and another officer were placed in charge of guarding the bodies and the bullet-riddled 1934 Ford V-8 Deluxe sedan, but they lost control of the jostling throng of sightseers, some of whom were cutting off bloody locks of Bonnie's hair and pieces from her dress. These were subsequently sold as souvenirs. One ghoul even tried to hack off Clyde's trigger finger and another attempted to cut off his left ear! Shell casings and slivers of glass from the shattered car windows were all considered to be fair game for scores of souvenir hunters. Henry Barrow arrived to identify his son's corpse; then sat in a rocking chair and wept. Over $20,000 was pledged for the capture or killing of the two outlaws, but these offers dried up at once, so the posse was given permission to confiscate and sell whatever items they found in the ambushed car. Hamer kept most of the guns found in it.
More than 15,000 people attended the funeral of Clyde Barrow, and another 20,000 attended that of Bonnie Parker. The summer of 1934 saw the crimes of bank robbery and kidnapping become federal offences. Subsequent coordination between the FBI and local authorities made it much tougher for bank robbers to successfully elude capture. Two months after Bonnie and Clyde's death, John Dillinger was shot dead in Chicago. Three months after that 'Pretty Boy' Floyd was killed in Ohio, followed by the shooting of 'Baby Face' Nelson in Illinois a month later.
Ruth Warren of Topeka, Kansas successfully sued to take possession of the death car. It actually belonged to her until Barrow stole it in 1929. It was later exhibited at carnivals and fairs (there was a charge of one dollar to sit in it), before being sold as a collector's item. In 1988, the Primm Valley Resort and Casino in Las Vegas bought it for $250,000. As for Frank Hamer, he returned to a quiet life as a freelance security consultant for oil companies, but many people blamed him for not giving Parker and Barrow a fair chance to surrender and his reputation suffered accordingly. He was clearly no saint. Perhaps, that was why he was selected to rid society of the Barrow Gang once and for all. He certainly did that.