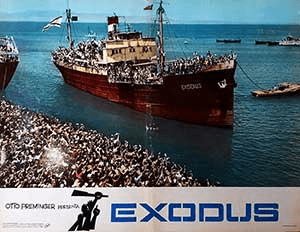 EXODUS (1960)                   
When, in 1958, American author Leon Uris published Exodus, his fictional novel about the founding of the state of Israel, it was only a matter of time before Hollywood would buy the rights and turn it into a movie. Autocratic taskmaster Otto Preminger was chosen to direct the 1960 blockbuster that starred Paul Newman as Ari Ben Canaan and thirty-five year old Eva Marie Saint as his romantic interest, Kitty Fremont. The critics felt she was too old for the role and they were probably right.
By the time Exodus reached the world's screens, it had become a seemingly interminable 208 minutes long! At the premiere, comedian Mort Sahl, became part of Hollywood folklore when he stood up in the packed theatre at the 180 minute mark and shouted, 'Otto Preminger, let my people go!' The picture has been credited with stimulating support for Zionism and the state of Israel in the United States, in spite of its liberal handling of the facts. Such is the power of the cinema.
Dalton Trumbo
Contrary to public opinion, Otto helped to end the stigma of the Hollywood blacklist when, as both producer and director, he hired Dalton Trumbo to adapt the screenplay. This was before the blacklisted Trumbo was hired for Spartacus (also in 1960) by Kirk Douglas. Preminger and Newman did not get along during the production, primarily because the director was not interested in hearing any of his star's views. Newman later stated that he regretted making the movie, declaring that he only took the role in honour of his father, who was Jewish. Oddly enough, most critics thought Newman was miscast, yet it was Preminger who had been determined from the outset to have him play Ari Ben Canaan.
Eva Marie Saint & Paul Newman in Exodus (1960)
Historically, the British did not 'plant' Jews in Palestine after World War One, although they did capture great portions of the Middle East from the Turks, and actively favoured the founding of a Jewish state in their ancient homeland. This initial support from the British dissipated after most Arab leaders resisted the idea of a Jewish homeland and Arab religious leaders in Palestine began to preach violence against the Jews. When the British severely limited Jewish immigration, we see the situation depicted in the movie, with Jewish Holocaust survivors being denied entrance into what would ultimately become Israel. Instead, they were kept in camps on Cyprus and ships carrying refugees from Nazi Germany were stopped by the British and turned back to their ports.
Preminger and Trumbo thought the book by Uris was poorly written, particularly with regard to its anti-British slant, so they decided to soften the image of the Brits with rewrites. Consequently, Uris disliked the movie intensely. Despite the film's tedium and inordinate length, it became a huge box-office success in the United States yet surprisingly, given its more even-handed, revamped treatment, it was not a financial success in the British Isles.
For the massive crowd scene in which Barak Ben Canaan (Lee J. Cobb) announced to the people of Jerusalem that the United Nations was to partition Palestine, at least 20,000 extras were needed. The production manager came up with the idea of holding a lottery, the main prize for which would be 20,000 Israeli pounds and six free trips to the movie's premiere in New York City. The idea reaped amazing results. Over forty thousand people, one fourth of the Jerusalem population, turned up for the draw!
Sal Mineo & Jill Haworth
Sal Mineo actively sought (and was cast) as Dov Landau in Exodus, despite being told that he did not 'look Jewish' at all. Ironically, he lost the role as one of the two orphaned Arab boys that became attached to Lawrence in Lawrence of Arabia (1962), because he had played a sympathetic Jewish boy in Exodus who shot four Arabs! Mineo had a long, on-and-off relationship throughout the sixties with his young Exodus co-star Jill Haworth (she played Karen). Jill was fifteen and he was twenty-one at the time their relationship started. According to Sal's biographer, they were briefly engaged. They also agreed to Jill aborting their baby in 1969. She always blamed poor money management, not his homosexuality, for Sal's downfall in Hollywood.
MAJOR LEAGUE (1989)                
This 1989 baseball 'classic' comedy cost $11 million to make and brought in over $50 million in rentals. Writer and director David S. Ward, a life-long Cleveland Indians fan, admitted that his inspiration for creating the movie was simply because he thought it was the only way he would ever see the Indians win anything. It has been argued that Major League inspired the real Cleveland Indians (and the city), to emerge from a drought that had left the city without any sporting championships between 1964 and 2016. Between 1995 and 2016 the Indians did, however, make it to the World Series three times – but lost each time. The drought was finally broken in 2016 when the NBA's Cleveland Cavaliers won their first ever title.
Charlie Sheen & Wesley Snipes in Major League (1989)
Charlie Sheen, who played pitcher Rick 'Wild Thing' Vaughn, was himself a pitcher on his high school baseball team, where his own fastball topped out at 85 miles per hour. In order to give the impression that his character could hurl at 100 mph, the distance between the mound and home plate was reduced by ten feet and Vaughn's pitches were shot from behind home plate, so the viewer would be unable to notice the distance difference. Furthermore, as Sheen himself admitted in 2011, he took steroids for two months during filming to build up his athleticism and to maintain his 85 mph top speed. Even so, when Vaughn appears to shatter a sign at spring training, a pitching machine and camera reversing were utilized.
Wesley Snipes (who played Willie Mays Hays) was relatively unknown in 1989 and this film boosted his career enormously, despite his ability as a baseball player being non-existent. His running scenes were all shot in slow motion, an old trick often used to give the impression that someone is running faster than he actually is. It quickly became apparent that Wesley was not even able to throw a baseball convincingly. Consequently, there is no footage, whatsoever, of him doing so.