GENE TIERNEY (1920-91)                                                                       
One of the saddest wartime Hollywood tales involved actress Gene Tierney. She actually attended the Hollywood Canteen just once and, a few days after that solitary stint there, developed Rubella (German measles). She was pregnant to her husband, fashion designer Oleg Cassini, at the time. Their baby girl Daria arrived prematurely and weighing just two and a half pounds. She had serious mental defects, was almost blind and partially deaf. Her mother was devastated and never got over the plight of her beloved daughter for the rest of her life.
Marriage to Oleg Cassini
A year later, whilst Gene was attending a tennis party in Los Angeles, a young woman approached her. 'She said she was in the women's branch of the marines and had met me at the Hollywood Canteen', the actress recalled. 'Did you happen to catch the German measles after that night?' the woman asked. 'I probably shouldn't tell you this', she went on, 'but almost the whole camp was down with German measles. I broke quarantine to come to the Canteen to meet the stars. Everyone told me I shouldn't, but I just had to go. You were my favorite.' The visibly shaken Gene felt there was no point in telling the woman what had happened. 'Daria was my war effort', she sighed.
Gene & daughter Daria
Her marriage to Cassini eventually collapsed and they divorced in 1952. Gene entered into several affairs over the ensuing years. One of her lovers was billionaire Howard Hughes who provided the funds for Daria's medical care. Gene's troubled private life ultimately led to her being hospitalized for depression. On Christmas Day 1957, police worked frantically to successfully talk her down from a high-rise building ledge in Topeka, Kansas. She was institutionalized and received extensive shock treatment whilst battling her mental instability.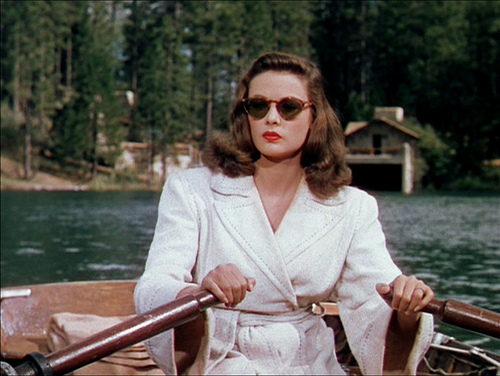 A scene from Leave Her to Heaven (1945)
Back at the commencement of her movie career, when Gene first heard her voice on the screen, she was appalled. 'I sounded like an angry Minnie Mouse', she said, and immediately took up smoking in an effort to deepen her tone. It was a bad decision, for her heavy smoking from that day onwards would lead to the emphysema that took her life just thirteen days prior to her seventy-first birthday.
KENNETH TOBEY (1917-2002)               
Initially intending on a law career, red-headed Californian Ken Tobey began dabbling in acting at the University of California Little Theatre before spending a year and a half studying at New York's Neighborhood Playhouse, where his classmates included future stars Gregory Peck, Tony Randall and Eli Wallach. Tobey never attained the heights those three enjoyed in the profession, but he did have a long and successful career as a character actor, (almost sixty years in fact), one that encompassed over 200 movie and TV credits.
Craig Hill (L) & Tobey in Whirlybirds
During World War Two, he joined the United States Army Air Force (USAAF) and served in the Pacific as a rear gunner aboard a B-25 bomber. After appearing in a 1943 film short titled The Man of the Ferry, he had to delay his movie career until the cessation of hostilities in 1945, making his screen debut in the 1947 Hopalong Cassidy western Dangerous Venture. Sixties television fans might recall him playing pilot Chuck Martin alongside Craig Hill (as P.T. Moore) in the Desilu Studios series titled Whirlybirds. The show ran for 111 episodes over three seasons and successfully gave Bell Aircraft a public face. The Bell helicopters used were not flown by the two stars, of course.
Tobey starred in a lot of B-features, especially those with science fiction themes, but occasionally landed character roles in significant productions. In 1949's Twelve O'Clock High, for instance, he was the negligent airbase sentry dressed down by General Frank Savage (played by Ken's old classmate Gregory Peck). It is not known if Peck used his considerable clout to get his former classmate a spot in the film. Tobey died of natural causes in 2002. His final film, The Naked Monster, reached screens in 2005.
RICHARD TODD (1919-2009)                  
Contrary to popular belief, actor Richard Todd was born in Dublin, Ireland, and was not, therefore, an Englishman or a Scot, as many fans assumed. He spent a few of his childhood years in India where his father, an officer in the British Army, served as a physician. Upon leaving school, Todd initially trained at Sandhurst for a military career before starting acting lessons at the Italia Conti Academy in London. In 1939, he co-founded the Dundee Repertory Theatre in Scotland. Then, in September that year, Britain declared on Nazi Germany.
Todd in the Parachute Regiment WW2
Twenty-year old Todd enlisted at once and entered Sandhurst in late 1940. On January 29, 1941, he was one of 26 cadets injured when D Block of New College was hit by a German bomb. In his memoirs he described seeing the bomb pass through the ceiling in front of him before he was blown out of the building! He landed on a grass bank and suffered multiple, non-life threatening lacerations. Five cadets died in the explosion. Eventually commissioned in the spring of 1941, he again narrowly avoided an early death when he attempted to join friends at the Café de Paris in London but could not get a table. An air raid destroyed the venue later that same evening and fifteen newly-commissioned subalterns were killed!
Todd served in the King's Own Yorkshire Light Infantry (KOYLI), before joining the Parachute Regiment and the 7th (Light Infantry) Parachute Battalion as part of the British 6th Airborne Division. On 6 June 1944, as a captain, he participated in Operation Tonga during the D-Day landings, and was among the first British soldiers to land in Normandy as part of Operation Overlord. His battalion parachuted in after glider-borne forces had captured the Orne Bridge (now known as Pegasus Bridge) near Caen. Captain Todd was the officer who made contact with Major Howard at the bridge. Bizarrely, he would portray Major Howard in that scene in the 1962 film The Longest Day, in effect meeting with himself at the bridge in one scene.
After three months of fighting in Normandy, the 6th Airborne Division was withdrawn back to the United Kingdom to reconstitute. It returned to the continent three months later as emergency reinforcements needed to halt the German offensive in the Ardennes (the Battle of the Bulge). As Motor Transport Officer, Todd was responsible for commandeering whatever vehicles he could to ferry the British troops forward. After VE Day, the Division was again returned to Britain for a few weeks before being sent on counter-insurgency operations in Palestine. Todd was finally de-mobbed in 1946. Referring to his own heroism during the war, he merely said: 'you don't consciously set out to do something gallant. You just do it because that is what you are there for.'
As Guy Gibson in The Dam Busters (1955)
The diminutive actor memorably portrayed Commander Guy Gibson in the 1955 film The Dam Busters, one of numerous fine performances from this under-rated star. In his autobiography he admitted to being greatly affected when Gibson was required to write letters to the families of the men he had lost on the raid. During the war, Todd himself had to do this for real and the scene brought back sad memories. He may have lived a charmed life throughout his military service, but tragedy dogged the man in his private life. In 1997, his son, Seamus, killed himself with a gunshot to the head. Eight years later, in September 2005, his eldest son, Peter, killed himself with a shotgun. 'I am not going around saying, 'Why me? Why me?' said Todd in a 2006 interview. 'What helps me is accepting it, getting on with things. You can't let yourself go on wallowing.' This real-life hero of the Second World War lived to be ninety years of age before cancer claimed him in 2009.