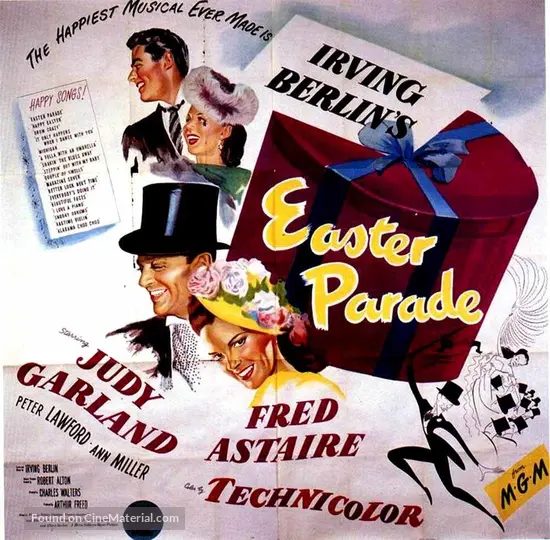 EASTER PARADE (1948)              
Easter Parade was to be a lavish showcase for a bunch of Irving Berlin tunes and scheduled to be directed by Vincente Minnelli. It would star his wife, Judy Garland, and Gene Kelly. Supporting actors would ultimately include Peter Lawford, Ann Miller and Jules Munshin. There was a problem, however. Judy had only just been released from a sanatorium, after undergoing treatment for emotional issues and drug dependency. When her doctors deemed it too risky for her to be directed by her husband, (with whom she was having marital problems), he was taken off the picture and replaced by Charles Walters, a promising director who had enjoyed considerable success guiding June Allyson and Lawford in Good News a year earlier.
Garland & Astaire in Easter Parade (1948)
Judy responded well to Walters' direction, although she let him know that his inexperience bothered her. 'Look, buster', she told him, 'you're in the big time now. You're not doing a little college musical here. This a big picture, an 'A' picture, and I ain't no June Allyson. Don't get cute with me – none of that batting of the eyelids bit or fluffing the hair routine for me, buddy! I'm Judy Garland and you just watch it!' He soon gained her confidence, nonetheless, and filming went swimmingly until Kelly broke his ankle and had to bow out of the production. In fact, he broke it stamping his foot in anger after losing a game of volleyball! To Judy's utter delight, he was replaced by none other than Fred Astaire, who obligingly came out of a brief retirement to help out. Oddly, considering her long-time star status, Judy had never actually met Fred during all her time in Hollywood. This possibility had not occurred to anyone until she mentioned it. The first scene to be shot between the two stars was a kissing scene. She made it very clear she was afraid to even speak to the great man until they had been properly introduced.
Judy & Margaret O'Brien in Easter Parade
Cyd Charisse was lined up to play Nadine, but a torn ligament in her knee forced her to withdraw, and she was replaced by another wonderful dancer, Ann Miller, who was forced to perform her biggest numbers in a back brace! She later revealed she had been thrown down a flight of stairs (she was pregnant at the time) by her then husband Reese Milner. This was Jules Munshin's film debut and his performance would lead to him being cast as one of three sailors on leave in New York City, (alongside Gene Kelly and Frank Sinatra) in On the Town (1949). Easter Parade was an unqualified success, both at the box-office and with the critics. It raked in a whopping $6.8 million, two and a half times its production costs, making it easily MGM's most successful musical that year.
LITTLE WOMEN (1949)                 
I have always had a soft spot for the 1949 version of Louisa May Alcott's Civil War family classic. It could be because, like most cinema-goers, I liked June Allyson in musicals. She was one of those movie stars who was truly likeable on-screen. I was (and will always be) a huge fan of little Margaret O'Brien, but I think it was the sumptuous MGM sets that really got to me. When they chose to create a kind of fairy-tale look about one of their movies, nobody did it quite as well as MGM. In Little Women the studio had no concerns about casting 31 year-old Miss Allyson as the (initially) fifteen year-old Jo March. And movie-goers did not seem to notice. Furthermore, she was married to Dick Powell at the time and pregnant with his son. Twenty-two year-old Janet Leigh played her even younger sister Meg, seventeen year-old Liz Taylor was the vain and silly Amy, and twelve year-old Maggie O'Brien was the doomed Beth. Leon Ames and Mary Astor played the girls' parents, even though Mary was just eleven years older than June Allyson.
(L to R) June Allyson, Margaret O'Brien, Janet Leigh & Liz Taylor – The March sisters
Mary Astor was in her mid-forties, an Oscar-winning veteran of more than seventy films who had little time for the shenanigans of the four young actresses chosen to portray her daughters. June chewed gum constantly which irritated her enormously; Liz was engaged to be married and forever talking on the telephone, while Maggie seemed (in Mary's eyes) to be 'planning something unpleasant'. All the girls giggled and chattered and made a game of every scene. When Peter Lawford took all afternoon to pronounce the word 'porcupine' correctly, (it kept coming out as 'porkypine'), Mary found the whole situation tiresome. 'My sense of humour, my sense of fun, had deserted me long ago', she later wrote. 'And it just wasn't all that funny.' After shooting had concluded, Mary decided against renewing her MGM contract. She was tired of playing humdrum mothers. Having suffered from alcoholism for over twenty years, she finally chose to check into a sanatorium for alcoholics in 1949.
Jo March (June Allyson & Laurie (Peter Lawford)
Five years earlier, Mary Astor and Leon Ames had played Margaret O'Brien's parents in Meet Me in St. Louis (1944), a musical that also starred Judy Garland. In Little Women, Maggie's character Beth carries around the same basket that Judy had toted around in The Wizard of Oz (1939). Mervyn LeRoy produced both movies and directed this one. For the exterior scenes, ground ice was used instead of fake snow, which helped make the actors and actresses appear genuinely cold. In the opening scene where Jo jumps over the fence, the blades of the ice skates that June Allyson had around her neck hit her in the face. It must have really hurt, but she continued the scene without a second thought.
The Civil War years – MGM-style.
The picture was a hit at the box-office and a portion of that success must be attributed to the popularity (among America's young females) of handsome Peter Lawford. Many of his star-struck fans saw the film three and four times just to gaze upon him and dream. He played Laurie, the grandson of the March family's cantankerous neighbour, James Laurence, (portrayed by British actor C. Aubrey Smith in his final film). Little Women made it into the Top Ten box-office hits of 1949. It won an Academy Award for Best Art Direction- Set Decoration (Colour) – and rightly so.