JAMES STEWART (1908-97)                   
A native of Indiana, Pennsylvania, James Stewart was blessed with an appeal that seemed to transcend all boundaries. His movie career blossomed in the thirties, due mainly to an on-screen image that made him popular with cinema-goers of both genders and all ages. Men considered him to be trustworthy and non-threatening. Women simply adored him. In the war years and the years leading up to World War Two, his name was linked to scores of the movie industry's most desirable women. Many of these liaisons were little more than 'publicity dates' arranged by his studio, but his intimate relationships with the likes of Norma Shearer, Marlene Dietrich, Lana Turner, Katharine Hepburn, Loretta Young, Ginger Rogers and Rosalind Russell (to name but a few) are a matter of record.
2nd Lt. James Stewart in a Warner Bros short subject titled Winning Your Wings
Stewart was probably the actor with the highest profile of all the established stars when it came to war service. Already holding a pilot's license, he attempted to enlist in the US Air Corps in November 1940, over a year before Pearl Harbor, but was twice rejected because he was under the minimum weight required. Four months later he made it by a single ounce, becoming the first movie star to enter the services prior to WW2. At Moffett Field, the training camp, dozens of fans waited outside the gate, hoping for a glimpse of the popular star. He refused thousands of dollars per week offered by MGM, deciding instead to get by on the regular Army Air Corps pay of $21 a month. Of course, he was already a very wealthy man anyway but it was typical of the man. After Pearl Harbor he graduated from flight school and was commissioned as a second lieutenant.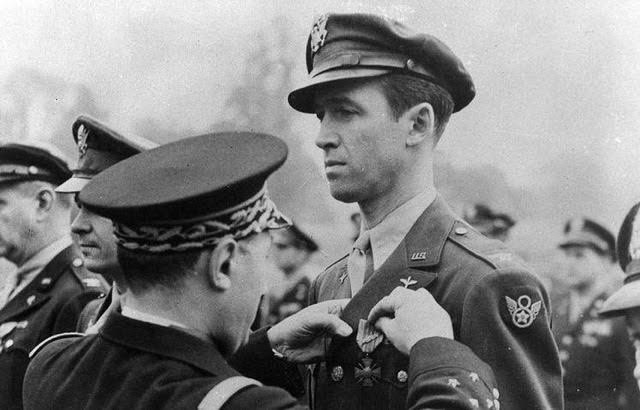 After learning to fly four-engine bombers he was offered a 'cushy' job as a flight instructor. He rejected it and kept on asking for a European or Pacific posting. In July '43 he made captain and, in November, was posted to the 445th Bombing Group, flying B-24s in raids over Europe. His crew described him as, 'a damned good commanding officer, even if he went rigidly by the book.' Stewart flew on twenty combat missions, rising to the rank of colonel, until he left England in the summer of '45. He had been decorated with the Air Medal for a raid on Bremen, an Oak Leaf Cluster for a Berlin raid and a DFC for an operation against Braunschweig. Stewart returned home a hero, but it was a label he did not welcome or enjoy. When offered a ticker-tape parade he, of course, turned it down. An invitation to run for Governor of Pennsylvania met with the same response. In fact, he insisted on an 'anti-hero' clause being inserted in his contract, one that prevented the studio from promoting him as a 'war hero'. Throughout the remainder of his life he steadfastly chose not to talk about his wartime experiences.
Marriage to Gloria 1949
Jimmy remained involved with the United States Air Force Reserve after the war and retired in 1959 as a brigadier-general. In 1949, he ended his days as a lothario by marrying Gloria Hatrick, a stunning green-eyed brunette who would give him twin daughters during their long marriage. The union ended with Gloria's death in 1994. In June 1997, a thrombosis formed in Jimmy's right leg, leading to a pulmonary embolism. A week later he passed away at the age of eighty-nine. 'I'm going to be with Gloria now', were his last words.
NIGEL STOCK (1919-86)              
Character actor Nigel Stock, a veteran of stage, radio, film and television, was born in Malta, the son of a British Army captain. He grew up in India before attending St Paul's School in London, followed by a most promising stint at the Royal Academy of Dramatic Art, where he earned the Leverhulme Exhibition, Northcliffe Scholarship and the Principal's Medal. His stage debut was as a twelve year-old in 1931 and his film career was just starting to take off when the Second World War intervened.
Nigel as Dr. Watson
From 1939 until 1941, Nigel served with the London Irish Rifles and, for the rest of the war, with the Assam Regiment of the Indian Army in Burma, China and Kohima. His first wife was a US Army nurse he met while touring in India. They married in 1943 and returned to England after the war. Stock was honorably discharged at war's end with the rank of major, having been twice mentioned in dispatches.
In The Great Escape (1963)
Between 1964 and 1968 he became a household name in the United Kingdom when he portrayed Dr. Watson in a series of BBC Sherlock Holmes dramas on television. He was also seen to good effect in such prestigious movie productions as The Dam Busters (1955), The Great Escape (1963) and The Lion in Winter (1968); as well as a score of British TV series in the 60s, 70s and 80s. A heart attack took him at sixty-six in 1986.
GLORIA STUART (1910-2010)                                                     
Until she appeared as 'Old Rose' in the 1997 film Titanic (and received an Oscar nomination for her performance), it would be reasonable to say that Gloria's acting career was barely known to modern movie-goers. In truth, she had been acting in Hollywood films, albeit briefly, as far back as the thirties. She entered this world via a dining room table in Santa Monica, California in 1910 (two years before the real SS Titanic slipped beneath the North Atlantic), and would not exit it until one hundred years and two months later!
Back in 1932, she was spotted by Paramount and Universal talent scouts while she was performing at the Pasadena Playhouse. When both men attempted to sign her to a contract, a dispute between heads of the two studios was resolved with a coin toss for her services. Universal won. Disillusioned by the quality of roles offered her at Universal, Gloria eventually left Hollywood and headed for the New York stage, but work was hard to come by there as well so she went to Europe.
When war broke out she was actually in France and keen to stay there and help in some way. The French authorities, however, refused her permission and placed the young actress on a ship that returned her to the USA. Determined to help the war effort in some way, she took singing and dancing lessons until the USO teamed her up with minor actress Hillary Brooke. The two blondes toured the country visiting hospitals, selling war bonds and dancing with servicemen in canteens. Gloria desperately wanted to volunteer for overseas duty with the USO but her husband at the time, actor/writer Arthur Sheekman, would not hear of it.
Gloria as 'Old Rose' in Titanic (1997)
When Sheekman passed away in 1978, Gloria decided to renew her acting career by working on television. She was only eighty-six years old when chosen to portray 'Old Rose' in the 1997 blockbuster Titanic. Consequently, she was required to undergo an ageing process to make her appear to be 101 years old. The daily procedure was unpleasant for her but it did result in an Oscar nomination. In July 2010, the Academy of Motion Picture Arts & Sciences honored her with a Centennial Celebration. She was the first such honoree to be still living for a centennial. Just over two months later she succumbed to respiratory failure after undergoing treatment for lung cancer.