HARRY DEAN STANTON (1926-2017)              
Born in West Irvine, Kentucky in the Roaring Twenties, he grew up in Lexington, graduated from Lafayette High School in 1944, whereupon he was promptly drafted into the US Navy. Harry served as a cook during the war and was aboard the Landing Ship Tank – USS LST-970 at the Battle of Okinawa. After the war he returned to the University of Kentucky, appearing in a production of Pygmalion before heading off to hone his craft at the Pasadena Playhouse. His first screen role was in the very ordinary Tomahawk Trail (1957).
Harry & Rebecca De Mornay 1982
It might surprise readers to learn that this prolific actor (204 screen credits) was also an accomplished musician who headed up the Harry Dean Stanton Band as it toured the USA for more than a decade, playing its own unique brand of mariachi music. He became a cult figure of cinema and music when Debbie Harry sang, 'I want to dance with Harry Dean…' in her 1990s hit single, 'I Want That Man'. At the age of fifty-five he entered into a two-year relationship with twenty-two year-old Rebecca De Mornay, the actress who hit it big when she starred opposite Tom Cruise in Risky Business (1983) at the height of their romance. The last of Harry's movie roles was as Sheriff Lloyd in Frank and Ava (2018), a movie released after his death (at ninety-one) in 2017.
ANTHONY STEEL (1918-2001)                                                               
Anthony Steel was born in Chelsea in 1920, the son of an Indian Army officer, and spent much of his childhood in Lahore. At the age of 18, he gave up his Cambridge studies to enlist in the Grenadier Guards and in May 1940 was one of the thousands of troops evacuated from Dunkirk. Upon receiving a commission, he served in the Middle East where he was seriously wounded on patrol. Once recovered he trained as a parachutist and ultimately made nine operational jumps, finishing the war as a major. Serving as a Guards officer in WW2 made him very well suited to playing military roles on-screen when his acting career ultimately took off after the cessation of hostilities.
Although he did not commence acting until after the war had ended and he was out of uniform, his classical good looks were perfectly suited to heroic leading roles and he was soon in demand. Two of his better performances were in The Wooden Horse (1950) and in Malta Story (1953) for the J. Arthur Rank studio. After marrying blonde Swedish bombshell Anita Ekberg in 1956, he set out to break into Hollywood pictures, despite being (along with Dirk Bogarde) Britain's highest paid movie star at the time. It was not a good career move, however.
Anthony Steel & Anita Ekberg
In Hollywood he was rather scathingly referred to as 'Mr. Ekberg', an indication of his standing in the industry. The couple were forever fighting and Steel added to the bad publicity by assaulting paparazzi and twice being convicted of drunken driving. Good roles were hard to come by as his marriage to Anita ground to its inevitable conclusion in 1959. The war movies that he was suited to dried up by the sixties as the public tired of them, and his once promising screen career petered out, although he kept acting wherever he could find work. Lung cancer claimed him in 2001 at the age of eighty, pre-deceasing Anita by fourteen years.
ROD STEIGER (1925-2002)                                                                      
Rod was a New Yorker born to German-Austrian parents in 1925. He enrolled in the US Navy at 16 after running away from home and served on the destroyer USS Taussig during the war in the South Pacific. As a torpedo-man he saw action at the Battle of Iwo Jima but the sinking of Japanese ships with women and children aboard haunted him for years. He was still aboard the Taussig in December 1944 in the Philippines Sea when Typhoon Cobra struck. Also known as Halsey's Typhoon, the storm sunk three destroyers and became the background for the novel and film The Caine Mutiny, as well as for the stage play titled The Cane Mutiny Court-Martial. Evidently, Steiger possessed an operatic voice in his youth, but it was spoilt by his inability to keep in key. He used to sing when he was required to stand watch on board the Taussig, until the captain could stand it no longer and ordered him to be quiet.
Steiger (R) in his US Navy days in WW2
Years later, he recalled his first encounters with Marines returning from the fighting on Guadalcanal. 'I realized that they had killed their first human beings', he sadly reminisced. 'Everything in their life, religion, society, parents had conditioned them not to kill. They were shocked that they had killed…That look in the eye was unforgettable'. His abhorrence of war in all its forms led him to refuse the title role in Patton (1970). 'I'm not going to glorify war', he told the studio and the part went to George C. Scott who won an Academy Award for his performance. To his dying day Steiger called that refusal his 'dumbest career move'.
As Police Chief Gillespie in the film In the Heat of the Night
Back when the war ended he returned to New Jersey and decided to put his GI Bill benefits to good use by enlisting at the Actors' Studio in New York City. It paid off a few years later when he played Marlon Brando's brother in On the Waterfront (1954) and was nominated for a Best Supporting Actor Oscar. He did not win on that occasion but he would do so in 1968 with his superb portrayal of Police Chief Bill Gillespie in the brilliant In the Heat of the Night. Steiger was still accepting roles in movies right up until the day he died in 2002.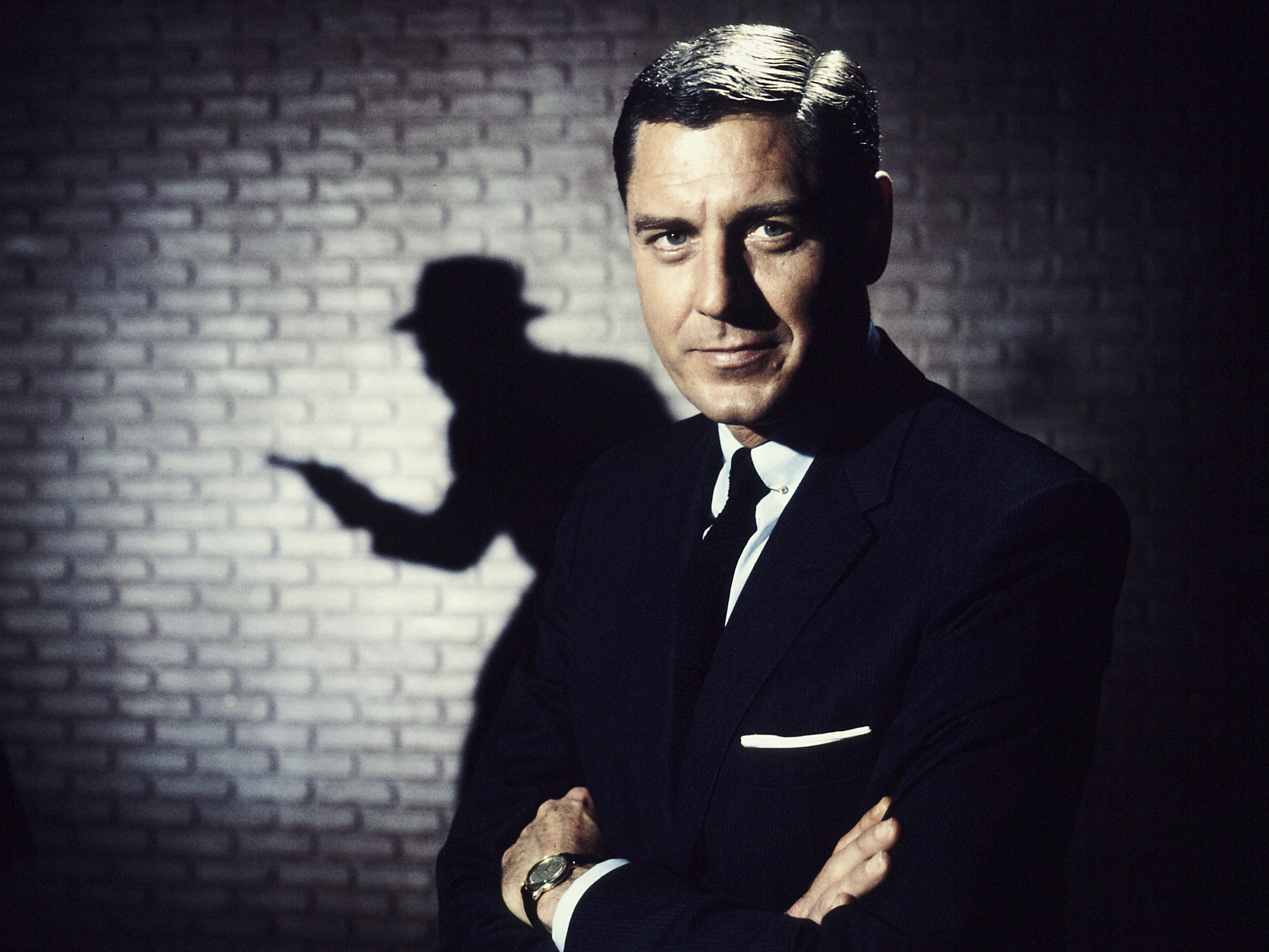 CRAIG STEVENS (1918-2000)                 
He was born Gail Shikles Junior in Liberty, Missouri just prior to the Armistice that ended World War One. He initially planned to be a dentist but was bitten by the acting bug at Kansas University and moved to California. Warner Brothers signed him to a contract in 1941 and it was there he met and married one of the studio's leading ladies, Alexis Smith. No longer Gail Shikles, the newly named Craig Stevens landed several supporting roles but never quite made it as a star on the big screen. He served in the United States Army Air Corps First Motion Picture Unit, based in Culver City, California during the war, acting in propaganda and training films without ever seeing combat, one of that rather large group derisively dubbed 'The Culver City Commandos'.
Craig & his wife Alexis Smith
It would take television, in 1958, to make him known throughout the world when he landed the lead in a series titled Peter Gunn.  In truth, the show was only so-so, but it was blessed with an iconic theme by Henry Mancini that gave Gunn and Stevens a kind of suaveness that appealed to TV fans across the globe. The series ran until 1961. Stevens and Alexis remained husband and wife for forty-nine years until her death in 1993. Curiously, neither has a 'star' on the Hollywood Walk of Fame. Cancer took Craig in 2000.