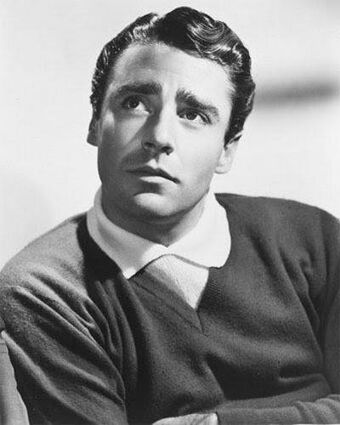 An aging Peter Lawford with wife Mary Rowan
Fred Otash
By the age of sixteen, Marilyn Monroe was well aware that her curvaceous beauty was turning the heads of boys at school. And she enjoyed the attention. When her foster family could no longer keep her she married the young man next door, primarily to avoid being returned to an orphanage. She had some success modelling, divorced her husband, and began landing small parts in movies. Peter began dating her in the spring of 1951 and, although initially attracted to her, he was soon put off (he said) by her lack of hygiene. He also disliked the brassy persona she adopted in public. For Marilyn's part, she was puzzled by his lack of interest in her sexually. Their evenings out never extended beyond a hug and a kiss goodnight. Their relationship ended abruptly when she started dating Howard Hughes. Lawford encountered the eccentric billionaire's bodyguards at her front door and was sternly ordered to leave. 'I went out with him [Hughes] and he's so jealous that he won't let me out of the house at night', MM told Peter the next day. 'I'm a prisoner in my own home.' Hughes quickly tired of her anyway, (Lawford already had), and both moved on to others.
Lawford introduces Marilyn Monroe 1962
Fred Otash was a former vice cop in the LAPD when he first met Lawford in the late 1940s. In fact, it was Otash who warned him that numerous hookers busted in Los Angeles had Peter's name on their 'trick' books as a known $50 trick. By 1954, Lawford was married to Patricia, sister of Senator John F. Kennedy, when he learned that Confidential magazine was about to expose him as a philanderer and frequenter of prostitutes. Aware that such an article would not only ruin his marriage but also harm JFK's presidential hopes, Lawford asked Otash (who was a private investigator by then), to intervene with the magazine editor. He was able to bring pressure to bear and, to Lawford's relief, the story never made it into print. Less than a decade later it would be Otash who would send one of his crew around to Marilyn Monroe's home, with instructions to finish the clean-up job started by Lawford after her death. All evidence of her trysting with both JFK and RFK was removed post-haste.
Dorothy Dandridge
Lawford's first romance with a black woman (not to be confused with his numerous encounters with hookers of all nationalities), began in 1951, when he met African-American beauty Dorothy Dandridge. 'He was smitten with her', recalled a friend, 'and she was very taken with him. We used to go see her when she was performing at the Mocambo. Then we went to Vegas when she was there.' Peter was not racist in any way, but nor was he prepared to buck the system and risk a negative reaction to their relationship. Rocky Cooper (Gary's wife) often 'played the beard', whenever Peter and Dorothy visited her and Gary on location in a redneck area. 'I had to sit in the front seat with Peter while he drove through town', she remembered, 'and poor Dorothy had to crouch down in the backseat, out of sight.' He simply lacked the courage to take Dorothy to parties, so he would utilise 'beards' to escort her in, then he would secretly hook up with her later. The affair simply could not survive these obstacles and the couple eventually ended their relationship amicably.
Lawford & Judy Holliday at Ciro's
In 1953, Lawford was signed to star opposite Academy Award-winning actress Judy Holliday in George Cukor's new film, It Should Happen to You. Not long into the shoot, the two stars began an affair. Judy was a married woman and having domestic problems, although not yet separated from her husband. She welcomed Peter's attentions and was soon deeply in love with him. 'Her eyes would bulge out every time she looked at him', recalled his agent, Milton Ebbins. Columnist Louella Parsons noted that Judy and Peter were still keeping company weeks after filming had ended on their picture. In an interview she asked her about it, but Judy denied the existence of an affair. 'If you ever saw my husband', she told Louella, 'you would know how nice he is and that I am really in love with him.' Louella bought it. Unbeknown to Judy, however, Lawford had already tired of her and intended ending the affair. So he just stopped speaking to her! Period. 'I couldn't understand it', Ebbins recalled. 'He had been intimate with this woman, it was a full-blown affair, and he just dumped her. He avoided her like you wouldn't believe.' Judy was deeply hurt and confused. She couldn't figure out what she had done wrong. Lawford's ruthless treatment of her staggered Ebbins and others.
Lee Remick
Lee Remick was cast opposite Peter in the 1962 NBC-TV Theatre version of the 1947 hit film The Farmer's Daughter. The two stars hit it off instantly. 'He was very nice and funny and charming', Lee recalled. '…I thought he was terrific.' She was married to director Bill Colleran at that time and had two children, but Lawford, now in his seventh year of marriage to Pat Kennedy, told his agent he had 'serious' feelings for Lee. Columnist Hedda Hopper got wind of the affair and wrote a 'blind item' that ended with: '…they dined in a popular restaurant, and if he's not careful he may lose his million dollar baby.' The item was clearly aimed at the wealthy Pat Kennedy – 'the million dollar baby.'
With his wife Patricia Kennedy
According to his friends, Lawford repeatedly asked Lee to marry him, but she remained non-committal. Eventually, she agreed to come to his Beverly Hilton Hotel Room and deliver her answer in person. After a two-hour discussion she informed him she was not prepared to break up her family. Lawford was visibly shattered. Of course, Pat knew about the affair all along. In fact, she knew about all of her husband's dalliances. A few weeks later, Peter threw a party at his beach house and invited Lee and her husband to attend. Pat remained near the front door so that she could greet everyone. On arrival, Lee extended her hand and said, 'Hello, Pat. I'm Lee Remick.' Pat coolly replied: 'And I'm the million dollar baby.' For the record, Lee steadfastly denied ever having had an affair with Peter.
With his 4th and last wife Patricia Seaton
There were scores more women (probably hundreds) who became intimately involved with Lawford from the time he arrived in Hollywood from Britain until his death in 1984 at the age of sixty-one. There were brief flings with Judy Garland and Kim Novak, to name but two of the more famous of his encounters, but there were numerous lesser known starlets who fell under his charismatic spell over the years. There were prostitutes, large numbers of them, necessary to him because of his bizarre sexual tastes, tastes that many of his lovers found disturbing and unacceptable. He married four times and philandered through each union. And there were homosexual encounters as well. In the final decades of his life, Lawford descended into alcoholism and drug addiction.