Peter Lawford (1923-84)
Peter Lawford was still a teenager in 1943, not yet twenty, when he was offered the dream of every aspiring actor and actress – an MGM contract! It was a one-year agreement with an option for a second year, and it paid him $100 a week with a guarantee of 40 weeks' work a year. If it was renewed, his salary would leap to $200 a week for the second year. By comparison, Janet Leigh's starting salary in 1947 was only $50 a week with three-month renewal options.
Of course, all the other terms (in every contract) were in MGM's favour. He was now the property of the studio. He could not act for any other studio, nor could he accept theatre or radio work without first obtaining permission from MGM. However, the studio could lend him out to anyone else whenever it chose to, and not pay him a red cent in compensation. Furthermore, his contract could be terminated at any time for any reason. In short he lived at the whim of MGM. On the plus side, he would receive acting, dancing and singing lessons. He would also be given fencing lessons, taught to feign a fistfight, and shown how to use the lights and cameras to his advantage.
Dating Ava Gardner 1944
Peter met Ava Gardner on the set of Pilot # 5, early in 1943, and started dating her in June 1944, once she had separated from her first husband, Mickey Rooney. They saw each other off and on for several years, particularly after Ava's second marriage, to Lana Turner's ex-husband Artie Shaw, foundered. Ava liked men. Comedian Phil Silvers' wife, Jo-Carroll, knew her well: 'She was sexually uninhibited, wild, all kinds of goodies – and quick. You couldn't get a hold of her. She was gone and off with somebody else before you knew where you were.' On New Year's Eve, 1946, Peter and Ava celebrated until midnight, before returning to her place for sex. As Peter prepared to leave at around 3am, there was a knock on the door. Crooner Mel Torme appeared and quickly settled on the couch with Ava. A puzzled and dispirited Lawford departed. Her affair with Torme began there and then. Peter was history, but his fling with her would come back to haunt him years later, after she married and divorced another singer, Frank Sinatra. 'Old Blue Eyes' carried a torch for Ava long after their divorce and would never forgive Peter for having been intimate with her.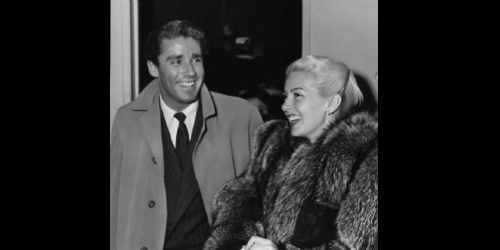 Peter & Lana Turner 1944
Since her arrival in Hollywood in 1937, Lana Turner had dated just about every eligible bachelor in town, including the likes of Howard Hughes, Frank Sinatra, Victor Mature, Robert Stack, Buddy Rich and Tony Martin, to name but a few. In 1940, the nineteen year-old beauty suddenly eloped with bandleader Artie Shaw, but four months later, she filed for divorce and underwent an abortion. Inside two years, however, she had eloped again, this time with businessman Steve Crane. Just six months elapsed before they also divorced, only to re-marry in March 1943 when Lana found herself six months pregnant with his child. Their daughter, Cheryl, was born and inside one year the couple divorced again!
Turhan Bey & Lana during their romance
Early 1944 saw the 24 year-old screen goddess deeply involved with 21 year-old Peter Lawford, and for eight months they were inseparable. Lawford's car was regularly observed parked outside her house night after night. He was smitten and expected to marry her. When she suddenly disappeared for three days he was frantic with worry until, on the fourth day, she called him. 'I took a trip', she told him. 'I'm in Boston. Oh, by the way, Peter, it's over between us'. He was staggered. 'Is there someone else then?' he asked. 'Yes', she replied. 'Gene Krupa'. She soon ditched Krupa as well and moved on to a much-publicized romance with Turkish actor Turhan Bey, (he played Jamiel in the 1944 film Ali Baba and the Forty Thieves). That relationship also ended abruptly as the flighty actress lined up her next conquest.
Lawford & Liz Taylor in Julia Misbehaves (1948)
Elizabeth Taylor had her 16th birthday on February 27, 1948, during the filming of Julia Misbehaves. She was still a child but quickly budding into womanhood and starting to crave romance. The moment she met Peter on the set she melted. 'Peter to me was the last word in sophistication', she later said, and she fell hard. 'She was coming on strong', he recalled, 'batting those beautiful eyes…The nose was perfect, the eyes, everything. I'd be awfully dumb if I said I wasn't attracted to her sexually.' But he was in his mid-twenties and enjoying life far too much to even consider attempts by both Liz and her mother to snare him as a husband. Besides, she was still only sixteen and the word around the studio was very clear: Anyone taking the girl's virginity (or even trying to) would be banished from MGM forever. She was a major investment and not to be tampered with. Peter and Liz were friends for life but never lovers.
Rita Hayworth
One of Lawford's many conquests in Hollywood was screen goddess Rita Hayworth, whom he met at a party a year or so after her divorce from Orson Welles. She had arrived with someone else but, before long, had handed a note to Jackie Cooper that read: 'That's my phone number. Tell Peter to call me. I'll be home tonight around twelve.' Cooper passed on the note to Peter who seemed to be expecting it. 'My wife and I got him on the phone next morning', Jackie recalled, 'and he gave us a blow-by-blow description of their night together. He was naughty that way, just terrible.' Indeed, Peter liked to 'kiss and tell' in detail, telling friends that Rita was, 'the worst lay in the world. She was always drunk and never stopped eating.' After they'd have sex, he said, she would go into the kitchen, sit down in front of the refrigerator, open the door, and devour everything on the shelves.' He promptly discarded her.
Princess Margaret circa 1950
Lawford also dated and slept with Princess Margaret pre-1950 – and she was crazy about him – for a while. He could easily have pursued their relationship further but he chose not to. After all, he was a movie star having the time of his life. The last thing he wanted was to end up becoming the husband of a princess and encumbered with all that that entailed. Besides, he was engaged to her close girlfriend Sharman Douglas around that time, and the two pals often compared notes on him. According to Sharman, Margaret eventually decided that Peter wasn't all he was cracked up to be. This suited Sharman just fine, for she knew how predatory the princess could be when she set her sights on a man. Lawford's engagement to Sharman would ultimately fizzle out.
Part Two – October 14, 2021