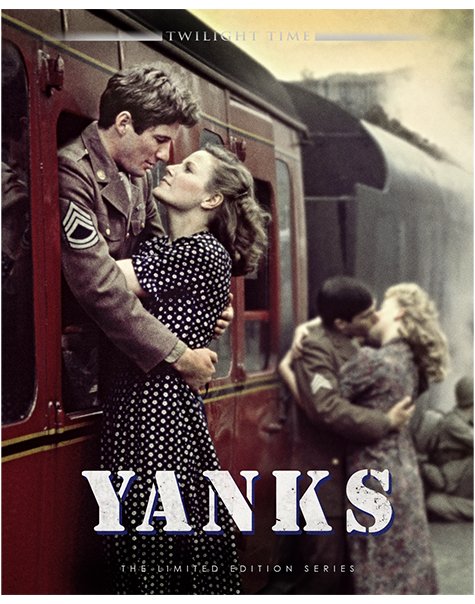 YANKS (1979)                       
Richard Gere & Lisa Eichhorn
Yanks (1979) is a film directed by British-born John Schlesinger and is set in England in the year leading up to the Allied Second Front of June 1944. It is a quite memorable romantic drama that mainly focuses on the relationship between Matt (an American soldier portrayed by Richard Gere), and Jean (an English girl portrayed by Lisa Eichhorn). A secondary affair between an American Captain (William Devane) and a married English lady (Vanessa Redgrave) is equally well-played and memorable.
William Devane & Vanessa Redgrave
The movie left critics unimpressed, which I find surprising because I think it is a charming, well-acted piece. Curiously, it has been celebrated every year in August at one of its filming locations (at Saddleworth, Lancashire, England), where people dress up in authentic World War Two uniforms. A parade of war vehicles and planes also takes place on the day. Schlesinger brought the picture in at 165 minutes and was compelled to make cuts totally 27 minutes. Consequently, Bill Nighy's character was entirely removed from the final print. The full-length version has never been released.
Rachel Roberts
Yanks was a box-office flop in the USA, returning just $1.6 million in rentals. Personally, I am at a loss to understand why the American cinema-going public and DVD buyers were not drawn to it. Devane has always been one of my favourite actors, ever since I saw him play President John F. Kennedy in The Missiles of October (1974). He and Vanessa Redgrave are wonderful in their roles as two people genuinely attracted to one another but married to others. Adultery has rarely been handled on-screen so classily. Many people consider Richard Gere to be somewhat wooden but the man oozes charm and likeability in this. Lisa Eichhorn impressed enough to be nominated for two Golden Globes – one for Best Actress in a Motion Picture (Drama), and the other for New Star of the Year in a Motion Picture (Female). She did not win either nomination but she was nevertheless terrific in the film. This was Rachel Roberts' final screen appearance (she played Jean's mother). In November 1980, she took her own life at just fifty-three with a barbiturate overdose.
D-DAY: THE 6TH OF JUNE (1956)             
This is another World War Two romance that the critics considered to be sub-standard. It also happens to be one that I quite enjoyed in spite of their low opinion of it, although I must admit that I have always loved to watch the absolutely wonderful Dana Wynter in action. To me she was a kind of cross between Natalie Wood and Elizabeth Taylor but prettier than them both. She epitomized everything I felt a classy British woman should be – even after I learned that she was not even born in the British Isles. Her birth name was Dagmar Winter and she arrived in this world via Berlin, Germany in 1931! Although Jean Simmons was initially cast as Valerie Russell, the part ultimately went to Dana who considered it to be her finest role.
Dana Wynter & Robert Taylor
D-Day: The Sixth of June is based on the 1955 romantic war novel 'The Sixth of June', written by a Canadian World War Two war correspondent working for The Montreal Gazette named Lionel Shapiro. He actually landed with the Canadian armed forces on D-Day at bloody Juno Beach. The Canadians suffered 961 casualties on that first day. He also went in with the invading forces at both Sicily and Salerno. The Normandy beach scenes in this movie were shot at Point Dume, California, the naval scenes at Long Beach, and others on the Fox Studio back-lot.
Richard Todd & Dana Wynter
Robert Taylor was in his mid-forties when he played the romantic lead opposite Ms Wynter. She was twenty-four. Edmond O'Brien was also in the film, portraying a fictional US Army Colonel named Alex Timmer, who gets drunk and shoots his mouth off on the eve of the D-Day landings. His unforgiveable breach of security sees him relieved of his command. This incident is loosely based on what happened to real life US Army Major Cleveland A. Lytle, a man assigned to command three companies of Rangers in the assault on Pointe du Hoc. He became quite vocal, insisting that the assault would be unnecessary and suicidal, and was consequently relieved of his command at the last minute. The Provisional Ranger Force commander rightly felt that Lytle could not convincingly lead a mission he did not believe in.
Edmond O'Brien & Robert Taylor
The part of Valerie's British boyfriend, John, who goes away to war early in the story, was played by real life WW2 war hero Richard Todd. He was in his mid-thirties when the picture was shot. It may surprise readers to learn that he (not Sean Connery) was author Ian Fleming's outright choice to play James Bond in the first 007 film Dr No (1962), but scheduling issues prevented him from accepting the role. Todd's personal life was full of tragedy. In 1997, his twenty-year-old son Seamus Palethorpe-Todd (from his second marriage) shot himself in the head. Eight years later his eldest son, Peter, (from his first marriage) took his own life with a shotgun. Todd himself passed away in 2009 at the age of ninety.
Director Henry Koster had previous success with The Bishop's Wife (1947), Harvey (1950) and The Robe (1953), to name but three of his films, and I thought his handling of the adulterous relationship between the married Brad Parker (Taylor) and Valerie was very tastefully done. For those who have not yet seen this film, the conclusion is an unusual, possibly unique, one rarely seen in romantic dramas. He had great respect and admiration for the American star. 'He was really nice to work with', Koster said, 'and a wonderful gentleman. The only trouble with him was he couldn't give up smoking, and he killed himself. He was warned that if he didn't give up smoking…He tried and tried, and told me the old joke of Mark Twain, about how giving up smoking was easy; Mark Twain had done it twice a week. Well, Robert Taylor tried twice a week, and finally gave up and said he couldn't help it. He hoped that nothing would happen. But it did happen, and he died very young – a truly nice, charming, handsome man.' Bob Taylor was only fifty-seven when lung cancer claimed him in 1969.