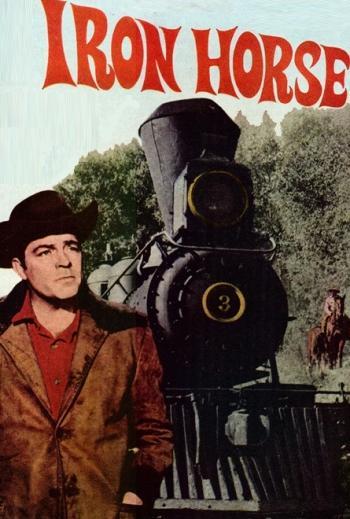 IRON HORSE (1966-8) 48 EPISODES                                                           
Dale Robertson portrays Ben Calhoun, a fictional gambler who turns into a railroad baron after winning the unfinished Buffalo Pass, Scalplock & Defiance Railroad in a card game. The series centres on his attempts to finish the line despite obstacles placed in his way at every turn. The series ran on ABC and its pilot was released as a movie under the title Scalplock. Star of the series Dale Robertson was asked why the series failed. 'I liked the show after it got started', he said, 'but I grew to dislike it. The network didn't seem to take an interest in it. It would have been a great series; as it was, it was just a mediocre show. They all had to get their fingers in the pie.'
Dale Robertson
Unusually for sixties television, the first series saw Calhoun indulge in some flagrantly blatant sexual dalliances with several of the pretty characters who guest-starred on several episodes, and all this while maintaining an on again/off again (and equally sexy) relationship with Julie Parsons, played by newcomer Ellen Burstyn (billed here as Ellen McRae). Possibly reacting to viewer complaints, the producers pretty much eliminated the sexy side of things altogether in the second season. It should be stated that Calhoun was never shown in bed with any of these ladies, but it was clearly implied that his interest in them was purely physical, that he had no intention of marrying any of them.
Ellen Burstyn (Ellen McRae) in Iron Horse
Robertson was born in Harrah, Oklahoma in 1923. He served in a tank crew and in the combat engineers in North Africa and Europe during the Second World War and was twice wounded. A photograph he had taken for his mother during the war was displayed in a Californian shop window and attracted movie talent scouts who signed him up. His acting career began before the war ended. In the fifties and sixties he would headline two western TV series, one of which was Iron Horse. The other was the more popular Tales of Wells Fargo (1957), and will feature later in these articles.
 Jeff Richards
JEFFERSON DRUM (1958-9) 26 EPISODES                  
Jefferson Drum was a short-lived series set in the western town of Jubilee in the 1880s. It starred Jeff Richards as the title character, a widowed, crusading newspaper editor with a ten year-old son, Joey, played by Eugene Mazzola. The series was also known by the name of The Pen and the Quill and aired on the NBC network from April to December 1958. It was rebroadcast the following year before being cancelled.
If World War Two had not intervened, it is likely that Richards may never have become an actor at all. Born Richard Taylor, he was all set to embark on a professional baseball career in 1943, but put those plans on hold when he entered the US Navy in June of that year. He served as a radio technician until his discharge in 1946, whereupon he attempted to resume his baseball career (he was almost twenty-two by then), but a torn ligament forced him into an extended leave-of-absence from the sport. During the war he and a group of servicemen had visited Paramount Movie Studios, where a talent scout took him aside and suggested he see him about an acting career at war's end. While recuperating from his torn ligament he took up the offer and signed on with Paramount who changed his name to Jeff Richards.
Jeff Richards (2nd from right) in Seven Brides for Seven Brothers (1954)
He soon resumed his ball-playing and received offers from both the New York Yankees and the Brooklyn Dodgers, but when Warner Brothers offered him a contract he was forced to choose between baseball and movie acting. Acting won out and Warners cast him and another newcomer, Dale Robertson, as a couple of muscular lifeguards in The Girl from Jones Beach (1949). On loan-out to Columbia, he actually got to play baseball on the screen in the 1950 comedy Kill the Umpire. Then he signed with MGM. In all, he appeared in over forty films. His most notable role was as Benjamin Pontipee, one of Howard Keels brothers, in the very popular Seven Brides for Seven Brothers (1954). He left MGM to star in Jefferson Drum. By 1966, his acting career was over, so he chose to take up carpentry and gained steady employment on construction projects at several Hollywood studios until his death in 1989.
JOHNNY RINGO (1959-60) 38 EPISODES           
Actor/singer Don Durant played the title character in this well received series. Ex-gunfighter Johnny Ringo is made sheriff of the small fictitious town of Velardi in Arizona Territory and is soon spending his time keeping the peace with the aid of his deputy, Cully, played by Mark Goddard. Goddard would go on to star in the popular Lost in Space series in the mid-sixties. Durant wrote and sang the theme song to the Johnny Ringo series, thus becoming the only western star to be afforded that honour in his own show.
Johnny Ringo came along when creators of western series strove to make their heroes unique and more interesting by equipping them with 'gimmick guns'. Steve McQueen had one in CBS's Wanted: Dead or Alive; Chuck Connors brandished a trick rifle in The Rifleman and Scott Brady used another in Shotgun Slade. Ringo was given a custom-built LeMat revolver, which featured an auxiliary shotgun barrel under its primary barrel! There were several episodes in which the final round in the shotgun barrel proved to be the deciding factor in a gunfight.
(L to R) Mark Goddard, Karen Sharpe & Don Durant in Johnny Ringo
Stunning Texan actress Karen Sharpe played Ringo's girlfriend, Laura Thomas, the daughter of another of his deputies who had been killed on the job. Actress Marilyn Erskine (former wife of top director Stanley Kramer), played Laura in the pilot but lost the role to Karen when the series was eventually cast. By sheer coincidence, Karen, too, would wed Kramer in 1966, bear him two children, and remain his wife until his death in 2001. Her character was written out of Johnny Ringo in mid-season, however, after she repeatedly clashed with producer Aaron Spelling over how Laura should be depicted.
Overall, the series rated highly, although its Thursday night competition was ABC's The Real McCoys starring the very popular Walter Brennan. Despite making it into the Top Twenty a few times, Johnny Ringo was axed at the request of its sponsor, Johnson Wax Company. Executives there wanted a sitcom in preference to a western. At the time there were thirty western series showing on the networks so, perhaps, someone at the Johnson Wax Company envisioned the writing being well and truly on the wall.