ROMAN HOLIDAY (1953)             
This delightful film is, in the eyes of many fans, a shining example of the heights to which movie-making was capable of rising in the early 1950s. It takes us to one of the world's great cities and allows us to become involved in an unlikely (albeit unfulfilled) romance between a princess and a commoner. Of course, we know from the beginning that their 'love' can never be, but we can nevertheless bask in the possibility, however remote that might be. We have a great director to thank for this, as well as two highly personable actors in the lead roles. William Wyler knew how to present a romantic tale and Gregory Peck positively oozed integrity. But it was the utterly charming Audrey Hepburn who stole the film – lock, stock and barrel.
The stars of the picture – Audrey Hepburn & Gregory Peck
Peck knew she would from the outset, informing the producers that they should put her name alongside his above the title because she was certainly going to win the Oscar. They did and she did. Greg's contracts insisted he have top billing in his pictures, so for a Hollywood star to relinquish that was most unusual. This was not Audrey's first screen appearance. Not by a long shot. She had been in Dutch and British pictures since 1948, but it was her first major role and her first American film. Wyler wanted an 'anti-Italian' actress, one who was different from the curvy women of that era, such as Gina Lollobrigida and Sophia Loren. 'She was perfect', he said later. '…no arse, no tits, no tight-fitting clothes, no high-heels. In short a Martian. She will be a sensation.'
Edith Head's Oscar-winning costumes
The legendary Edith Head picked up an Oscar for Best Costume Design in a Black & White Film, and Ian McLellan Hunter was named as winner of the Oscar for Best Writing, Motion Picture Story. This was most intriguing in itself, because the man never wrote a word of it! The black-listed Dalton Trumbo penned it all; Hunter merely fronted for him. It took the Academy until December 1992 to get around to correcting its records. The following year Trumbo's widow was presented with the Oscar on Dalton's behalf and Hunter's name was quietly removed from the Motion Picture Story category. Oddly enough, the plot for Roman Holiday appears to be very similar to that of the 1934 Oscar winner It Happened One Night. Both stories feature a privileged woman who runs away from home and meets a reporter in desperate need of a 'scoop' to save his career. They become attracted to one another and the reporter ends up not doing the story.
Paramount wanted to shoot Roman Holiday in Technicolor and in Hollywood, but Wyler insisted it be filmed on location in Rome. They finally agreed but the budget was slashed. As a result, it would only be photographed in black & white and the female lead would have to be an inexpensive unknown. Wyler almost cancelled the project because he initially wanted Jean Simmons to play the princess. He was unable to be present for Audrey's screen test, but he left specific instructions for his assistant who was to conduct the test. He was to keep the cameras rolling after Audrey had read her piece. Wyler wanted to observe her behaving naturally. And what he saw convinced him she was perfect for the princess role.
It later emerged that Paramount had assets frozen in Italy and was, therefore, more than happy to take advantage of the opportunity to film in Rome. The blocked funds became available after the studio got script approval from the Italian Government. Greg Peck's role was originally written for Cary Grant, but he had turned the part down. He said it was because he felt he was too old to play Audrey's love interest. He was 49 and she was 24 at the time. Curiously, a decade later he did play her lover in Charade (1963), and the two actors became firm friends for life. Others said he realized the moment he read the script that it would be her picture and hers alone. Any actor, regardless of his star quality, could not hope to measure up to her.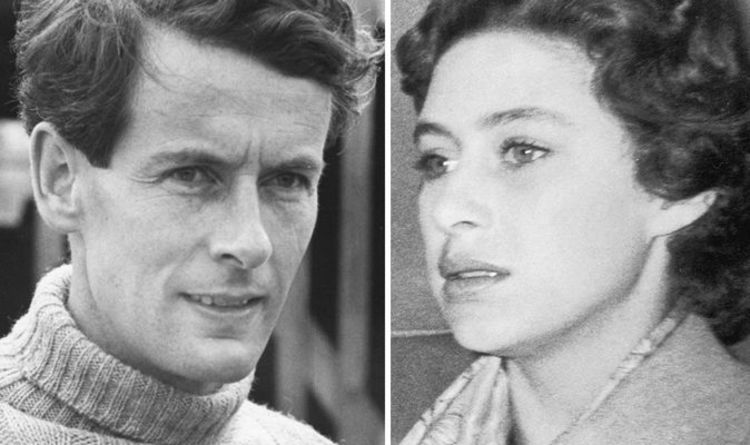 Peter Townsend & Princess Margaret
Much of the film's success is said to have stemmed from the public's fascination with Britain's Princess Margaret at that time. She was creating headlines throughout Europe with her highly publicized romance with Group Captain Peter Townsend. He was not only a 'commoner' but a divorced man as well, and thereby considered totally unsuitable for marriage to Queen Elizabeth's sister. Ultimately, Margaret was compelled to renounce her love for Townsend and to focus on marrying someone more 'suitable'. Paramount made an agreement with the British Government to shoot an extra scene in Roman Holiday for the sole purpose of establishing that the princess was not British! Even so, the problem was a storm in a tea-cup, for it was only mere chance that the picture was made at the time of Princess Margaret's dilemma anyway. The script had been knocking around Hollywood for a decade in search of backing.
The 'Mouth of Truth'
There are many delightful moments in Roman Holiday, but the one that took most people's fancy was the famous 'Mouth of Truth' scene and Audrey's exquisite reaction to Peck's 'bitten-off hand'. Just before the cameras rolled, he quietly informed Wyler of his intention to play a trick on his leading lady. He would have his hand hidden up his sleeve when he withdrew it from the sculpture's mouth. Wyler agreed, but Audrey, of course, was not told. When she saw Greg's 'missing hand', she let out a genuine scream of horror. The scene was filmed in only one take, so what we see is her completely natural reaction. One is reminded of a similar moment in Pretty Woman (1990), when Julia Roberts is shown a priceless necklace in a jewellery-box by Richard Gere, whereupon he snaps it shut as she is about to put her hand in. This was not rehearsed either and Julia's squealing reaction was both spontaneous and natural – and quite delightful.