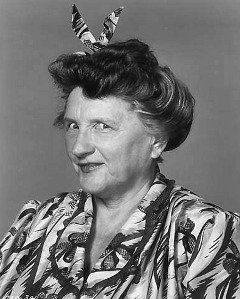 Marjorie Main
Marjorie Main was an MGM character actress loaned out to Universal for the ten 'Ma & Pa Kettle' films that proved so successful. Her real life husband of 14 years, Stanley Krebs, passed away in 1935 when she was in her forty-fifth year, but she continued to have 'conversations' with him until her own death in 1975! In fact, she was known to occasionally interrupt a scene in a movie, chat with him, and then matter-of-factly let the director know it was now OK to continue filming. Debbie Reynolds wrote in her biography Unsinkable, that Marjorie was known to occasionally bring the urn containing Stanley's ashes with her to the MGM Commissary. She would order an extra meal for him and carry on conversation as if he were still alive and dining with her!
Peter O'Toole in his later years
In 1976, Peter O'Toole underwent surgery to remove parts of his stomach and intestine. At the time his condition was attributed to his heavy drinking, but it was later revealed that he had actually been suffering from stomach cancer! The following year he almost died from a blood disorder; these two serious issues greatly affecting his ability to work at that time. Nominated no fewer than eight times for the Best Actor Academy Award throughout his career, he never once went on to win. When advised he was to receive a Special Oscar for lifetime achievement in 2003, he wrote a letter of refusal to the Academy, saying he would like more time to 'win the lovely bugger outright'. He only attended the ceremony after being told the award would be bestowed whether he did so or not.
Monty Clift & Liz Taylor in Raintree County (1957)
Raintree County (1957) was MGM's rather lame attempt to emulate at least part of the success enjoyed by 1939's American Civil War epic Gone with the Wind. Problems beset the production quite early in filming, particularly when leading man Montgomery Clift was seriously injured in a car crash shortly after leaving a party at the home of his co-star Elizabeth Taylor. Clift's face was horrifically injured and filming had to be halted while surgeons worked hard to reconstruct his appearance over several months. By the time he returned to the set his addiction to alcohol and pain-killers was at once apparent. Indeed, on at least two occasions, he was found running stark naked through the streets. On another, his hand was badly burnt when he fell asleep with a lit cigarette between his fingers. Elizabeth had her own issues. During filming she became embroiled in an affair with entrepreneur Mike Todd, despite being married to Michael Wilding at the time, and ultimately became ill enough to be hospitalized for a week. On its eventual conclusion, Raintree County ran for 168 minutes. It was too long, tedious and dull; a far cry from being a second GWTW.
Singer Martine McCutcheon
Lovely Martine McCutcheon played Hugh Grant's love interest in 2003's Love Actually, but she had already made a name for herself back in 1995 when, as a nineteen year-old, she first played Tiffany Raymond in the TV soap EastEnders. In April '99, she hit the pop music charts in a big way when her debut single 'Perfect Moment' entered them at #1 and stayed on top for two weeks. In fact, her first five singles entered the charts in Top 10 spots. Her albums were also successful yet, by 2013 she was declared bankrupt by the courts; among her creditors HM Revenue & Customs.
Marco Lopez in Chuka (1967)
Marco Lopez was Elvis Presley's first stand-in when the legendary singer debuted in Love Me Tender (1956). Later, in the mid-sixties he was employed as one of Rod Taylor's 'hoods', the collective name the Australian actor gave to his three bodyguards. When Rod made Chuka (1967), Lopez was given the role of Hanu, the Indian chieftain, and was noticeable enough to land a regular gig as Officer Sanchez in the popular TV cop show Adam-12 (1968-75).
Mona & Karl Malden
Karl Malden and his wife Mona married in 1938 and the union lasted 71 years until his death in 2009. At that time, theirs was the third longest marriage in Hollywood history, surpassing the 69 years of Bob and Dolores Hope (1934 until Bob's death in 2003). The Malden marriage is currently third behind that of Art Linkletter & Lois Foerster (1935-2010) – 74 years, and Norman & Peggy Lloyd whose 75 year marriage ended with Peggy's death in 2011. Incidentally, as of this writing (July 2020), Norman Lloyd is heading towards his 106th birthday on the 8th of November.
Kris Kristofferson circa 1964
Singer/actor and Rhodes Scholar Kris Kristofferson is also a former United States Army Rangers captain. After graduating from Airborne School, Ranger School and flight school, he served in Germany before volunteering for service in Vietnam as a helicopter pilot. In 1965, however, he was offered a professor of English Literature position at USMA West Point instead. He showed his disappointment over not being permitted to fight in Vietnam by resigning his position. A couple of years after leaving the army he flew helicopters for the Tennessee National Guard. In fact, Kristofferson got his start in the music business by landing his helicopter in Johnny Cash's backyard and presenting him with a song he had written. Cash later recorded the song. Kris would ultimately lose his helicopter license because of his heavy drinking problem at that time; having actually passed out at the controls on one occasion.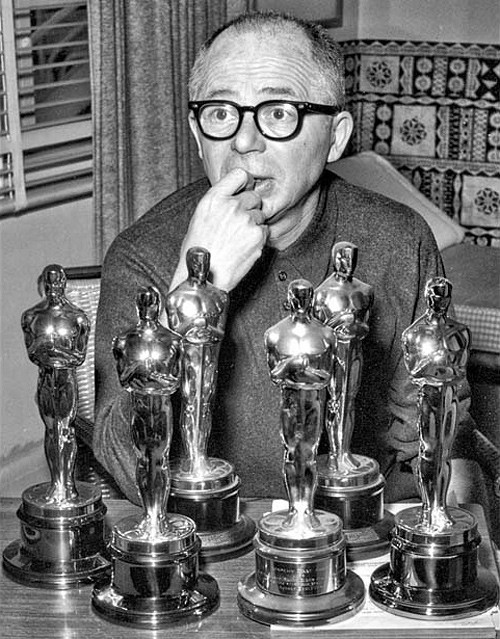 Legendary director Billy Wilder
Michael Caine wrote in his biography that he was surprised to find director Billy Wilder living in a flat instead of a villa. When Caine visited the famous director of Double Indemnity (1944), Sunset Boulevard (1950) and Some Like it Hot (1959), he was surprised to find Billy's apartment chock-full of paintings, with no room left to hang them on the walls. His modern art collection was put together over a lifetime. He sold a portion of it in 1989 for $32.6 million!
George Cukor
Upon his death in 1983, director George Cukor was interred in the Garden of Honour at Forest Lawn Memorial Park, California, in an unmarked grave in a private area not accessible to the general public. Frances Goldwyn (formerly Francis Howard), wife of mogul Samuel Goldwyn, is buried next to Cukor at her request, because of her long, but unrequited, love for him.