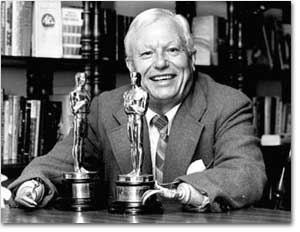 HAROLD RUSSELL (1914-2002)                         
Born in North Sydney, Nova Scotia, Canada in 1914, Harold Russell moved with his family to Cambridge, Massachusetts when he was just five years old. He was training paratroopers and working on an Army film at Camp MacKall, North Carolina on June 6, 1944, when some TNT exploded in his hands. His horrific injuries resulted in the amputation of both of his hands and he was later fitted with artificial replacements. Recruited to make an Army film about the rehabilitation of veterans, Russell was spotted by Samuel Goldwyn who asked him to play in his 1946 feature film The Best Years of Our Lives. Harold would go on to win the Best Supporting Actor Oscar for his performance as war veteran Homer Parish in the picture.
Russell in The Best Years of Our Lives (1946)                      
As fate would have it, he would receive two Oscars for this one role! 'They figured I didn't have a chance; the other guys [Charles Coburn, William Demarest, Clifton Webb and Claude Rains] had too much background', he recalled, when the Academy decided to award him an honorary Oscar, 'for being an inspiration for disabled war veterans throughout the US'. The presentation took place before he was announced as the winner of the actual Supporting Actor Oscar. Sadly, in 1992, he was compelled to auction off his Oscar for $60,500 to help pay his ailing wife's medical bills! 'My wife's health is much more important than sentimental reasons', he explained. 'The movie will be here, even if Oscar isn't.' Given the lack of roles for double-amputee characters, Russell had one of the least prolific movie careers of any Oscar winner in history, appearing in only three films over a span of fifty years. He was eighty-eight years old when a heart attack took him in 2002.
JOHN RUSSELL (1921-91)                                                                        
Television's future star of Lawman, John Russell, stood 6'4" tall when he first attempted to enlist in the United States Marine Corps (USMC). Evidently, he was rejected at the time because of his stature. By war's end, however, he had not only been accepted into the Corps, but had seen a lot of action on Guadalcanal as a twenty-one year old.  In 1942, he received a battlefield commission to lieutenant, was decorated for valor and wounded during the fighting. After recuperating from his wounds, Russell served as an assistant intelligence officer before contracting a severe case of malaria that ultimately led to his medical discharge. His movie career after the war saw him play villains more often than not, his two most memorable performances being in Rio Bravo (1959) as Nathan Burdette and in Clint Eastwood's Pale Rider (1985) in which he portrayed the evil Marshal Stockburn. Russell died of complications from emphysema in 1991, a couple of weeks after his 70th birthday.
ROSALIND RUSSELL (1907-76)                         
She was one of seven children and named after the SS Rosalind, a vessel on which her parents had sailed, not for the heroine of As You Like It, as some biographers insisted. She entered this world in Waterbury, Connecticut in 1907. In 1934, Roz was signed by Universal after being simultaneously tested by then and also by MGM. When MGM made her a better offer she plead ignorance of Hollywood, and Universal generously released her to join MGM. Her seven-year contract saw her excel in 'boss lady' roles in the thirties and forties. 'At MGM, there was a first wave of top stars, and a second wave to replace them in case they got difficult', she said. 'I was second in line of defense, behind Myrna Loy.'  Over her career she would be Oscar-nominated four times without ever tasting success.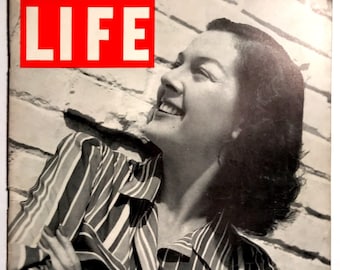 Life Magazine cover, September 1939                  
Roz was suitably embarrassed when she found her picture on the front of Life magazine on September 4, 1939, the date selected by the magazine's editor as the opening day of the war. Time magazine had on its cover images of the fighting in Poland but Henry Luce, the publisher of Life, had already committed himself to promoting Miss Russell's appearance in the movie The Women. The film was the celluloid version of the Broadway play of that name, written by his wife Clare Boothe Luce. In fairness to Henry, it was too late to alter the cover. It had already gone to press. Throughout the war years Roz participated in charity drives, accompanied at times by other big stars, Cary Grant, Myrna Loy and Charles Boyer.
Rosalind in the title role of Auntie Mame (1958)
After the war ended, it became necessary to raise a further eleven billion dollars for the repatriation and recuperation of the many terribly wounded veterans returning to the United States, who were in need of nursing and care. Rosalind made a film on behalf of the government, pleading with her countrymen and women to make one last 'Victory Bonds' drive to look after those who had paid a high price to defend liberty for all Americans. Roz passed away in 1976 at the age of sixty-nine. She had been fighting breast cancer for some time and had already undergone a double mastectomy in an unsuccessful attempt to defeat the disease.
ROBERT RYAN (1909-73)            
Chicago-born Robert Ryan was born into a wealthy family who owned a real estate firm. He was 34 years old when he enlisted in the Marines in January 1944, and served until November 1945. To his great disappointment, he spent his entire tour of duty as a drill instructor (and a very good one at that) at Camp Pendleton in California. The 6'4" tough guy was considered to be of more value as a trainer of recruits than as a combatant, especially given his age. He even won a boxing championship during his time in the services, having taken up the sport at Dartmouth College a few years earlier.
Close off-screen friends – Ryan (L) & Lee Marvin
For years after peace had been declared in August 1945, Ryan actively campaigned for improved civil rights and restricting the growth and proliferation of nuclear weapons. He was also a vigorous opponent of McCarthyism and its relentless persecution of innocent people suspected of having Communist sympathies, and a vocal supporter of the blacklisted Hollywood Ten. Surprisingly, he was never a target of the HUAC or McCarthy. 'I suspect my Irish name, my being a Catholic and an ex-Marine sort of softened the blow', he suggested. Ironically, Ryan was approaching the final stages of lung cancer when he played the terminally-ill political activist Larry Slade in The Iceman Cometh (1973). He moved out of his apartment (#72) in the Dakota Building in New York City and leased it to John Lennon and Yoko Ono. Actor Lee Marvin, a former US Marine, was a lifelong friend of Ryan's.