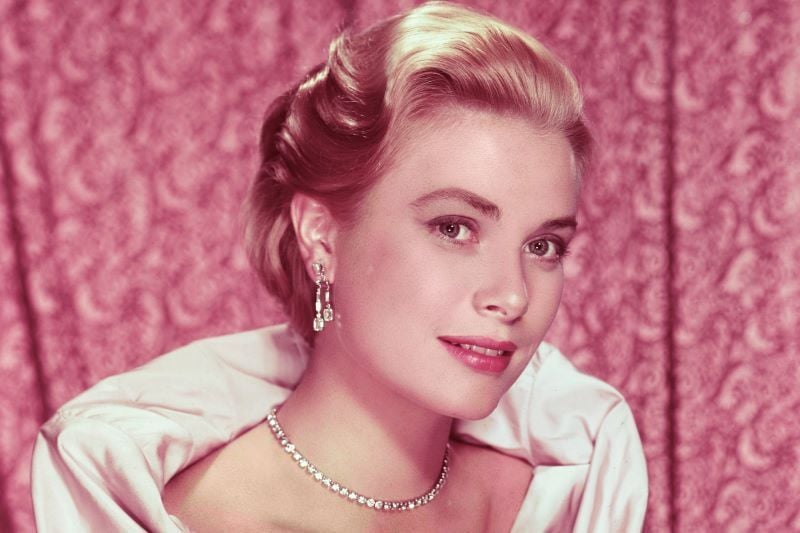 GRACE KELLY  (1929-82)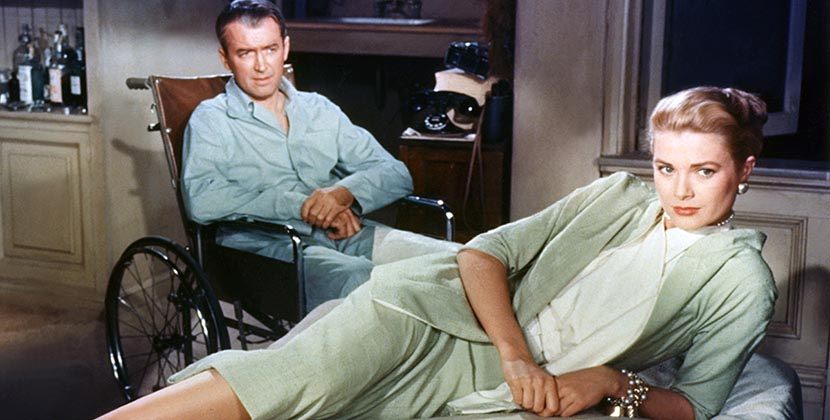 Grace & Jimmy Stewart – Rear Window
Her predatory reputation followed her onto the sets of her films. She was well-known as a lover of married, older men when she joined Jimmy Stewart in the Hitchcock thriller Rear Window. His wife, Gloria, was not about to allow Grace to lead her husband astray, so she drove Jimmy to and from the set every day that filming took place. Not that Grace was especially perturbed by this. 1953-4 proved to be a target-rich season for an eager young beauty like her. Not only was she seeing Cassini regularly, she was also embroiled in a torrid affair with the very much married Ray Milland, her co-star in Dial 'M' for Murder. He was all set to end his marriage and run off with her, but reluctantly changed his mind when his wife threatened to wipe him out financially if he went through with it. He consequently broke with Grace and his marriage endured for a total of 54 years until his death in 1986. Years later, it was revealed that Grace managed to bed Anthony Dawson, the actor who played her intended killer in the movie, after she and Milland parted company.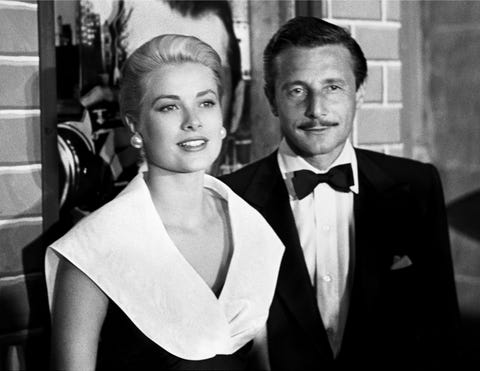 Grace & her then fiancee OLeg Cassini
None of this overly bothered Grace, of course, for she was still intimately involved with Cassini. Indeed, as he would confirm years later, she aborted his baby in 1955, just before she threw him over for Prince Rainier. But more of that later. Spencer Tracy, by then in his fifties, heard that Grace had a 'thing' for older men, so he invited her out for dinner and slept with her that night. He had just completed Bad Day at Black Rock (1955). Frank Sinatra is believed to have had an 'encounter' with her in '54 and Marlon Brando openly spoke of having sex with her. Rumours have since abounded that other lovers included Tony Curtis (1950), producer Robert Evans, Paul Newman (1951), and President John F. Kennedy (1962, but I have been unable to uncover any evidence whatsoever to substantiate them.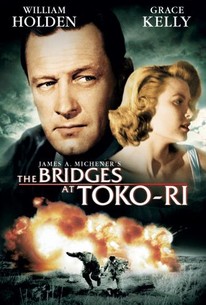 William Holden was married to Brenda Marshall but fell briefly for Grace during the shooting of The Bridges at Toko-Ri (1954). She took him home to Philadelphia to meet her parents, but they gave him a cold reception because he was a married man. For that matter, they had no time for Cassini either, Grace's father referring to him as 'a worm', 'a wop' and 'a dago' – and told him so to his face, even after he and Grace became engaged! Ultimately, she broke it off when Rainier came on the scene, maintaining that she only did so at the insistence of her parents. Given her strong-willed nature, it seems unlikely that Grace would have bowed to her parents' wishes and married against her own feelings for Cassini, had they been as deep and meaningful as she often declared. In the end it was another of her lovers, French actor Jean-Pierre Aumont, who introduced her to the prince in 1955. Was she instantly smitten or did the prospect of becoming a princess take precedence? Whatever the reason, Grace wed Rainier the following year. They had three children together – Princess Caroline (1957), Prince Albert (1958) and Princess Stephanie (1965). Privately, it was pretty much an open marriage from the beginning, with both parties taking lovers throughout its course. Rainier believed his bride was a virgin on his wedding night, his physicians having advised him that she had satisfactorily explained why her hymen was no longer intact. It had been broken, she assured them, in a collision during a high school hockey game many years ago.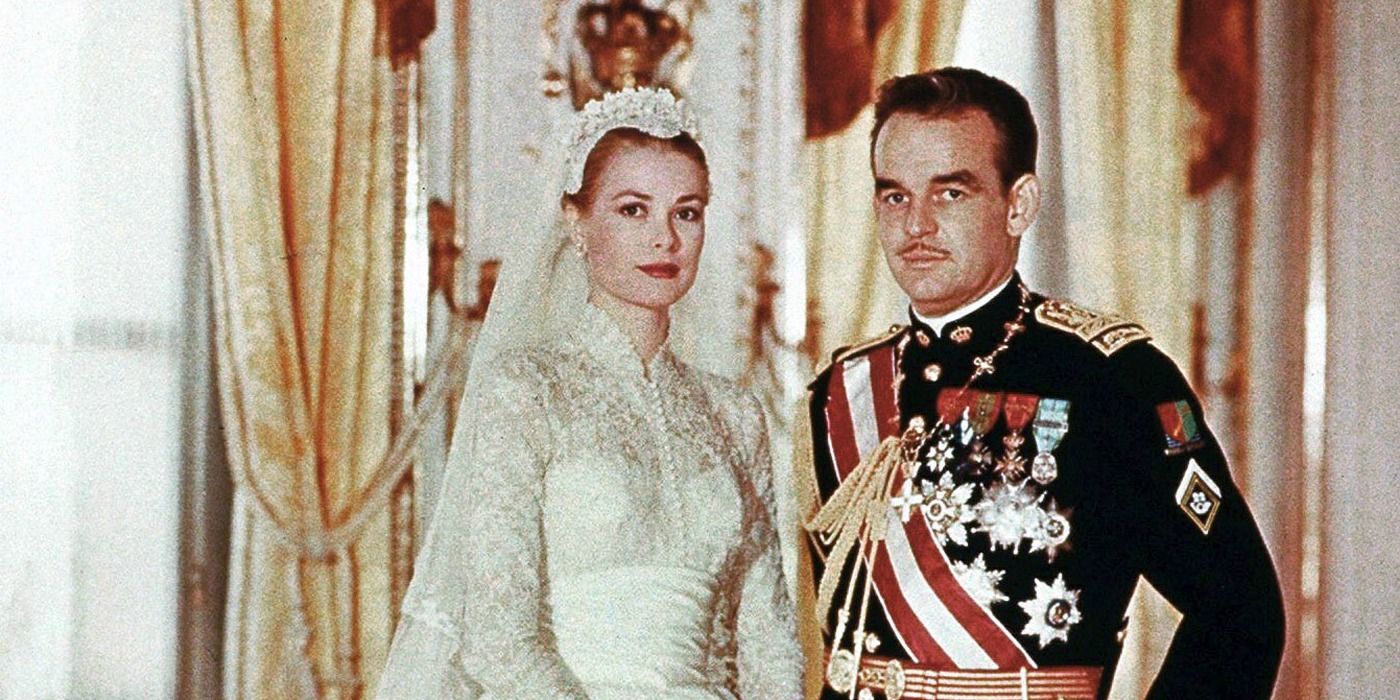 Princess Grace & Prince Rainier of Monaco 1956
The prince had been attracted to her from the outset, of course, (few men were not), but there was more to the marriage than just mutual attraction. He needed to increase tourism in his tiny, cash-poor principality, and he needed to produce an heir to eliminate the threat of Monaco ever reverting to France. Marriage to a major, fertile American movie star was bound to achieve both objectives. Indeed, had he not met Grace when he did, there is every possibility that an offer of marriage would have been made to none other than Marilyn Monroe! The Kelly family in Philadelphia were far from happy with his demand for a substantial dowry to accompany Grace to Monaco, but eventually a figure of $2 million was reluctantly agreed upon. The amount was diverted from the bride's inheritance, possibly at her siblings' insistence.
The Country Girl (1954) with Grace, Holden & Crosby
Her wedding, however, was still a year or more into the future when the aging crooner Bing Crosby (also married) flipped over her on the set of The Country Girl (1954). He even proposed marriage. She turned him down but was content to have him service her on a regular basis at Alan Ladd's home. Ladd was Bing's next-door neighbour and was none too happy about them using his spare bedroom for their trysting. 'Doesn't he know any place else where he can go at night?' said Ladd. 'There must be hotels or motels.' Grace won the Academy Award for Best Actress for her performance in Country Girl, the result being the closest vote up till that time that did not end in a tie. She beat Judy Garland (A Star is Born) by just six votes. Controversy has raged over the result ever since. As for Bing, he went the way of all her previous lovers as she moved on to new romances.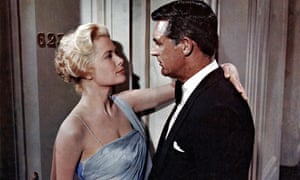 Grace in a famous scene with Cary Grant in To Catch a Thief (1955)
David Niven & Princess Grace 1959
Popular British actor David Niven was dining with Rainier one evening when the prince asked him who was, in his opinion, the 'best lay' in Hollywood. For a second Niven forgot to whom he was talking and blurted out: 'Grace…er… Gracie Fields!' Cary Grant and Grace were lovers for seven years or so, although their intimacy did not begin when they made To Catch a Thief (1955) prior to her marriage to Rainier. It was not until the early seventies that their friendship evolved into something else. In 1962, incidentally, Grace underwent two abortions but it is unknown who the men involved were.
Sinatra, Grace & Crosby
At one time she looked set to return to the screen in Marnie (1964), but both Prince Rainier and the people of Monaco soon vetoed that idea. They did not wish for their Princess to be cast in the role of a thief involved in an affair with Sean Connery. Her much- hoped for screen comeback was stillborn. In fact, all eleven of her career films were banned by Rainier from screening in the Principality of Monaco.
In the years leading up to her death in a motor accident in September 1982, Grace secretly took lovers on a regular basis, often picking them up on the Concorde as she flew back and forth to the states. Rainier did most of his philandering in Paris. Executives, restaurateurs and other businessmen enjoyed passionate, secretive interludes with her over the years. Producer Robert Dornheim was sixteen years her junior when he landed her in 1980-1.
It is uncertain how Grace felt about her reputation as a promiscuous woman, although she did not bother to deny it in private. When her daughter Stephanie was hitting headlines with her love life, it was Grace who privately admitted, given her own track record, that she was in no position to lecture or chastise her daughter on the subject of fidelity. Her reservations about Hollywood were, perhaps, a tad hypocritical. 'Hollywood amuses me', she said. 'Holier-than-thou for the public and un-holier-than-the-devil in reality.' I guess she would know.