THE SAND PEBBLES (1966)                               
The Sand Pebbles is a fine movie, one that enabled its star Steve McQueen to reach the peak of his career. In fact, he received his one and only Oscar nomination for his portrayal of the rebellious chief machinist's mate Jake Holman, a role he appeared to be ideally suited to. It was McQueen's misfortune, however, to come up against Paul Scofield's tour de force as Sir Thomas More in A Man for all Seasons that year and the Academy Award eluded him. Director/producer Robert Wise had hoped to get Paul Newman for the Holman part but had to settle (fortuitously) for McQueen instead. Oddly, singer Pat Boone also tried hard to land the role but Wise understandably wanted an actor to play his hero, not a singer. The only criticism this writer has of the film is that, at 182 minutes running time, it is a tad too long.
Director Robert Wise
For several years Wise had wanted to make this movie but studios were continually reluctant to finance it. Eventually, 20th Century Fox agreed to produce and distribute the picture, but executives were concerned about the year or so it would take to scout locations and set up filming. Consequently, they insisted Wise direct a 'fill-in' project during the interim. The project in question was none other than The Sound of Music, which he completed and released in 1965 to monumental critical and public acclaim. This now iconic musical won five Academy Awards, including two for Wise (for Best Picture and Best Director), but he was hard at work in Hong Kong on The Sand Pebbles and unable to attend the 38th Annual Academy Awards ceremony. Julie Andrews and associate producer Saul Chaplin accepted the statuettes on his behalf.
Steve McQueen in The Sand Pebbles (1966)
The story of The Sand Pebbles is fictional, even though the writer of the 1962 novel, Richard McKenna, had previously joined the US Navy, in 1931, and served as a machinist's mate aboard a river gunboat on the Yangtze Patrol. But that was ten years after the 1926 setting of his story. It has since been said that The Sand Pebbles was intended as an allegory for the Vietnam War, (Robert Wise even intimated that in an interview), but the war was only just starting to escalate when it was made. McKenna, incidentally, passed away in 1964 (at the age of just 51), so it is extremely doubtful his novel was based on anything other than his own experiences, albeit very loosely indeed, on the Yangtze.
Marayat Andriane as Maily
Under the screen name Marayat Andriane, actress Emmanuelle Arsan was selected to play Maily, the love interest of Richard Attenborough's character 'Frenchy' Burgoyne. Born Marayat Bibidh in Bangkok, Thailand, she was 33 years old at the time this picture was made and rumoured to have had an intimate relationship with McQueen during filming. The novel Emmanuelle had been clandestinely published and distributed in France back in 1959, without an author's name, but successive editions were then falsely attributed to her. Although the novel was said to have been quasi-autobiographical, it was later revealed that the real author was, in fact, her husband, Louis-Jacques Rollet-Andriane. Since that time, however, several more novels have been published under the Emmanuelle Arsan pseudonym. In 1974, the movie Emmanuelle was released and proved to be a box-office success. Ms. Arsan suffered terribly in her final years from a rare genetic disease called systemic scleroderma, a condition that resulted in the amputation of both her legs above the knee. She died in 2001 aged 69. Her writer husband followed her in death three years later.
McQueen & Candice Bergen share a scene
Candice Bergen played Shirley Eckert, the teacher from Vermont, who worked at the Chinese mission in the picture. The role had already been turned down by Julie Christie. Through the course of filming, Candice got to know Attenborough quite well and he promised to give her the role of US photographer Margaret Bourke-White in his future movie Gandhi, should he ever raise the finances to make it. He eventually did so (in 1982) and kept his promise to her. Japanese actor Mako was Oscar- nominated along with McQueen for 'Pebbles', but he too missed out. He was only eight years old in 1941 when his parents took him to stay with his grand-parents in the United States. When war broke out between Japan and America they remained in the US, working for the Office of War Information. On the cessation of the conflict they were granted US citizenship by Congress.
Richard Crenna as Captain Collins of the USS San Pablo
The very talented Richard Crenna memorably plays Captain Collins, the commander of the USS San Pablo. It is a great pity that he will probably be mostly remembered (if at all) as Sly Stallone's CO in the lame-brained Rambo pictures, but he really was a versatile actor. Back in 1952, he convincingly portrayed a dim-witted high school student named Walter Denton in the TV series Our Miss Brooks, opposite Eve Arden, despite being 25 years old at the time! Character actor Simon Oakland was Schrank in Wise's 1961 musical West Side Story, and the director used him again in The Sand Pebbles. Similarly, Goldie Hawn's first husband, actor/dancer Gus Trikonis, who played Indio in the same musical, also landed a bit as a crewman in 'Pebbles'.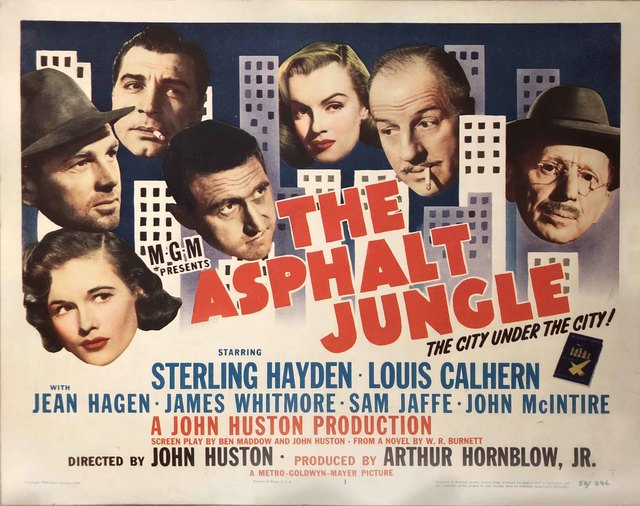 THE ASPHALT JUNGLE (1950)
This MGM black and white feature was directed by John Huston and starred Sterling Hayden in the lead role of tough guy Dix Handley. Both Huston and Hayden were members of the Committee for the First Amendment, which stood against the blacklisting of alleged Communists in the movie industry during the 'Red Scare' of the late forties and early fifties. Hayden was a former Communist – Huston was not. 'I've admired you for a long time, Sterling', said Huston when the two first met at a protest against the House Un-American Activities Committee (HUAC) investigation of 'subversives' in the movie industry. Hayden was rumoured to be battling severe alcohol and psychiatric problems at that time so the studio did not want him in the picture. But Huston did. And it was his picture, so he won out in the end.
Sterling Hayden as Dix Handley
The little-known Marilyn Monroe also landed a small (but memorable) role in the film. At the time she was living with MGM talent executive Lucille Ryman Carroll at her ranch where Huston happened to be $18,000 in arrears for payments for the boarding and training of his team of Irish stallions Carroll informed him that if he did not allow Marilyn another shot at the role of Angela Phinlay, the ranch would sell his stallions and collect the money due. He had already selected Lola Albright for the role, but MM was given a second test and, with the backing of Louis B. Mayer this time, she got the part. It was her eighth film. All About Eve (1950) would be her ninth, later in the year.
Ray Teal
Strother Martin
Jack Warden
The Asphalt Jungle saw the screen debuts of two fine character actors – Jack Warden and Strother Martin – both in uncredited roles. Interestingly, another prolific bit player, Ray Teal, also had a tiny uncredited role in the film – his one hundred and seventy-seventh big screen appearance! In all, he would rack up no fewer than 342 screen credits, (mostly movies, but some TV as well), his face becoming immediately recognizable to fans who, probably, were not as familiar with his name. This was also the first feature film role for Brad Dexter in which he was actually credited as Brad Dexter. Previously he had been acting as Barry Mitchell. Dexter's character is the first person to die in this picture. In 1960, his character is also the first of The Magnificent Seven to die in that film also. The Asphalt Jungle just managed to break even at the box-office. Today, it is considered to be a screen classic. And rightly so.