GEORGE REEVES (1914-59)                   
Television's first Superman, George Reeves, was born George Brewer in Woolstock, Iowa, but was raised in Pasadena, California. He was a good amateur boxer and musician before interning as an actor at the famed Pasadena Playhouse where he was discovered by a movie talent scout who offered him a contract. Twenty-four year old George found himself cast as one of the Tarleton twins (Brent) in the iconic Gone with the Wind (1939), but it was his leading male role in So Proudly We Hail! (1943) that appeared to destine him for bigger things. Then the war intervened and altered his life and career forever. Drafted in 1943, he was assigned to the United States Army Air Force (USAAF) and ordered to perform in its Broadway show Winged Victory. The production's long Broadway run was followed by a national tour and a movie version in which Sgt. George Reeves appeared as Lt. Thompson. He was then transferred to the USAAF's First Motion Picture Unit, where he spent the remainder of the war making training films.
George in The Adventures of Superman (1952)
Discharged at war's end, George returned to Hollywood but his window of stardom opportunity had closed and he was forced into acting in low-paying acting jobs. He even had a second job to make ends meet – digging cesspools! A modicum of fame came to him when he was cast in the title role of a new TV series The Adventures of Superman (1952). On June 16, 1959, he was found shot to death in his Hollywood home. Officially, he had committed suicide, but many of his friends and acquaintances (and others) believe to this day that he was murdered. In the 2006 movie Hollywoodland he was portrayed by Ben Affleck.
CARL REINER (1922- )                 
As I write this in February 2020, Carl Reiner is fast approaching his ninety-ninth birthday. He is a legendary figure in American comedy, having won nine Emmy Awards, three as an actor, four as a writer and two as a producer, yet he is probably best known as the creator, producer, writer and actor on television's The Dick Van Dyke Show (1961-66). Reiner occasionally played the temperamental show host Alan Brady in the series. Modern cinema audiences might recall him playing Saul Bloom in three of the 'Ocean's' films – Ocean's Eleven, Ocean's Twelve and Ocean's Thirteen – from 2001 through 2007.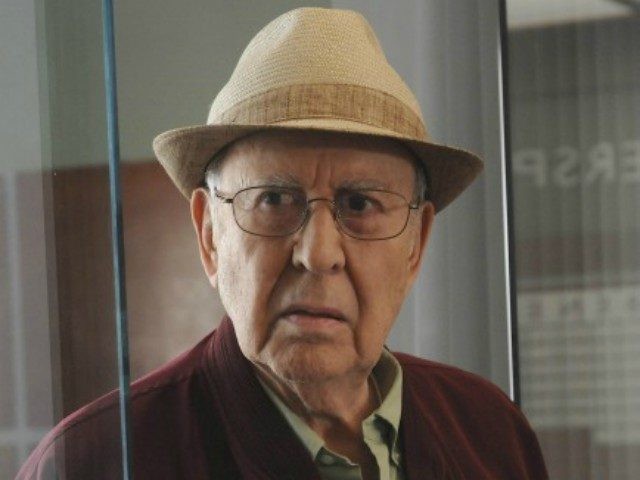 As Saul Bloom in Ocean's Eleven (2001)
He entered the US Army in 1942 and was trained as a radio operator. Later, after spending three months in hospital recovering from pneumonia, he was assigned to study French at Georgetown University for ten months, in preparation for becoming an interpreter. After completing language training he was sent to Hawaii to work as a tele-printer operator with the Signal Corps. On his way from Hawaii to Iwo Jima he was again transferred, this time to Maurice Evans' Special Entertainment Unit where, for the next 18 months, he toured the South Pacific as a comedian in GI reviews, entertaining troops on Guam, Saipan, Tinian and Iwo Jima, until he was honorably discharged in 1946.
MICHAEL RENNIE (1909-71)                  
Born in Bradford, Yorkshire, in 1909, Rennie landed his first acting job as a stand-in for Robert Young in Secret Agent (1936), a picture directed by Alfred Hitchcock who was just getting started. Conscious of his lack of experience, Rennie wisely put his movie career on hold for a few years and gained valuable acting experience on the stages of York and Windsor. Following some successful performances in British pictures he was taken to Hollywood and signed to a contract by Darryl F. Zanuck in 1950. Soon afterwards, he was cast as Klaatu in The Day the Earth Stood Still (1951), arguably his most memorable film role. Returning to England in 1959, he accepted the lead role of Harry Lime in the TV series The Third Man (1959) 
Rennie as Klaatu                                                                        
Twenty months after Britain declared war on Nazi Germany, Rennie enlisted in the RAF Volunteer Reserve on 27 May 1941. He completed his basic training in Torquay, Devon, after which he was sent to the United States for fighter pilot training under the 'Arnold Plan'. In that program, RAF pilots were trained by USAAF instructors. He was posted to Napier Field in Dothan, Alabama and mentioned that he was a film actor, but no-one took him seriously until a movie titled Ships with Wings arrived at the camp cinema in late 1941. Rennie was actually watching the picture with some of his disbelieving air force pals when he appeared on the screen as Royal Navy pilot Lt. Maxwell! In all, he racked up over one hundred screen credits before an aortic aneurysm killed him two months shy of his 62nd birthday in June 1971.
RALPH RICHARDSON (1902-83)                       
Born in Cheltenham, Gloucestershire, Ralph Richardson, along with Peggy Ashcroft, John Gielgud and Laurence Olivier, dominated the British stage throughout the middle of the 20th century, although Ralph mostly played Shakespearian character roles rather than the classic leads. He made over sixty movies during his career as well. At the outbreak of the Second World War he joined the Royal Naval Volunteer Reserve as a sub-lieutenant pilot, having taken flying lessons and logging up 200 hours of flying time in the 1930s. However, he classed himself as a timid pilot who was only accepted into the Fleet Air Arm because there was a shortage. Despite earning the nickname of 'Pranger' Richardson, because of the number of aircraft he crashed or damaged, he worked mostly in administration, rising to the rank of lieutenant-commander by war's end. Serving at several bases in the south of England, he was able to welcome the newly commissioned Laurence Olivier, who quickly eclipsed Richardson's record for damaging aircraft. Some say they were the worst pilots ever to fly for England.
Richardson's first wife died in October 1942, leaving him intensely lonely. Happily, he met actress Meriel Forbes a year later and the couple married in 1944, the union proving to be a happy and lengthy one. During the war Richardson compered several morale-boosting shows at the Royal Albert Hall and elsewhere. He also made one short film and three full-length ones. One of the latter was The Silver Fleet (1943); another was a propaganda film titled The Volunteer, in which he played himself.
Richardson (L) & Olivier in Richard lll (1955)
After German bombing had all but destroyed the Old Vic theatre, thus leaving the Old Vic Company in ruins, Richardson was asked to head the re-establishment of the company in London. He agreed to do so on two conditions: First, the governing board of the company must gain his release from the Royal Navy and, second, he would only accept acting and management as part of a triumvirate, the other two individuals to be John Gielgud and Laurence Olivier. Gielgud, however, declined the position, saying, 'It would be a disaster, you would have to spend your whole time as referee between Larry and me.' Eventually, the third member chosen would be stage director John Burrell. The Sea Lords consented to the release of both Richardson and Olivier with, as Larry put it, 'a speediness and lack of reluctance which was positively hurtful.' Both men would later be knighted for their service to the theatre, Richardson being created a Knight Bachelor in 1947. A stroke took him in October 1983.