CASABLANCA (1942)                                              
Any compilation of movies replete with great dialogue would be incomplete if it did not include the immortal Casablanca. Each of us has his or her all-time favourite moving picture and I would be most surprised if this one does not feature at the top of a great many lists. It seems to be blessed with all the necessary ingredients that go to make up a classic; starting with the Hungarian-born director Michael Curtiz, a man who worked exclusively for Warner Bros until very late in his career. Although he will always be remembered for Casablanca, Curtiz proved that was no fluke by helming another American classic, Mildred Pierce, in 1945.
Director Michael Curtiz
Music is an important aspect of any film. The iconic 'As Time Goes By' was written by lifelong bachelor Herman Hupfeld and debuted back in 1931 in a Broadway show, 'Everybody's Welcome'. Although Max Steiner was nominated for an Oscar for Best Music for Casablanca, it is 'As Time Goes By' that identifies the movie. After shooting had completed, he tried to get the tune removed, arguing that he preferred to compose an original song himself in order to qualify for royalties. Fortunately for us all, Ingrid Bergman had just had her hair cut very short in preparation for her role in For Whom the Bell Tolls (1943), and had moved to a distant locale so re-shoots were out of the question. Dooley Wilson (a drummer, not a piano-player), who plays Sam in the picture, sitting at the piano in Rick's Café, sings 'As Time Goes By' while pretending to accompany himself. At a New York auction, in December 2012, that same piano sold for a staggering US $600,000!
Dooley Wilson as Sam in Casablanca
The movie's screenplay deservedly won Oscars for Howard Koch, Julius Epstein and Philip Epstein. Casey Robinson re-wrote the romantic scenes between Ingrid Bergman and Humphrey Bogart and was offered a screen credit for doing so. He turned it down because at the time he was only taking credit for scripts he wrote entirely by himself. The decision cost him an Academy Award. In the 1980s, copies of the actual script was sent to readers at a number of major studios and production companies under its original title, 'Everybody Comes to Rick's.' Some readers recognized it at once, but those who did complained that it was, 'not good enough' to make a decent movie and described it as being 'too dated', 'containing too much dialogue and not enough sex.' In 2006, the Writers Guild of America named it the best screenplay of all time!
Humphrey Bogart as Rick
The dialogue (which I shall get to shortly) is wonderful, but the story had plot holes and devices everywhere. A classic example of these devices was the much talked about concept regarding 'letters of transit'. Playwright Joan Alison knew they were an invention dreamed up by the screenwriters, and always expected somebody to challenge her about them. Nobody ever did. As if the Nazis were ever going to honour 'letters of transit' signed by the Free French leader Charles de Gaulle? The casting for Casablanca was not entirely to Joan's liking, by the way. She had always envisioned Clark Gable in the role of Rick. 'I hated Humphrey Bogart', she later said. 'I thought he was a common drunk.'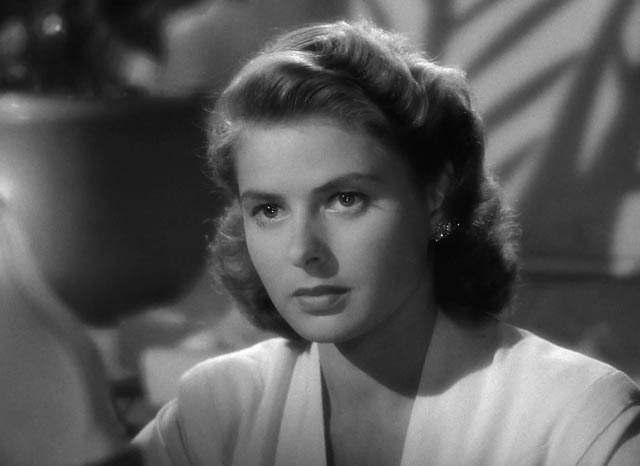 Ingrid Bergman as Ilsa
Ingrid was under contract to David O. Selznick and still learning English when she made this picture. He did not wish to loan her out to Warners, but had heard rumours that her native Sweden might soon become an ally of Germany. Such an eventuality might endanger Ingrid's career, so he loaned her out to Warners before her image might get tainted. In exchange, Warners agreed to loan Selznick the services of Olivia de Havilland. Ingrid was an inch taller than her leading man so Bogart wore lifts in his shoes to make him appear to be six feet tall. Even when seated he was perched on pillowed chairs to increase his height. The couple did not really get along all that well because of Bogie's jealous wife Mayo Methot. She had managed to convince herself that he was indulging in an affair with his leading lady. He was not.
L to R: Paul Henreid, Ingrid Bergman & Humphrey Bogart
Few got along with Paul Henreid (Victor Laszlo) on the set. He was an arrogant and self-important individual who considered himself to be a superior thespian to both of the film's leads. He described Bogart as a 'mediocre actor'. Ingrid described Henreid as a 'prima donna'. Even so, the interaction between all three seems natural and sincere enough on the screen. Neither Bergman nor Henreid wanted to make Casablanca. She thought it was 'fluff' and he bemoaned the fact that he would be playing second banana to the two stars. He was used to being the romantic lead. Despite their extraordinary chemistry in this film, Bogart and Bergman never made another picture together.
It is difficult to know where to start with the wonderful dialogue spread throughout Casablanca. Bogie as Rick Blaine has a number of terrific one-liners throughout. Here are a few of them:
'Of all the gin joints, in all the towns, in all the world, she walks into mine.'
'Here's looking at you, kid.'
'I stick my neck out for nobody.'
'I wouldn't bring up Paris if I were you; it's poor salesmanship.'
'Tell me, who was it you left me for? Was it Laszlo, or were there others in between? Or – aren't you the kind that tells?'
'Louie, I think this is the beginning of a beautiful friendship.'
(But it is the conversations that truly crackle):
Claude Rains (Captain Renault) & Bogart
Captain Renault (Claude Rains): 'What in heaven's name brought you to Casablanca?'
Rick: 'My health. I came to Casablanca for the waters.'
Captain Renault: 'The waters? What waters? We're in the desert.'
Rick: 'I was misinformed.'
Bogart gives Madeleine LeBeau the brush-off
Yvonne (Madeleine LeBeau): 'Where were you last night?'
Rick: 'That's so long ago, I don't remember.'
Yvonne: 'Will I see you tonight?'
Rick: 'I never make plans that far ahead.'
Ilsa (Ingrid Bergman): '…Let's see, the last time we met…'
Rick: 'Was La Belle Aurore.'
Ilsa: 'How nice, you remembered. But of course, that was the day the Germans marched into Paris.'
Rick: 'Not an easy day to forget.'
Ilsa: 'No.'
Rick: 'I remember every detail. The Germans wore grey; you wore blue.'
Bogart & Peter Lorre (Ugarte)
Ugarte (Peter Lorre): 'You despise me, don't you?'
Rick: 'If I gave you any thought I probably would.'
Ugarte: 'Rick, think of all the poor devils who can't meet Renault's price. I get it for them for half. Is that so…parasitic?'
Rick: 'I don't mind a parasite. I object to a cut-rate one.'
Captain Renault: 'I've often speculated why you don't return to America. Did you abscond with the church funds? Run off with a senator's wife? I like to think you killed a man. It's the Romantic in me.'
Rick: 'It was a combination of all three.'
Conrad Veidt as Major Strasser
Major Strasser (Conrad Veidt): 'We have a complete dossier on you: Richard Blaine, American, age 37. Cannot return to his country. The reason is a little vague. We also know what you did in Paris, Mr. Blaine, and also we know why you left Paris.'
(Strasser hands the dossier to Rick): 'Don't worry, we are not going to broadcast it.'
Rick (reading): 'Are my eyes really brown?'
Major Strasser: 'Are you one of those people who cannot imagine the Germans in their beloved Paris?'
Rick: 'It's not particularly my beloved Paris.'
Strasser: 'How about New York?'
Rick: 'Well, there are certain sections of New York, Major, that I wouldn't advise you to try to invade.'
'Round up the usual suspects.'
Rick: (sees Major Strasser move towards the telephone, and draws a gun): 'Get away from that phone!'
Strasser: 'I would advise you not to interfere.'
Rick: 'I was willing to shoot Captain Renault and I'm willing to shoot you.'
Strasser (picks up the phone) 'Hello?'
Rick: 'Put that down!'
Strasser: 'Get me the radio tower.'
Rick: 'Put it down!'
(Strasser and Rick fire and Strasser falls mortally wounded. Police arrive on the scene)
Captain Renault: 'Major Strasser has been shot.'
(Renault looks at Rick and says): 'Round up the usual suspects.'
A wonderful, wonderful movie!