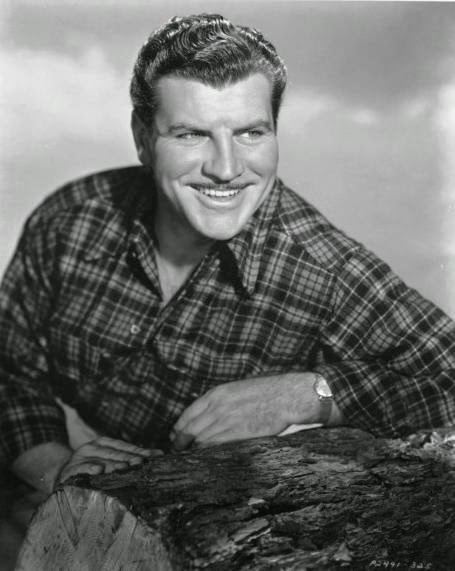 ROBERT PRESTON (1918-87)                 
This charismatic Robert Preston was born in Newton Highlands, Massachusetts as Robert Preston Meservey towards the end of World War One. As Bob Mesevey he joined the US Army Air Corps, the predecessor of the US Army Air Force (USAAF) after Pearl Harbor and served for three years. He was an S-2 (Intelligence Officer) with the 386th Bomb Group and was based primarily in England. It was a B-26 Marauder bomber unit assigned to the 8th Air Force and later to the 9th. By war's end the 386th Bomb Group was re-stationed in Belgium, having moved forward in pursuit of its own invading forces. Captain Meservey's job was to receive intelligence reports from the 9th's HQ and to brief 386th bomber crews about what they could encounter, then advise them of HQ's expectations.
Preston (R) with Ray Milland & Gary Cooper in Beau Geste (1939)
Under his new acting name of Robert Preston he had begun racking up his 76 screen credits as early as 1938. Most movie fans first took note of him when he portrayed Digby Geste in the Gary Cooper version of Beau Geste (1939). He would continue to make movies until 1943, when the war intervened and he disappeared from screens for four years. Preston resumed his screen career in 1947 and ultimately became famous for playing Professor Harold Hill in the musical hit The Music Man (1962), the role for which he shall doubtless be mostly remembered. He was still making movies as late as 1986, one year before his death from lung cancer at the age of sixty-eight.
DENVER PYLE (1920-97)                         
A native of Bethune, Colorado, Denver Pyle, (he was named after the capital city of Colorado), worked on the Oklahoma oilfields and on shrimp boats in Texas, before moving to Los Angeles in 1940 and briefly landing a job as a page at NBC. He was a nephew of journalist Ernie Pyle. World War Two intervened and Denver signed up with the United States Merchant Marine. In later years he would claim to have been wounded in the battle for Guadalcanal, but that appears to have been a figment of his imagination. Nevertheless, he certainly was a Merchant Mariner during the war and, therefore, a bona fide veteran of the conflict.
Young Denver Pyle
After the war he worked as a riveter in a Los Angeles aircraft plant and dabbled in a little amateur theatre where he was noticed by a talent scout. He would go on to play roles in hundreds of films and TV shows between 1947 and his death from lung cancer in 1997. Television fans knew him as Uncle Jesse Duke in the popular comedy series The Dukes of Hazzard (1979-85). His brother Willis Pyle was an animator and painter who drew Bambi and Pinocchio for the Walt Disney Studio and lived to the age of 101.                                           
ANTHONY QUAYLE (1913-89)               
English actor Anthony Quayle, a British Army officer in the Second World War, was made one of the area commanders of the Auxiliary Units in Northumberland before joining the Special Operations Executive (SOE) and serving as a liaison officer with the Albanian partisans. Apparently, his wartime experiences in Albania seriously affected him and he never felt comfortable talking about them although he later wrote about those experiences in his fictional work titled Eight Hours from England. He was also an aide to the Governor of Gibraltar in 1943 when General Wladyslaw Sikorski's aircraft crashed on July 4. Suspicions that the general's plane was sabotaged have since persisted for decades. There were major fears at the time, however, that his determination to connect Stalin and the Soviet Union to the murders of 20,000 Polish officers in the Katyn Wood near Smolensk would drive a wedge between the Allies. This has since been given as a powerful motive for his murder. Russian double-agent Kim Philby was the head of counter-intelligence for Britain's MI6 in Gibraltar in July 1943, and that fact alone adds considerable weight to the conspiracy theory. In the 1990s, the Russians admitted to the mass murders at Katyn. Quayle also fictionalized his Gibraltar experience in his second novel On Such a Night.
Quayle in Lawrence of Arabia (1962)
He decided to reactivate his fledgling movie career in 1948, starting with a tiny bit in Hamlet. His love for acting had been put on hold for a decade since his country declared war on Nazi Germany in September 1939.  Actors Jack Hawkins and Alec Guinness were theatrical friends of his and both of them appeared with him in Lawrence of Arabia (1962). They believed Quayle called upon his wartime experiences to add authenticity to his role in that picture. He was also Commodore Harwood in The Battle of the River Plate (1956) and memorable as Major Roy Franklin in The Guns of Navarone (1961) alongside Gregory Peck and David Niven. In 1985 he was knighted in the Queen's New Year Honors list for his services to the theatre in Britain. Four years later, Sir Anthony died at his Chelsea home from liver cancer.
ANTHONY QUINN (1915-2001)
Anthony Quinn was born in Chihuahua, Mexico in 1915, during the Mexican revolution. According to him, both his father and mother fought on the side of the victorious Pancho Villa. Indeed, Tony maintained his friendship with Villa's widow, Maria Luz Corral, and frequently visited her, providing economic support through the years. A photograph of him and Mrs. Villa-Corral hangs in the museum of the revolution in Chihuahua City. After the revolution, the Quinn family moved to Los Angeles where his father gained menial work at Selig Film Studios.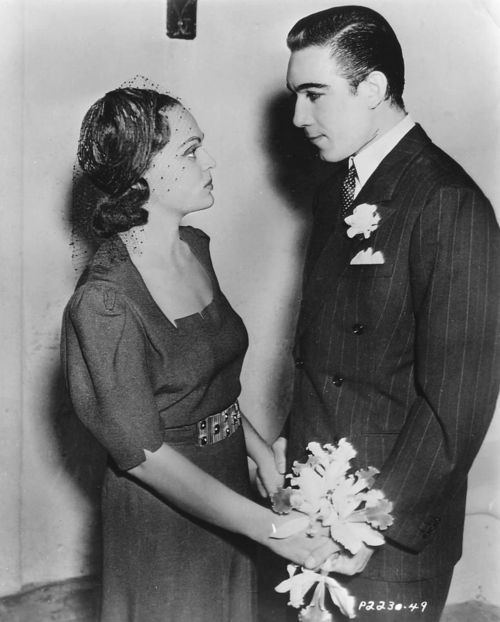 Marriage to Katherine DeMille 1937
When World War Two broke out, Quinn was still a citizen of Mexico and would remain so until he became a naturalized American in 1947. Consequently, he was ineligible for the draft throughout the hostilities. That ineligibility saw him gradually work his way up the movie pecking order, from character actor to leading man and major star. His marriage to Cecil B. DeMille's daughter Katherine in October 1937 certainly did not hinder his progress in that regard. The couple would have five children before their divorce in 1965. By then, of course, Quinn was a major star and Katherine's influential father had been dead for six years.
Quinn as Auda Abu Tayi in Lawrence of Arabia (1962)
Interestingly, shortly after becoming an American citizen, Quinn was 'gray-listed' for his association with Communists such as screenwriter John Howard Lawson and others termed 'fellow travelers' by the House Un-American Activities Committee (HUAC). Quinn himself was never called before the HUAC, and chose to go on the Broadway stage where no blacklist or 'gray-list' existed, rather than go through the process of refuting the committee's idiotic suspicions. Did he delay his American citizenship to avoid the draft and continue his acting career? Possibly, but he was surely not alone in that. He passed away in a Boston hospital in 2001, from pneumonia and respiratory failure linked to his battle with throat cancer.