SIDNEY POITIER (1927- )                        
Sidney L. Poitier hails from Cat Island in The Bahamas, although he was not born there. He arrived in this world two months prematurely in Miami, Florida while his parents were visiting there. At the age of fifteen his parents sent him back to Miami to live with his brother. The general feeling in the family was that young Sidney was tending towards delinquency. In November 1943, the sixteen year-old lied about his age and enlisted in the United States Navy. He was homeless at the time and they virtually took him in out of the cold. In New York he briefly served as a medical assistant at the 1267th Medical Detachment at a veterans' hospital for psychiatric patients, but he soon found he disliked service life enough to attempt faking insanity to get himself discharged. Threatened with shock therapy treatment, he admitted to lying about his age. After several weeks of therapy sessions he was eventually discharged. He had served one year and eleven days, all of which took place before his eighteenth birthday.
as Virgil Tibbs in In the Heat of the Night (1967)
Being a citizen of The Bahamas, (a former part of the British Commonwealth), he was awarded a Knight Commander of the Order of the British Empire in 1974. He is thus entitled to be known as Sir Sidney Poitier, although he does not himself use the title. In 1964, he became the first black man to win an Academy Award for Best Actor in a leading role, when he portrayed Homer Smith in Lilies of the Field (1963). He was not, however, the first black Oscar-winner. That honor belongs to James Baskett who received an Honorary Award for Song of the South (1946). Many of us are still bemused by the Academy's decision to leave Poitier out of the nominations for Best Actor for his portrayal of Virgil Tibbs in the 1967 classic drama In the Heat of the Night. In February 2020, this highly respected gentleman celebrated his 93rd birthday.
TOM POSTON (1921-2007)                       
According to USA Today, American actor Tom Poston could lay claim to the unique status of having appeared in more TV sitcoms than anyone in history. Fans of the 1980s sitcom Newhart will probably recall him playing George Utley opposite Bob Newhart's character. His name may not be immediately recognizable to movie and TV fans, but his face surely will. His television career covered the best part of five decades. When Mel Brooks submitted his idea for Get Smart to the ABC network, he wanted Poston for the starring role. However, NBC picked up the series instead and Don Adams became Maxwell Smart.
Tom & wife Suzanne Pleshette
Poston enlisted in the United States Army Air Force (USAAF) as a nineteen year-old buck private in 1941, was accepted into officer candidate school before graduating from flight training. He served as a pilot in the European Theatre (France and Italy), and saw service in North Africa. On D-Day, he dropped some of the paratroopers who commenced invasion operations. By war's end Poston had earned an 'Oak Leaf Cluster' to go with his many other decorations, before leaving the services in 1945 with the rank of captain. He married three times in his life, the last of these unions being to actress Suzanne Pleshette in 2001. In April 2007, he died of respiratory failure, predeceasing Suzanne by just nine months.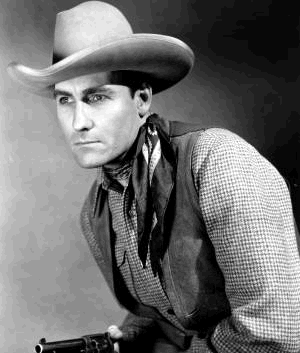 LEE POWELL (1908-44)               
Only very elderly 'Lone Ranger' fans will possibly be familiar with the name Lee Powell. Back in 1938, he was the first actor to play the masked man on-screen. Powell was also Captain Roka in the cult serial classic Flash Gordon Conquers the Universe (1940) before he decided to enlist in the United States Marine Corps (USMC) in August 1942. He served with the 2nd Pioneer Battalion, 18th Marine Regiment of the 2nd Marine Division and saw heavy fighting in the South Pacific, surviving the bloody Tarawa and Saipan campaigns and eventually reaching the rank of sergeant. In July 1944, his luck ran out and he died in the Tinian Islands. Until CBS Correspondent Fred Goerner started interviewing former WW2 Marines, it had been assumed Powell had died in action, but Goerner soon learned that the former actor had not died in action at all. The 36 year-old Marine had consumed some bad, home-made sake while celebrating victory over the Japanese defenders and had died from acute alcohol poisoning. A fellow Marine had been temporarily blinded by the same brew.
TYRONE POWER (1914-58)
Ty Power served as a Marine pilot in the South Pacific during WW2, despite being initially rejected by the recruiter with the Naval Reserve even though Power held a pilot's license at the time. He was one of the first of the Hollywood stars to discover there were officers of all ranks who held grudges against movie actors. The Marines would eventually accept him, in August 1943, and send him off for flight training to the Marine Corps air base at Corpus Christi, Texas. By August 1944, he still had not been anywhere near a war zone and was growing impatient and frustrated. When his wife, actress Annabella, joined the USO and was immediately sent to an Allied base in Italy, he was furious that she had made it into a battle zone ahead of him! Soon afterwards he was shipped off to the Pacific on active service. Power clocked up over 1,100 hours in the air as a command transport pilot flying R4D Dakotas and C47s, notably at Iwo Jima and Okinawa, where he flew in supplies and ferried wounded Marines out of the fighting.
Ty Power (USMC) WW2
By 1942, his marriage to Annabella was on extremely shaky ground when Power began an affair with Judy Garland. It ended when the pregnant Judy learned he had been showing her long and steamy love letters to his Quantico bunkmates. She immediately underwent a quickie abortion in Mexico and Ty went back to Annabella. The marriage ended in 1948 anyway. While making Solomon and Sheba (1959) in Madrid, Spain, the 44 year-old actor was required to carry co-star Gina Lollobrigida up some stairs (some say forty times for re-takes), the exertion resulting in a heart attack that killed him at 44.