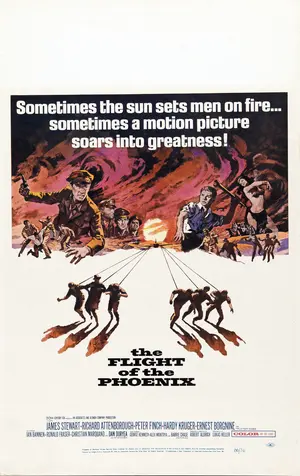 THE FLIGHT OF THE PHOENIX (1965)            
It is difficult to comprehend why this adventure film with a first-rate cast was a box-office failure. But it was, despite it containing no fewer than five Oscar-winning actors in its line-up – James Stewart, Peter Finch, Sir Richard Attenborough, Ernest Borgnine and George Kennedy. Perhaps, the lack of a love interest was the reason. Indeed, other than a brief dream sequence in which dancer Barrie Chase cavorted as a harem girl, there were no females in the cast at all. Director Robert Aldrich wanted her to perform her dance topless, but she refused. In 2004, an inferior re-make was released. Apart from the insertion of a female engineer (played by Miranda Otto), it is a shot-for-shot re-hash of the original. It, too, lost money.
A cargo plane with twelve men aboard crash-lands during a Sahara sandstorm. Two passengers die in the crash and the others seem destined to die of thirst before they can be rescued. A young German aircraft designer named Heinrich Dorfmann (Hardy Kruger) is convinced he can build a flyable aircraft from the wreckage and get the survivors out of their predicament. But he has a secret. The pilot, Frank Towns, a veteran flyer played by Jimmy Stewart, is initially against the idea, but as the situation becomes more and more desperate he reluctantly agrees to fly the contraption if it can be built in time.
Paul Mantz 1965
The stunt of taking off in the re-built plane was considered to be too dangerous, so legendary stunt pilot Paul Mantz was asked to merely come in low, run his landing gear along the ground, then take off again, simulating a proper take-off. Tragically, on the second take, the plane crashed and Mantz was killed. Another stunt man named Bobby Rose was also aboard and was seriously injured. A documentary titled Cinerama Adventure was shot in 2002 and brief footage of the actual crash was included at the end.
Dorfmann (Hardy Kruger) (L) and Towns go at it
The clash of personality between the young, arrogant airplane designer and the wizened, veteran pilot brought forth some caustic exchanges between Dorfmann and Towns. For example:
Dorfmann: 'Mr. Towns, you behave as if stupidity were a virtue. Why is that? I told you there would be no difficulty in building this aeroplane. I also told you it would require an outstanding pilot to fly it. The only thing outstanding about you, Mr. Towns, is your stupidity!'
Towns: 'Your theory's fine, but you get this mister…that engine's rated at two thousand horsepower, and if I was ever fool enough to let it get started up, it'd shake your patched-up pile of junk into a thousand pieces, and cut us up into mincemeat with the propeller.'
Another example:
Dorfmann: 'Gentlemen, I have been examining this aeroplane.'
Towns: 'Yeah?'
Dorfmann: 'Yes. We've everything we need here to build a new one and fly it out. Now, if you'd like to have a look at my calculations, I don't know whether you can read my handwriting.'
Towns: 'Are you trying to be funny?'
Dorfmann: 'What did you say?'
Towns: 'I said, are you trying to be funny?'
Dorfmann: 'That is precisely the reaction I would have expected from a man of your obvious limitations.'
Frank Towns (Jimmy Stewart) and Lew Moran (Sir Richard Attenborough)
Towns' navigator and closest friend Lew Moran defends him against Dorfmann as they converse near the wreckage of the cargo plane:
Moran: 'It may not be the best possible advertisement, but Frank Towns is probably one of the few really great pilots left in this push-button world of yours.'
Dorfmann: 'Oh, really?'
Moran: [angrily] 'Yes, 'Oh, really!' He was flying by the seat of his pants in planes that were nothing more than bits and pieces before you even went to school!'
Dorfmann: 'That is precisely what is wrong. He has remembered everything and learned nothing!'
Moran: 'You told Towns he was behaving as if stupidity was a virtue. If he's making it a virtue, you're making it a bloody science!'
Later, Lew attempts to reason with his friend:
Towns: 'I've lost five men, Lew. Gabriel in there, he's on the way, that'll be six. Are you asking me to try to kill the rest of them trying to get a death-trap off the ground? I don't know…I don't know, Lew. It won't work…it just can't work.'
Moran: 'All right, then, it can't. Maybe it can't and we'll all be killed. But if there's just one chance in a thousand that he's got something, boy, I'd rather take it than just sit around here waiting to die.'
Towns: 'The little men with the slide rules and computers are going to inherit the Earth.'
Best Supporting Actor nominee Ian Bannen
The 1965 version of The Flight of the Phoenix is an outstanding film boasting an ensemble cast. According to 20th Century Fox records, it needed to earn $10,800,000 in rentals to break even. Inexplicably, it recouped just $4,855,000.  Renowned New York Times movie critic Bosley Crowther dismissed it, rather unjustly, as 'grim and implausible', which scarcely helped figures at the box-office. It received two Academy Award nominations, one for Ian Bannen in the Best Supporting Actor category and the other for Michael Luciano for Film Editing. Both were unsuccessful. As of March 2020, only one male cast member is still living. Hardy Kruger is now in his nineties.
Ronald Fraser as Sgt. Watson
One of the more memorable characterizations in this version of The Flight of the Phoenix was that of British actor Ronald Fraser. He played the quite repulsive Sergeant Watson, a man who loathes being a soldier in the British Army almost as much as he loathes his commanding officer Captain Harris, (beautifully portrayed by Peter Finch). Many fans of this picture felt that Fraser was more deserving of a Supporting Actor Oscar nomination than was Ian Bannen, but it was not to be. In his early days in the British theatre, the beefy, beady-eyed Fraser spent a lot of his time carousing with Richard Burton and Peter O'Toole before making his mark as a tough guy (usually with a soft spot) in wartime dramas. It might surprise readers, however, to learn that the man could be quite versatile, a talent he ably demonstrated in 1981 when he played Colonel Pickering (opposite Twiggy as Eliza Doolittle) in a Celebrity Playhouse version of Pygmalion. Sadly, an internal haemorrhage ended his life at age 66 in 1997.