THE MAN IN THE IRON MASK (1998)               
The 1998 version of The Man in the Iron Mask was Hollywood's third attempt to put Dumas' tale on the big screen. The first was a 1923 silent picture made in Germany; the second being the much better 1939 version starring Louis Hayward and Joan Bennett. Over the years there have also been a couple of tele-movies and a nine-episode TV series aired in 1968, none of which amounted to much. Neither did this 1998 effort, in spite of its star-studded cast that featured the likes of Leonardo DiCaprio, John Malkovich, Jeremy Irons, Gabriel Byrne and French star Gerard Depardieu.
Alexandre Dumas penned his novel based on an historical account of a mysterious prisoner in the Bastille who was forced to wear a leather mask on special occasions during the two years between his imprisonment and subsequent death. Seventy years later historian Voltaire jested that he was probably a royal 'lookalike'. Dumas fastened on the idea and wrote his novel in 1847. Initially, it was a three-part serialization before being transformed into a best-selling novel. Needless to say, there is not a scrap of evidence to support the fictional premise that the mystery man was King Louis XIV's twin brother. Louis did indeed have a younger brother named Philippe, born two years after him, but there the similarity to Dumas' tale ends. The brothers were most definitely not twins. Furthermore, the movie is set in 1662 and portrays the king as an unmarried seducer of young women. In reality, Louis married Maria Theresa of Spain in 1660 and was still wed to her when she died in 1683. And despite the peace and prosperity alluded to at the picture's conclusion, Louis XIV spent most of the remainder of his reign at war.
Leonardo DiCaprio & the real King Louis XIV
Twenty-two year-old Leonardo DiCaprio arrived on the set of The Man in the Iron Mask (1998) in April 1997, after taking a one-week break upon the completion of Titanic in March 1997. In the opinion of this writer he was woefully miscast as King Louis XIV of France. Leo has a face best-suited to playing down to earth, 20th century characters, not to portraying a seventeenth century King of France. Consequently, his presence in this opus looks and sounds completely out of place. Of course, his myriad feminine fans would vehemently disagree. His casting was based primarily on his personal appeal to 55% of those female movie-goers, most of whom were aged under twenty-five.
Leo & Judith Godreche as Christine
French actress, 25 year old Judith Godreche, was cast as Christine, the beauty seduced by Louis after he sent her lover to his death on the front line. She was one of eighty or so actresses to accuse Harvey Weinstein of sexual harassment or assault in October 2017. Judith met him at the Cannes Film Festival in 1996 when she was 24. Weinstein invited her to his hotel suite where he asked to give her a massage. 'The next thing I know, he's pressing against me and pulling off my sweater', she told The Times. She managed to escape and exit his room.
FLAMING STAR (1960)                                                     
This was the sixth Elvis Presley film and his second western. And it is not very good. However, it could have been much worse had some rather appalling initial ideas been implemented. The Hollywood Reporter wrote in May 1958 that Nunnally Johnson was slated to write, direct and produce the film, and that he was hoping to sign Marlon Brando and Frank Sinatra to play the two brothers who were ultimately portrayed by Elvis and Steve Forrest.
Presley recorded a song titled 'Britches' for the movie and was supposed to sing it as he rode along with his brother, but he refused to do so, arguing simply that 'it would look dumb'. He did, however, record another tune called 'Summer Kisses, Winter Tears' and sang it to a group of Indians seated around a campfire while the chief accompanied him on war drums! Mercifully, the sequence was cut from the picture after preview audiences laughed at the staging. And no wonder.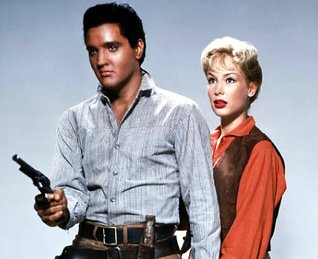 Elvis as the half-breed Kiowa Pacer & Barbara Eden
Robert Wagner wrote in his memoirs that he was offered the role of Elvis's brother but had quickly turned it down. 'Nobody ever paid attention to any other man in an Elvis Presley picture', he wrote. 'Colonel Tom Parker made sure of that.' Steve Forrest was cast in his place. Barbara Steele walked off the picture after an argument with director Don Siegel and was replaced by Barbara Eden.
At the beginning of the movie, Richard Jaeckel's character had no-one to dance with, so he grabbed a wooden chair. 'Hey buddy, don't you be no square', said the warden. 'If you can't find a partner use a wooden chair.' The line is from the title song of the Elvis film Jailhouse Rock (1957). One wonders how many individuals in the American west used expressions like, 'don't be no square.' Not a lot, I imagine.
The original title of the Clair Huffaker novel was 'Flaming Lance' and the original title of the movie was to be 'Black Star'. In fact, Elvis even recorded a song of that name, the word 'black' being later replaced with 'flaming'. Flaming Star was released one month after the more popular G I Blues. Such was the popularity of its star that this rather run-of-the-mill western climbed to number 12 on the 1961 box-office charts. When Johnson learned that Elvis had been cast in the lead role of Pacer Burton he was sceptical. 'I was wondering what in God's name they would do with Elvis Presley in this', he recalled. 'All they did was put in a kind of a hoedown dance and Presley sang a song at the opening, and then they went right on into the picture.'
Interestingly, South Africans were not able to see the movie because of the Apartheid policy of the government at that time, which objected to Elvis playing the half-breed son of an American Indian woman and a white man. 20th Century Fox appealed the decision and a day later the South African Board of Censors lifted the ban, but only if the film was not shown to the country's indigenous population. It was eventually screened to strictly segregated theatres in Durban in June 1961. Curiously, the picture was permanently banned from cinemas in Kenya, Uganda and Tanzania. UK colonial government officials in those territories feared Flaming Star could reignite racial tensions in the aftermath of the recent Mau Mau uprising!