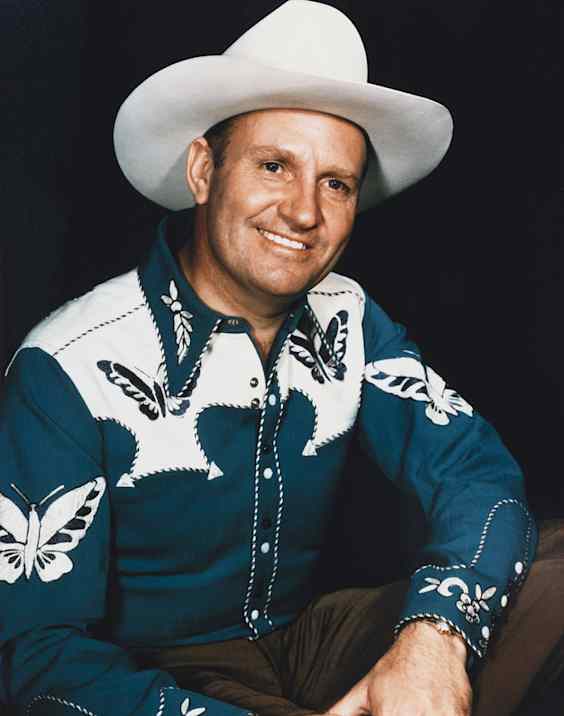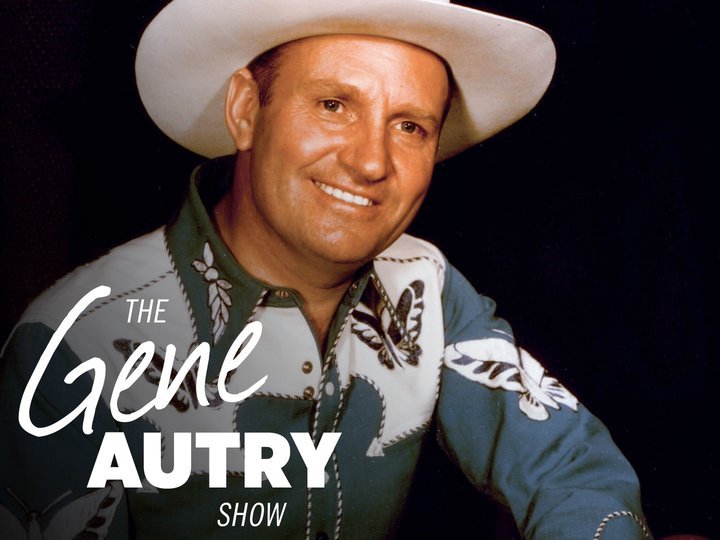 THE GENE AUTRY SHOW (1950-6) 91 EPISODES                   
This show was never aired in my hometown of Perth, Western Australia, more than likely because there was no shortage of TV western series available at the height of the genre. Gene, his horse Champion, and his comic sidekick Pat Buttram travel the west as trouble-shooters throughout the series, offering their assistance to inept sheriffs and marshals in town after town. Clearly, without the help of our heroes the local authorities seemed to lack the wherewithal to tackle the problems they encounter. Initially, Buttram was given a different character name in each of the early episodes and this presented difficulty for Autry who frequently forgot his sidekick's name for that particular episode. Finally, Gene ordered the writers call his pal Pat Buttram in every episode from then onwards. Problem solved.
Pat Buttram
Two thirds of the way through season one Pat was severely injured in an explosion and hospitalized for several months. Replacements for his sidekick role were soon recruited and included Chill Wills, Alan Hale Jr and Fuzzy Knight. In order to make use of stock footage in long shots Wills and Knight wore the same clothes as those previously worn by the injured Buttram. However, there was no disguising the bulk of Alan Hale Jr, so he had to wear his own distinctive clothing. Pat himself was a replacement for Gene's long-time movie sidekick Smiley Burnette, who had been forced to find other work when Gene departed the USA to serve in World War Two.
During the filming of The Rainmaker (1956), a prop cannon exploded and nearly killed Pat outright. Hit by a barrage of shrapnel, he suffered a twelve-inch gash in his chest that exposed a punctured lung. The blast also severed an artery in his leg and his chin was almost blown off! Autry flew in a doctor on his private plane prior to the arrival of an ambulance. The doctor, incidentally, was William Ince, the son of former silent film director Thomas Ince. Often referred to as 'the father of Western movie-making', Thomas was the man who died under mysterious circumstances after sailing with William Randolph Hearst aboard his private yacht Oneida in 1924.
Gene Autry & Champion
Almost as much-loved as Gene Autry was his famous palomino Champion, especially among youngsters throughout the United States who idolized both horse and rider on both the big screen and on TV. It was a little known fact outside the industry, however, that the role of Champion in the movies and on TV was played by three different horses. Indeed, for personal appearances, a fourth animal known as 'Little Champion', was also used The first Champion died in 1947, the last in 1992 at the age of 42.
Gene, the most popular of all the 'singing cowboys', made six to eight feature films every years before moving into television. He was also an avid baseball fan and even purchased the Los Angeles Angels American League baseball club in 1961 when it became part of the league's first expansion program. He owned the team in its entirety from 1961 until 1997, before selling part of the franchise to the Walt Disney Corporation, who renamed the team the Anaheim Angels. Gene's widow sold the rest of the team to Disney following her husband's death in 1998 at the age of 91.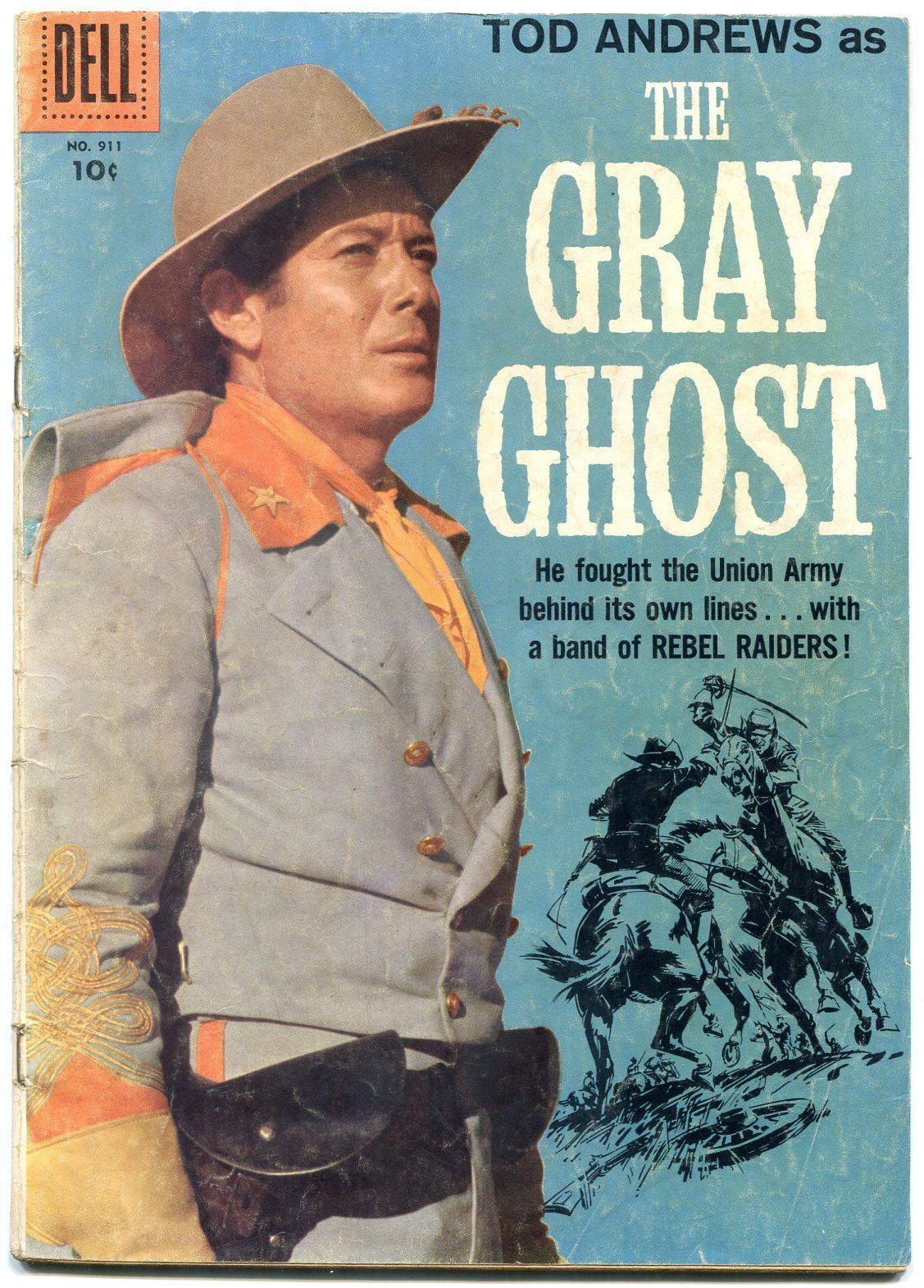 THE GRAY GHOST (1957) 39 EPISODES                                    
Evidently, this short-lived series was screened in parts of Australia but not, unfortunately, in my state Western Australia. Most reviewers appear to have a high opinion of it. The series follows the exploits of one of the Confederacy's most able soldiers, Colonel John Singleton Mosby, a cavalry officer during the American Civil War known as 'The Gray Ghost'. It has been argued that Mosby's ability to harass Union forces and to strike where least expected, kept thousands of Union troops in the field in search of him. Many were also deployed around Washington DC because of the very real threat that he might kidnap President Abraham Lincoln.
Tod Andrews portrayed Mosby in the series. A native of El Paso, Texas, Andrews was an actor with considerable ability who never quite made it in the movie industry. He enjoyed several successful years on the stage, however, and was signed by Warner Brothers as a contract player for juvenile leads in action films. For some reason he rarely advanced beyond B-features. Curiously, he was cast as the son of Don Ameche and Gene Tierney in Heaven Can Wait (1943), despite being just six years younger than Ameche and only six years older than Tierney. The role was a minor one anyway and it proved to be his solitary brush with the big-time. In 1961, he unsuccessfully overdosed with sleeping pills and was hospitalized. A heart attack took him in 1972 at the age of fifty-seven.
Tony Young as Cord
GUNSLINGER (1961) 12 EPISODES                    
Dark, good-looking Tony Young was cast in the lead as a gunslinger named Cord, a man who is chosen to work undercover for a local Army Garrison Commander. The series aired on the CBS television network but lasted just 12 episodes. Frankie Laine sang the theme song. New York City-born Tony was the son of actor Carleton G. Young who, from January 1942 until August 1943, was the radio voice of Ellery Queen in The Adventures of Ellery Queen. From 1943 to 1952, Carleton was also the voice of Edmond Dantes in The Count of Monte Cristo.
Madlyn Rhue
Tony appeared to have what it took to make it as a matinee idol and it is a little surprising that he never advanced further than he did. There was an endless array of guest spots on television series such as Fury, Lawman, Maverick, The Deputy and Tombstone Territory. Although he won roles in shows like 77 Sunset Strip, Star Trek: The Original Series, Mannix, The Streets of San Francisco, Fantasy Island and The Six Million Dollar Man, for some reason or other he ultimately tended to be regarded as suited to playing western characters.
Sondra Currie
He married three women in his life, two of whom were actresses – Sondra Currie and Madlyn Rhue. Madlyn, in particular, was a prolific television performer with over one hundred TV credits, among them a guest spot (with her former husband) on Star Trek: The Original Series in 1967. Probably, her most memorable film would be Operation Petticoat (1959), in which she played Lt. Reid RN, one of the nurses picked up by Cary Grant's submarine. Tony died from lung cancer in 2002 at 64, the same age his father passed away. Madlyn succumbed to pneumonia and multiple sclerosis the following year. She was 68.