It would be fair to say that I am not a fan of sporting biopics as a rule, probably because most actors (and actresses) are not very athletic and their lack of coordination and natural ability is usually instantly evident and annoying, a legacy no doubt of them treading the boards for years whilst we mere mortals were outside throwing a ball around. Having said that, I do admit that occasionally I am pleasantly surprised by the odd sporting picture that defies the odds. Chariots of Fire (1981), for example, had its moments, although I hasten to add that the late Ian Charleson's interpretation of the extravagant running style of his character Eric Liddell left much to be desired. I never saw Liddell run, but if he ran anything like Charleson did in 'Chariots', I doubt very much if he could have ran out of sight in a sandstorm!
Gary Cooper as Lou Gehrig in The Pride of the Yankees (1942)
I suppose baseball pictures should be the easiest for American actors and directors to make look authentic. After all it is the national game. Today, as audiences become more sophisticated viewers, the tendency is to cast performers who have at least a nodding acquaintance with the sport their character is supposed to be extremely good at. Back in 1942, however, that was not considered an important factor. When Gary Cooper was chosen to portray baseball great Lou Gehrig in The Pride of the Yankees, he had never played the game in his life. Furthermore, he had never even seen a game in person until he was hired for this film! Even with careful cutting and camera angles, director Sam Wood could not make Cooper look like he knew one end of a bat from the other, hence the lack of baseball action in the film.
I have thus far seen just four baseball pictures that I thoroughly enjoyed – one biopic and three comedies. The biopic was the superb 61* (2001); the comedies: A League of Their Own (1992), Rookie of the Year (1993) and Major League (1989). Near misses include 42 (2013), Eight Men Out (1988) and The Natural (1984). 61* (2001) was directed by life-long New York Yankees fan Billy Crystal and right from the start we know that the man at the helm knows his baseball. Both Thomas Jane as Mickey Mantle and Barry Pepper as Roger Maris are totally convincing as fine baseball players as they compete against each other in the 1961 season, to be the first player to beat Babe Ruth's hallowed home run record of 60 in a single season. The movie is clearly a labour of love from Crystal and is (in my opinion) the best sporting biopic of all time. No doubt there will be those who will disagree.
Each of the three comedies I have chosen delivers lots of laughs. A League of Their Own (1992) is a delightful film very loosely based on the real life creation of a women's baseball competition in the USA that was intended to compensate for the shutdown of the men's league during World War Two. Penny Marshall directed this highly enjoyable film which features the versatile Tom Hanks as Jimmy Dugan, the coach of the Rockford Peaches, and Geena Davis as Dottie Hinson, the best player in the team and indeed in the entire competition. Again I stress that this is not an accurate historical account of the times (the ladies did not pitch overarm in real life, for instance), but it is a fun film from beginning to end and, at times, very moving as well.
Thomas Ian Nicholas as Henry Rowengartner in Rookie of the Year (1993)
The tagline for Rookie of the Year (1993) is: 'The Chicago Cubs needed a miracle…they got Henry Rowengartner.' The picture itself would not have succeeded unless it, too, got a miracle in the shape of Thomas Ian Nicholas to play Henry. He is very likeable and a natural comedian. There are a number of very humorous moments in this movie directed by Daniel Stern, but it does have a weakness. Stern himself opted to portray a woefully stupid character who might have ruined the picture had his part not been a minor one. The premise of Rookie of the Year is ludicrous, but Nicholas's performance enables us to overlook this and go along for the ride. I especially enjoyed watching Rowengartner at bat. His reactions to pitches hurled at him at speed are priceless.
'Wild Thing' (Charlie Sheen) makes his entrance in the final
I recently watched Major League (1989) again, not having seen it for many years, and was happy to see it had not dated at all. It uses the tried and true formula of taking a bunch of misfits and under-achievers and turning them into a winning combination, but it is the cast that makes Major League a cut above other productions of that ilk. Tom Berenger is the star and he rarely (if ever) disappoints. My wife considers him to be quite possibly the most handsome leading man ever in movies. A big call but even I have to grudgingly admit he looks good in this picture. The greatly under-rated Margaret Whitton and James Gammon are both terrific as well, but the moment that pretty much steals the show belongs to, of all people, Charlie Sheen. He plays the super-fast but erratic pitcher dubbed 'Wild Thing' by the Cleveland Indians fans, and when he strides to the mound, in the finale, to the sound of the Troggs' hit single of that name, it is nigh on impossible to hold back a smile. Cinema magic for those who embrace it. Every now and then it happens. You just need to 'think young' and go with the flow.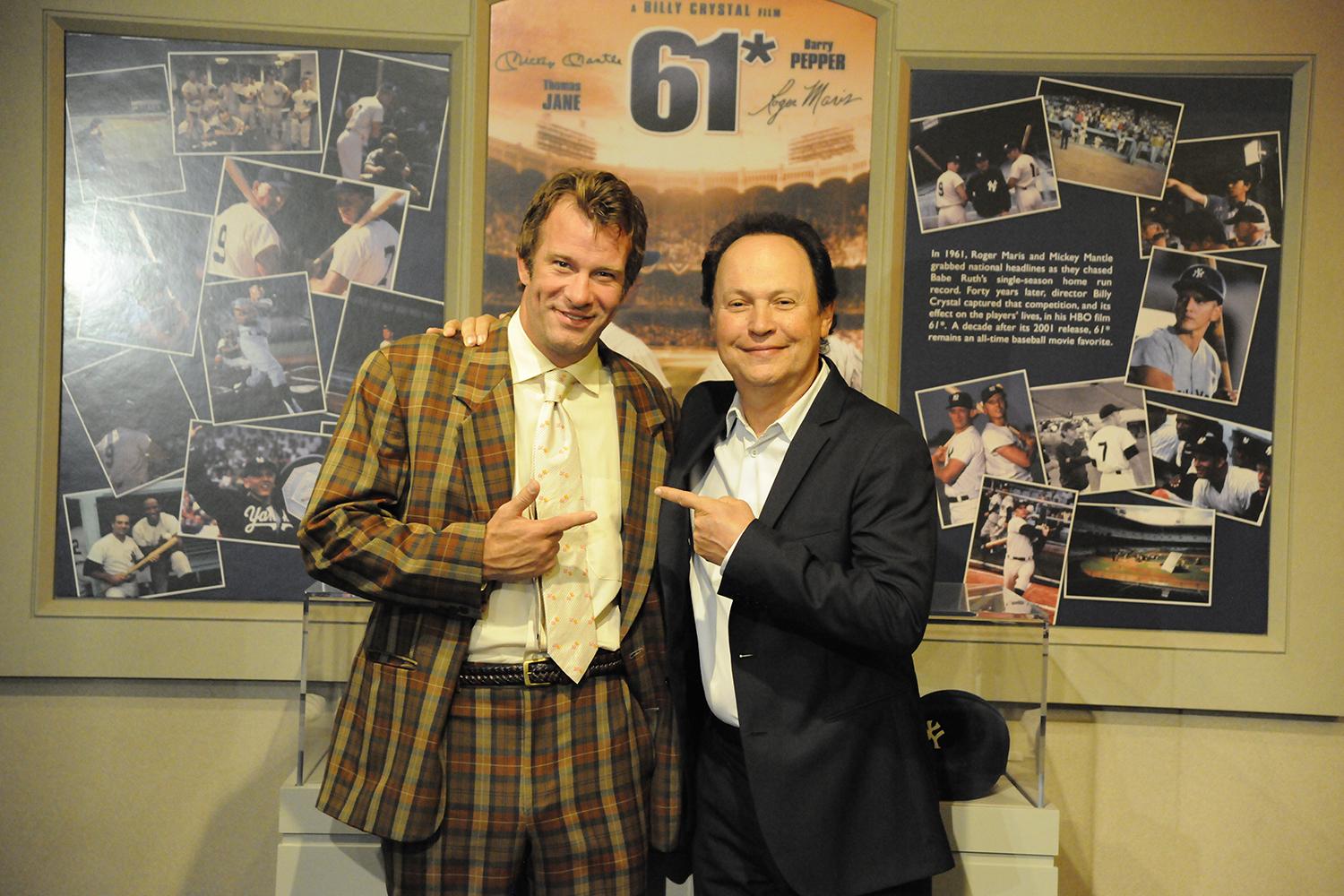 Thomas Jane & Billy Crystal
I suppose readers will probably disagree with my choices, particularly that legion of cinema-goers that fell in love with the Kevin Costner fantasy Field of Dreams (1989), released in the same year as Major League. It is a well-crafted movie, just not one of my favourites. The same applies to The Natural (1984). Robert Redford is fine in the title role, but it lacks the magic, in my opinion, that my personal choices possess. The 2013 Jackie Robinson biopic titled simply 42 is another fine dramatic film, as is 1988's Eight Men Out, but as far as baseball biopics are concerned, I feel that Billy Crystal's picture is by far the best of the three. If I sound biased, it is because I am. Billy can do no wrong in my eyes. As an actor he is extremely likeable and funny in pretty much everything he does. He proves his mettle as a director with 61*; and in closing, may I emphatically add that historically, as hosts of the Academy Awards go, he will always be the best ever there as well.