F TROOP (1965-7) 65 EPISODES                                                                                                 
The now iconic western comedy series F Troop (1965-7) has achieved a status not unlike that of the original Star Trek series that ran from 1966 -9. Both series were short-lived back in the sixties, but gained cult status decades later. It would be fair to say that the popularity of F Troop can probably be attributed to three factors: the unique comedic talent of Larry Storch who portrayed Corporal Randolph Agarn; the wonderful dead-pan delivery from New York actor Frank DeKova as Chief Wild Eagle, and the appeal (especially to male fans) of the lovely Melody Patterson in her mainly decorative role as 'Wrangler' Jane Angelica Thrift. Veteran actor Forrest Tucker as Sergeant Morgan O'Rourke is a good straight man to Storch's Corporal Agarn. Ken Berry as Captain Wilton Parmenter and James Hampton as bugler Hannibal Dobbs contribute to the overall mayhem, but the show belongs to Storch and (to a slightly lesser extent) DeKova.
Melody Patterson as Wrangler Jane
Melody weds James MacArthur in Hawaii 1970
Blonde-haired, big-eyed and cute as a button, Melody Patterson auditioned for the role of Wrangler Jane as a lark. She was not yet sixteen (but looked older), so she said she was eighteen and kept her true age secret until she had secured the role and shooting was about to begin. The producers were initially most unhappy with her, but she soon won them over with her professionalism and maturity. Melody met Hawaii Five-0 star James MacArthur (he played Danno in the series), on the set of their abysmal movie The Angry Breed (1968) and they married in 1970, but divorced a few years later. After suffering a long illness, she passed away in 2015 at the age of sixty-six. 'Multiple organ failure' was given as the official cause of death.
Harvey Parry in his silents era heyday
Harvey Parry was a stuntman who played 'Old Charlie', an alcoholic who was tossed out of the saloon in three episodes of F Troop. Each time, his routine would have him bounce off a post, fall face-forward over the hitching rail outside the saloon doors, spin around and land flat on his face or back. Viewers assumed by his vigorous antics that he was a young man in 'old man' make-up, but he was actually sixty-five years old at the time and had been performing dangerous stunts in both silent movies and 'talkies' for forty-five years or more. In the silent movie era he doubled for comedian Harold Lloyd in stunts involving height because Harold was, in fact, terrified of heights. 'He gave me every precaution I wanted in climbing buildings and so forth', Harvey recalled. 'The only thing I couldn't have was publicity.' The public always believed that stars like Harold and Douglas Fairbanks, to name but two, did all their own stunts, and the studio preferred it to stay that way. Harvey, who was still working as a stuntman at eighty, died five years later in 1985.
Frank DeKova as Chief Wild Eagle
Chief Wild Eagle (DeKova) was the leader of the Hekawe tribe. In one episode it was explained that the name came about by two Indians falling off a cliff and one of them asking, 'Where the heck are we?' The original name of the tribe was intended to be, the Fugawe (as in, 'Where the Fugawe?') but the network censors quickly put paid to that idea. Chief Wild Eagle and the rest of the tribe usually referred to Captain Parmenter as 'The Great White Pigeon'. At other times they called him 'Scourge of West' or 'Mr. Nice Guy'. DeKova was of Italian heritage and was often found rehearsing his lines in Italian before going on camera. The series was set in 1865-7, yet the Battle of the Little Big Horn (1876), in which the Sioux and Cheyenne wiped out Colonel Custer's command, is often mentioned during the series. Oops!
The inimitable Larry Storch as Corporal Randolph Agarn
Many stand-up comics who incorporate impersonations of major movie stars in their act, will more than likely employ the 'Judy, Judy, Judy' routine when 'doing' Cary Grant, even though the man never did say that in any of his movies. It originated with Larry Storch, in fact. He was performing in a night-club one evening and was half-way through his impersonation of Grant when singer Judy Garland walked in. Apparently, he addressed her (still in his Grant voice) as 'Judy, Judy, Judy.' The impression inexplicably stuck and has been used by impersonators ever since. On F Troop, Larry's flair for accents became a humorous running gag, as he would be required to play his 'cousins' – from Moscow, Mexico and Montreal. Larry turned ninety-seven in January 2020 and still loves it when fans call out, 'Hey, Agarn!' to him whenever he is spotted anywhere.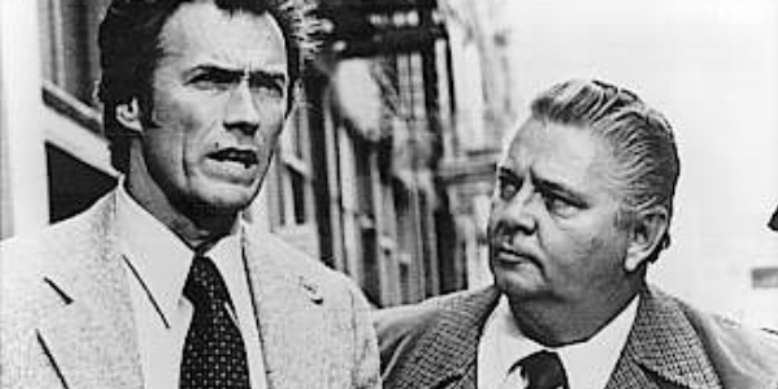 Clint Eastwood & John Mitchum in Dirty Harry (1971)
Appearing in ten episodes was Trooper Hoffenmueller, an overweight, elderly member of F Troop who spoke with an outrageous German accent. It might surprise readers to learn that he was played by an actor named John Mitchum, the younger brother (by two years) of major Hollywood star Robert Mitchum. In 1989 he published his often hilarious autobiography titled The Ornery Mitchum Boys. Its subjects included his brother's escape from a Georgia chain gang and John's surviving an encounter on board his three-masted schooner with an attacking whale. Fans of Dirty Harry (1971), Magnum Force (1973) and The Enforcer (1976) will recall him playing Harry's partner Frank DiGiorgio in all three films. He passed away in 2001, aged eighty-two.
FURY (1955-60) 116 EPISODES
This series was about an orphaned boy named Joey Clark (portrayed by Bobby Diamond) who is adopted by a rancher named Jim Newton (played by Peter Graves), owner of the Broken Wheel Ranch, and befriended by ranch hand Pete Wilkey (William Fawcett). 'Fury' is the name of the horse that forms a special bond with Joey. It was played by an animal named Highland Dale, the same horse that starred as 'Wildfire' in the 1948 film The Return of Wildfire. Its owner/trainer Ralph McCutcheon was paid $1,500 per episode plus 5% of the series' profits, which turned out to be more than the stars were receiving. Over its lifetime (29 years), Highland Dale earned his owner more than $500,000.
Peter Graves (L) & his real life brother James Arness
Bobby Diamond's screen career consisted of just forty-six credits, nearly all of them TV appearances. He earned a law degree in 1970 and began practicing law in Los Angeles a year later. He passed away from cancer in 2019, aged seventy-five. William Fawcett was in his early sixties when he began playing Pete. Looks can be deceiving, for he was one of only a few actors to hold a Ph.D. in real life. Back in 1940 he became a Professor of Theatre at Michigan State University. Fawcett was seventy-nine when he died from natural causes in 1974. Peter Graves was the younger brother of James Arness (Marshal Dillon in Gunsmoke), and would himself go on to TV fame as Jim Phelps in the sixties series Mission: Impossible. A heart attack would claim him at eighty-four in 2010. Fury was a successful venture that lasted five seasons before being axed.