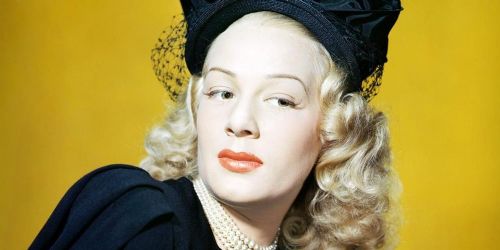 BETTY HUTTON (1921 – 2007)               
Betty entered this world as Elizabeth Thornburg via Battle Creek, Michigan in February 1921. Her father deserted the family when she was two (and committed suicide sixteen years later). Mum moved the family to Detroit after dad shot through and, in the middle of Prohibition, opened a speak-easy selling illegal booze. When police closed her down she simply moved elsewhere. The family was poverty-stricken for most of Betty's childhood, a situation not helped by her mother's alcoholism, so at the age of nine the girl started singing publicly to bring in a little money. At fifteen she headed for New York City with the intention of becoming a professional singer. It didn't work out, however, and within two years she was back in Detroit.
At sixteen she started getting work singing with a local band on the radio. Full of renewed confidence she returned to the Big Apple and by 1940 was appearing in minor roles on Broadway. A year later she headed for Hollywood to try her luck in the movies. Paramount Pictures eventually signed her and she made her screen debut at the age of twenty-one in The Fleet's In (1942), a picture that featured William Holden, Eddie Bracken and Dorothy Lamour. Betty was an instant hit with the movie-going public and her career was off and running.
The early years of World War Two were a gay time for the young up-and-coming Betty, as she enjoyed the awakening of her film career, complete with the trappings of emerging celebrity. The A & P Tea Company millionaire Huntington Hartford was quick to seek her out for dates on the town. In 1942, she was briefly engaged to Warner Bros. head make-up artist Perc Westmore but broke off their relationship 'because he bored me.' She dated Argentinean-born singer Dick Haymes for a while as the war drew to a close.
Betty & husband #1 Ted Briskin 1945
An American camera manufacturer named Ted Briskin met Betty in January 1944, dated her for the next twenty months; and then became her first husband in September 1945. The union produced two daughters, Lindsay and Candice, before it ended in divorce in January 1951. Betty starred opposite Bing Crosby in Here Come the Waves in 1944 and was rumoured to have enjoyed a fling with him during the shoot. The Miracle of Morgan's Creek (1944) proved she was adept at comedy as well as musicals, but just when she appeared to be headed for major stardom, she bombed big-time in Dream Girl (1948). Critics and public alike hated it.
After considerable success playing Annie Oakley in Annie Get Your Gun (1950) and a solid performance in The Greatest Show on Earth (1952), her career started to wind down. Later, it emerged that Betty and her Annie Get Your Gun co-star, Howard Keel, had not get along during filming. Not at all. 'The cast was awful to me', Betty recalled. 'They wanted Judy [Garland]. The film was the end of me.' Betty dated composer Nelson Riddle and TV comedian Milton Berle in the early part of 1950, prior to meeting Paramount dance director Charles O'Curran whom she dated for several months before marrying him in March 1952. He wanted to direct her in an upcoming film, but Paramount was dead against the idea and refused to sanction the deal. In retaliation, Betty threw one of her notorious temper tantrums and walked out of her contract and the movies. She and Charles went their separate ways in February 1955, around the time she foolishly turned down the role of Ado Annie in Oklahoma! (1955).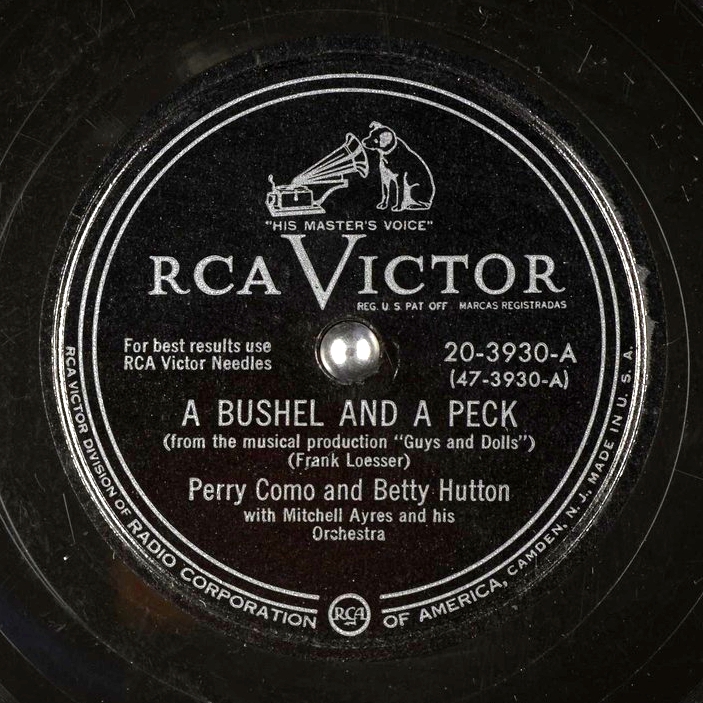 Betty & Perry Como's #3 hit single 'A Bushel and a Peck'
Writer and recording company executive Alan Livingstone dated her for a year before becoming her third husband in March 1955. The marriage lasted five years and six months before it too ended in divorce in October 1960. She had already been seeing jazz trumpeter Pete Candoli since early '59 anyway. After two years of regular dating they married on Christmas Eve 1960. Candoli was husband number four. Although she gave him a daughter in June 1962, this union too did not go the distance and the couple divorced five years later. It was Betty's final attempt at marital bliss. Prior to the demise of her marriage, she had taken a shot at television, but her series The Betty Hutton Show (1959) fared poorly and was cancelled after only thirty episodes. Not for the first time the highly volatile actress/singer announced her retirement. Offers by that time had all but dried up anyway. In 1967, she declared bankruptcy. Then, in 1970, after suffering a nervous breakdown, she unsuccessfully attempted suicide.
Betty & Eddie Bracken in The Miracle of Morgan's Creek (1944)
In 1974, an investigative reporter discovered her working as a cook and house-keeper at St. Anthony's Rectory in Providence, Rhode Island. She had long since embraced both Catholicism and anonymity and had become a recluse. The priests, she claimed, had helped her with her addictions to alcohol and prescription drugs. In 1980, Betty briefly bounced back when she took over the role of Miss Hannigan in the original Broadway production of Annie, while Alice Ghostley was on vacation. In her final years Betty became estranged from her three daughters, so she moved to Palm Springs in an attempt to mend things. When she died from colon cancer in 2007, however, none of her them attended her funeral.
LAUREN HUTTON (1943 – )                    
She was born Mary Laurence Hutton in 1943, in Charleston, South Carolina. Her father was stationed in the UK at the time of her birth and remained there until the war ended. Mary's mother divorced him in 1945 and he died from a heart attack in 1956. He was only 37 and had never met his daughter. 'Never meeting my father was the most painful thing in my life', said Lauren in 1996. 'I look just like him and I'm named for him…' She attended the University of South Florida in 1961, but later relocated to New York City (with her partner, a Tampa disc jockey named Pat Chamburs who was nineteen years her senior). There she gained work as a Lunch Bunny at the Playboy Club, before they moved again, this time to New Orleans. In 1964, she graduated from Tulane University with a Bachelor of Arts degree.
Images of Lauren in the seventies
Whilst working as a Playboy Bunny in New York, in 1962, she dated thirty-two year old Steve McQueen. She also dated Ryan O'Neal. Sometime between 1964 until 1991, her relationship with Bob Williamson, her manager/accountant, developed into a personal one. It was thought he represented a father figure to Lauren for part of that time and they shared a tiny Greenwich Village apartment for several years. When he died in 1997, however, she discovered that he had stolen close to thirteen million dollars from her over many years. In his will he left $2.5 to his new wife and nothing at all to Lauren!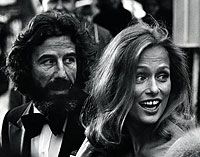 Lauren photographed with Lou Adler
Back in New York in the late sixties and calling herself Lauren Hutton by then, she embarked on a career as a model. In 1973, despite having a pronounced gap in her teeth that she attempted to hide with mortician's wax, Lauren signed a contract with Revlon cosmetics worth $250,000 USD a year for just twenty days' work, the biggest contract in the history of the modelling industry. And it would continue for ten years! She also became a 'cover girl', appearing on the cover of Vogue no fewer than 25 times!
With Burt Reynolds in Paternity (1981)
In 1975, she was photographed in the company of music producer Lou Adler amid unproven rumours the couple were an item. She made three movies with Burt Reynolds – Gator (1976), Paternity (1981) and Malone (1987) – and the two were allegedly involved off-screen for a while in 1981. Her four-year relationship with Malcolm McLaren, producer and manager for the Sex Pistols, began in 1985 and was followed by a six-year stint with Italian director Luca Babini. He was coming out of a divorce when he met and fell in love with her. 'I loved her feet', he told an interviewer. 'Which say so much about a person.' Uh-huh.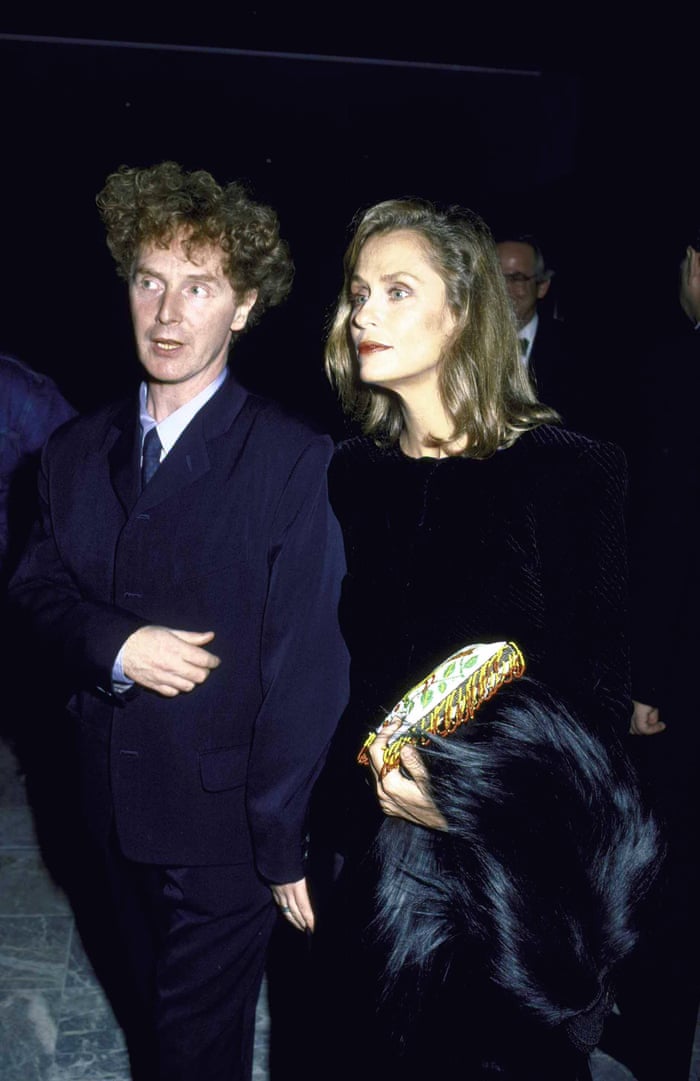 With Malcolm McLaren
In 2000, the 57 year-old Lauren had a motorbike accident near the Hoover Dam, coming off her machine at 110 miles per hour! Had actor Jeremy Irons not insisted she wear a 'proper' helmet moments before the crash, she would surely have died. As it was, she had to undergo seven major surgeries to repair the damage.  When asked, during a Vogue interview in 2017, how she felt about sex, Lauren candidly and revealingly replied: 'I am having sex at my age, and I have no intention to stop. Boy, I love it, it was always my favourite thing, right up there with my best travel, and maybe higher. It was the most interesting thing to me, and the most joyful, and the most fun, and the most everything. And age only helps you drive a vehicle better.' In another interview that same year (with W Magazine), she was asked if there was anything she was really good at? 'Fucking', replied Lauren. 'It's an awfully good thing to love and be good at, no? And it goes forever, guys and girls. You should remember that.'