Daniel Radcliffe as Harry Potter
Daniel Radcliffe was paid one million dollars USD in 2001, to play the lead in Harry Potter and the Sorcerer's Stone, quite a payday for a twelve year-old. But it was chicken feed compared to what was to follow. A year later the stupendous success of the Harry Potter phenomenon saw his fee triple for Harry Potter and the Chamber of Secrets. Then it leapt to eleven million for 'the Goblet of Fire' in 2005 and to fourteen million for 'Order of the Phoenix' two years hence. For the final two episodes in the franchise, Harry Potter and the Deathly Hallows (Pts 1&2), he received a whopping combined total of fifty-three million USD!
Sheb Wooley
Oklahoman Sheb Wooley enjoyed a solid movie career as a character actor, mostly in westerns, for around fifty years. Never a major star, he nevertheless found his way into a few big movies, including his role as one of the Miller gang in High Noon (1952). An established country and western singer, he surprisingly soared to the top of world pop record charts, in 1958 with a novelty recording titled 'Purple People-Eater'. It also appears that Sheb was responsible for the famous 'Wilhelm Scream' that we hear in numerous films from the Star Wars and Indiana Jones franchises to the likes of Toy Story, Beauty and the Beast, and so on…. Sheb was making the western Distant Drums (1951) when he and a few fellow actors were assembled to record additional vocal elements for the movie. These included the screams of a man being bitten by an alligator. Sheb supplied the screams, one of which was the 'Wilhelm'.
John Ratzenberger
John Ratzenberger made a name for himself playing Cliff Clavin in the long-running TV series Cheers (1982-93), but his voice is also known to fans of all the Pixar Animation feature films because he portrays a character in every one of them made until 2015. He is the Pixar voice of:
Hamm in Toy Story (1995), Toy Story II (1999) and Toy Story III (2010).
PT Flea in A Bug's Life (1998).
Abominable Snowman in Monsters Inc. (2001).
Fish School in Finding Nemo (2003).
Under-miner in The Incredibles (2004).
Mack in Cars (2006) and Cars 2 (2011).
Mustafa in Ratatouille (2007).
John in WALL-E (2008).
Construction Foreman Tom in Up (2009).
Gordon in Brave (2012).
Yeti in Monster's University (2013)
Fritz in Inside Out (2015)
Earl in The Good Dinosaur (2015).
Peter Wyngarde as Jason King
Peter Wyngarde made his mark in British television portraying the suave Jason King in the 1969 series Department S. Born in Marseille, France, probably in 1927, to a father who was a member of the British Diplomatic Service, young Peter spent his childhood moving from country to country and from school to school. In 1941, dear old dad was transferred yet again so he deposited the boy with a Swiss family in Shanghai. Fourteen year-old Peter awoke one morning to learn that the Japanese had occupied the city. Before long Peter and his surrogate family found themselves interned in the Lung Hau Concentration Camp where they remained for four long years. One of the friends he made there was J.G. Ballard, future author of Empire of the Sun (1987). While running errands between accommodation huts, Peter was discovered by Japanese guards who brutally broke both his feet with rifle butts before throwing him into solitary confinement. When the camp was liberated in 1945, he was treated for malnutrition, beriberi and malaria, and ultimately sent off to a sanatorium in the Swiss mountains where he remained for two years.
By the early 1970s, Peter Wyngarde was an established television star of successive highly rated series before his career came tumbling down around him when, in 1975, he was arrested for an act of 'gross indecency' in the toilets of the Gloucester Bus Station. Interviewed by News of the World and the Sunday Mercury, he tried to explain the arrest as a 'misunderstanding'. Unfortunately, the media recalled he had been arrested for similar conduct in the toilets at Kennedy Gardens in Birmingham a year earlier. The second incident, he said, was the result of him suffering a 'mental aberration'. Few believed him and his career was in tatters.
Robert Mitchum
Robert Mitchum had already turned down the role that ultimately went to Tony Curtis in The Defiant Ones (1958). A real-life veteran of a Southern chain gang, Bob could not accept the story's premise that a black man and a white man would be chained together on a Deep South chain gang. Such a thing simply would not happen in the South, he said. His quite logical reason for refusing the role has since been corrupted. For several years many people, including Curtis, believed he just did not want to be chained to Sidney Poitier because he was a black man. It was a complete falsehood. Curtis repeated the inaccurate story in his autobiography but later recanted it once the real reason had been explained to him.
Willie Nelson
Martha Matthews was the first of Willie Nelson's four wives (1952-60). On the last night of their marriage, he came home dead drunk once too often and passed out on the bed. Martha sewed her unconscious spouse up in a sheet, beat him with a broom, then packed up the car with their three children, her clothes and his clothes, and took off! Willie later said there was no way he could follow her naked so that was kind of the end of it.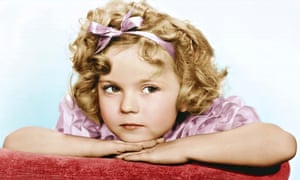 Shirley Temple
Twelve year-old superstar Shirley Temple was considered for the role of Dorothy Gale in The Wizard of Oz (1939), and there are at least two stories explaining why she did not get it. One explanation was that her studio 20th Century Fox refused to loan her out to MGM. The more likely reason was that MGM were deeply concerned about her insurmountable singing limitations and decided to go with the monumentally better vocalist Judy Garland. After leaving Fox, Shirley was briefly signed by MGM. Very briefly. According to her memoirs, the moment Shirley was left alone with producer Arthur Freed he exposed his genitals to her! All this elicited from Shirley were a few nervous giggles so Freed threw her out and ended the contract before a movie was even made.