GEORGE NADER (1921 – 2002)                                                                                                                          
George was an actor and writer who hailed from Pasadena, California where he was born in 1921. In the fifties he starred in a short-lived TV series called The Man and the Challenge (1959-60), and was a close friend of actor Rock Hudson. Although both men were gay, it is generally accepted that they were probably not lovers. For 55 years of his life, George lived with his partner Mark Miller, who previously spent thirteen years as Hudson's private secretary.
George during WW2
George served in the US Navy as a communications officer during World War Two, and from 1943 until war's end he served in the Pacific theatre of operations. He left the Navy in 1946 and commenced his acting career in 1950. When acting opportunities dried up in Hollywood he moved to Europe and enjoyed a strong following, particularly in a series of German films in which he played FBI agent Jerry Cotton. He even made movies in the Philippines during the seventies until an eye injury suffered in an automobile accident brought about his early retirement from movie-making in 1974.
With Jeff Chandler in Away All Boats (1956)
His best American movie was probably Away All Boats (1956), an above average WW2 film starring Jeff Chandler and a host of young actors who would go on to become popular performers in later years. It was one of those 'put a name to the face' movies and fun to watch for film buffs. It was a far cry from his first starring role in the low-budget, 3-D, sci-fi film Robot Monster (1953), a diabolical offering, generally considered to be 'one of the worst films ever made'. Oddly enough, the picture actually made money and led to further opportunities for Nader. In fact, in 1955, we won a Golden Globe Award for 'Most Promising Newcomer'.
George & his pal Rock Hudson
George never married, nor did he attempt to disguise his homosexuality, (as numerous others did), by being seen and photographed at night spots with a beautiful woman on his arm. Like all other gay actors, however, he lived in fear of being exposed as a homosexual. Confidential magazine, in particular, was a constant threat to the gay community of Tinsel Town. 'We lived in fear of an expose, or even one small remark, a veiled suggestion that someone was homosexual', he recalled. 'Such a remark would have caused an earthquake at the studio. Every month, when Confidential came out, our stomachs began to turn. Which of us would it be?'
George – star of German cinema
When his friend Hudson passed away from AIDS in 1985, George (and his partner Miller) inherited the interest from Rock's $27 million estate. George publicly acknowledged his sexual orientation shortly afterwards. In his later years he wrote novels, one of which was published in 1978. It was titled Chrome and was considered to be a break-through in sci-fi thrillers because it featured gay robots! Toward the end of his life George suffered from a multiple of medical problems that contributed to his demise in 2002 at the age of 80.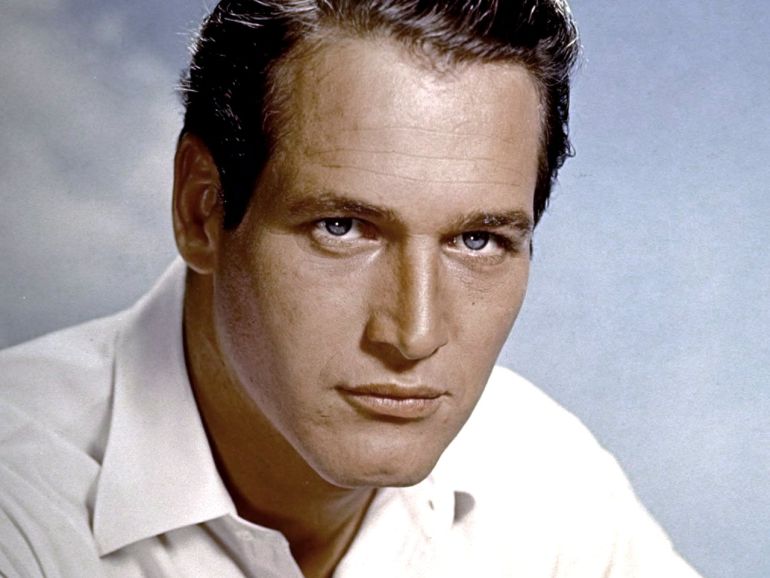 PAUL NEWMAN (1925-2008)                                           
Paul Newman was born in Shaker Heights, Ohio in January 1925. Initially, he enrolled in the US Navy's V-12 pilot training program at Yale University. Unfortunately, he was dropped from the program when it was discovered that he was colorblind. Undeterred, he was determined to participate in the war and commenced training as a radioman and rear gunner. In 1944, he qualified in torpedo bombers and Aviation Radioman Third Class Newman was sent to Barber's Point, Hawaii. From there he was assigned to Pacific-based replacement torpedo squadrons VT-98, VT-99 and VT-100, and became responsible for training replacement combat pilots and air crewmen, with special emphasis on carrier landings. He later flew as a turret gunner in an Avenger torpedo bomber.
Paul Newman – trainee WW2
He was supposed to be assigned, along with his unit, to the aircraft carrier Bunker Hill prior to the invasion of Okinawa in the spring of '45, but his pilot came down with an ear infection and both plane and crew had to be left behind on Okinawa, when the remainder of the squadron returned to the ship. Newman appears to have been very fortunate to survive the war, for a kamikaze attack on the Bunker Hill just days later, killed a number of service members, including the other members of his unit.
USS Bunker Hill hit by kamikazes 1945
When the war ended, Newman used the GI Bill to become an actor, eventually moving to New York City to study under Lee Strasberg at the Actors Studio. His illustrious screen career extended over 59 years and has been well-documented. Nominated for no fewer than nine acting Academy Awards over five decades, he eventually won for The Color of Money (1986). A heavy smoker for thirty years, he fell victim to lung cancer and passed away in September 2008 at the age of 83.
ROBERT NEWTON (1905-56)
Britain has produced many wonderful character actors over the years and Robert Newton should rank as one of the best, even though most cinema-goers remember him only for his iconic portrayal of Long John Silver in Disney's Treasure Island (1950). His career, although blighted by his chronic drinking, reached lofty heights in films such as This Happy Breed (1944), Odd Man Out (1947) and Oliver Twist (1948). His portrayal of Bill Sykes in Oliver Twist was indeed most memorable.
As Long John Silver in Treasure Island (1950)
Born in Shaftesbury, Dorset in 1905, he began acting in repertory at the age of sixteen. After spending a year on a Canadian cattle ranch, he returned to England and acting in London's West End. Alexander Korda placed him under contract in the mid-thirties and he made a number of fine films prior to the outbreak of war with the Axis Powers in September 1939. Enlisting in the Royal Navy, he saw active service as an Able Seaman on board HMS Britomart. The vessel was used in extremely hazardous duty as an escort ship for several Russian convoys. Newton spent two and a half years in the Royal Navy before being medically discharged in 1943.
As Inspector Fix in Around the World in 80 Days (1956)
A civilian again, he promptly returned to acting but his chronic drinking problem was soon interfering with his career. More than once he was deemed unemployable because of his unreliability. Over a decade had passed when Mike Todd offered him the role of Inspector Fix in Around the World in Eighty Days (1956). The job came with one condition, however. Newton must vow to lay off the booze until filming was completed. He agreed and lived up to his end of the bargain; but as soon as the picture was completed he embarked upon a massive drinking binge. It is generally thought that this sudden break-out may well have brought on the heart attack that killed him the same year as the film was released. He was only fifty years old.