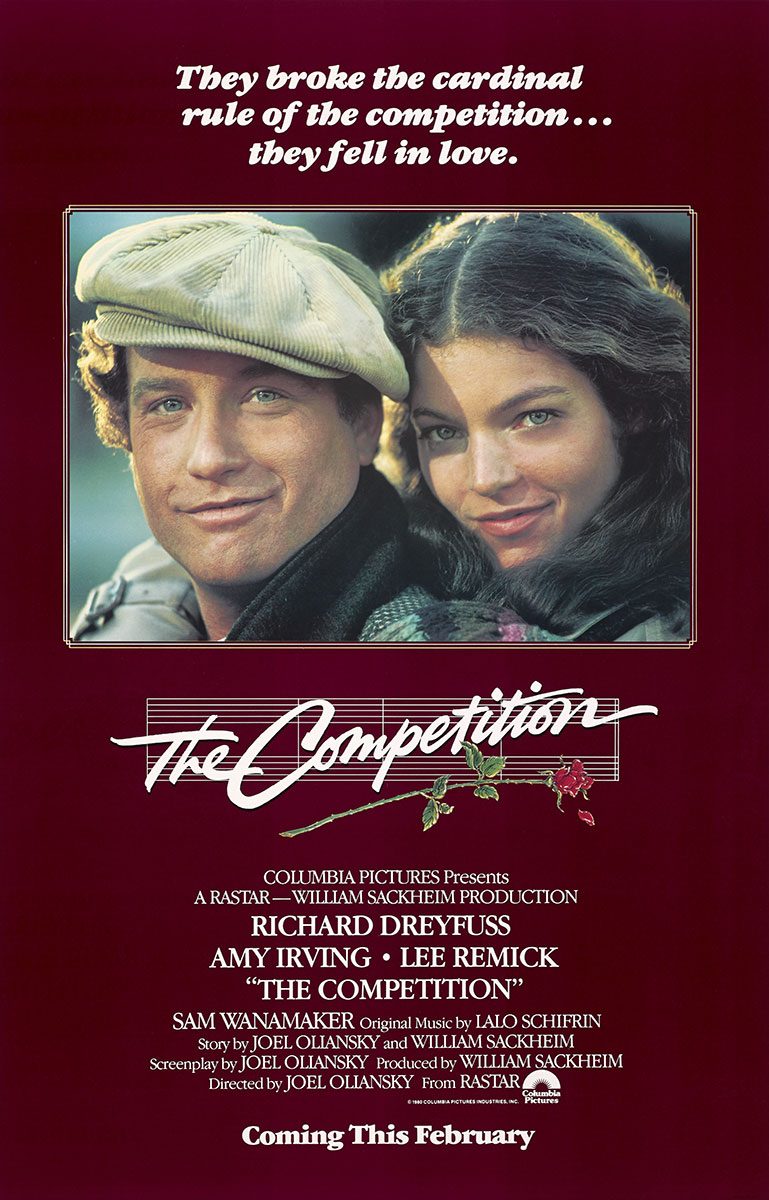 THE COMPETITION (1980)                     
This romantic drama might have been a good picture. Unfortunately, it is only ordinary. Evidently, the idea was to present a man and a woman in love, but in direct competition with each other in their chosen field of expertise. Both Heidi (Amy Irving) and Paul (Richard Dreyfuss) are exceptional concert pianists competing for the fictional Arabella Hillman Competition in San Francisco. It carries a $20,000 first prize, a debut concert recital at Carnegie Hall, plus two years of potential concert bookings across the United States. Despite his intention to keep his distance from Heidi, Paul falls for her – and she for him.
Sam Wanamaker (L) & Richard Dreyfuss in The Competition (1980)
One does not have to be psychic to conclude that the winner will almost certainly get down to one of the two lovers. The writers decided against them competing against each other in business or sport, settling instead on classical piano because the rewards in this underpaid profession are meagre by comparison. Winning would have a great deal more meaning, thereby heightening the drama. Also, according to writer/director Joel Oliansky, it would 'enable us to intensify the drama with some glorious music.' Box-office receipts, however, would be adversely affected, primarily because a large percentage of cinema-goers struggled to sit through the long classical pieces that were part of the picture.
Lee Remick (L) & Amy Irving share a scene.
Amy and Richard spent four months being coached to use correct hand movements by music consultant Jean Evensen Shaw. Dreyfuss had never before played a single note on a piano and his hands were considerably small for a concert pianist, yet after four hours a day practice he could, according to producer William Sackheim, 'play quite well, though not brilliantly enough…of course…to perform his own concerts.' Miss Irving had at least studied piano as a child. The director refused to resort to the time-honoured Hollywood trick of placing the camera behind the keyboard so that the actor's hands are obscured, then having someone else's fingers intercut into the scene. The cast were taught such skills as fingering, pedalling, posture, and arm-and-wrist coordination, in an endeavour to give them the illusion of actually playing, at least to the average cinema patron anyway. One of the six finalists, Adam Stern, (who portrayed the virtually silent Mark Landau), was actually a real life classical pianist. Today, he is employed as a full-time symphony conductor in Seattle, Washington.
Amy & husband Steven Spielberg
In The Competition, Sam Wanamaker portrayed symphony conductor Andrew Erskine, and did so with his customary perfectionism. 'He went to sleep every night, wearing ear-phones, listening to the scores he would conduct', recalled the producer. 'He had never faced an orchestra before, but he was so natural that the musicians found themselves following his tempo.' At the end of filming, an honorary membership with the American Federation of Musicians was bestowed upon him. He was recruited for the role of Erskine partially because of his physical resemblance to legendary conductor Leonard Bernstein and their similar theatrical sense.
The use of cinematic illusion is demonstrated in the arrival of Paul and Heidi at the auditorium in San Francisco. As they walk up the polished stones steps and enter the gleaming glass doors, they are, in fact, at the entrance to the San Francisco Museum of Natural History. Once inside, they are not in the auditorium either, but inside the Scottish Rites Temple on Wilshire Boulevard in downtown Los Angeles, over five hundred miles away. An unexpected bonus was the flawless acoustics present in the Scottish Rites Temple.
Willie & Amy in Honeysuckle Rose (1980)
Amy played opposite singer Willie Nelson in Honeysuckle Rose (1980) and became intimately involved with him off-screen, despite his marriage. She eventually ditched him to marry director Steven Spielberg in 1985. She also became the first actress to win a Worst Supporting Actress 'Razzie' (for her performance in Honeysuckle Rose.) Three years later, she played Barbra Streisand's 'wife' in Yentl (1983) and was nominated for another 'Razzie'. Ironically, she was also nominated for a Best Supporting Actress Academy Award for the same performance! She did not win either gong but her dual nomination had critics wondering about the validity of those tasked with arriving at the nominations for either one. She was originally going to play Marion Ravenwood in Raiders of the Lost Ark (1981), when she and Spielberg (who was responsible for the film) were girlfriend/boyfriend, but they split and did not get together again until 1984. The role went to Karen Allen instead.
It is interesting to note that Amy and Spielberg met way back in 1976. Her star was on the rise following her rave reviews for her co-starring turn in the high school horror movie Carrie. He had just stunned the world with his runaway success Jaws. Their relationship was an on again-off again thing that somehow resulted in a 1984 marriage that ultimately dissolved into divorce in 1989, after Steven began dating Kate Capshaw, the female lead in his picture Indiana Jones and the Temple of Doom. Amy received $100 million in the settlement, one half of Steven's then fortune, after the judge invalidated their pre-nuptial agreement that had been scrawled on a cocktail napkin. 'During my marriage to Steven', Amy said after the divorce, 'I felt like a politician's wife. There were certain things expected of me that definitely weren't me.' She never set foot in any of his movies. 'It was very important for me to keep my career separate from Steven's because he was already very famous', she said. In 1991, Spielberg married Kate and (five children later) they are still together.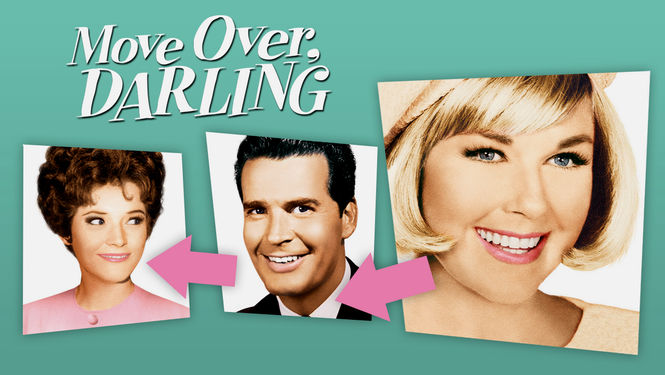 Lee Remick portrayed Heidi's music coach in The Competition. She came to prominence in her early twenties with her performance as an apparent rape victim in Anatomy of a Murder (1959), a role she landed by default after the original choice Lana Turner had been fired. Lana had insisted that her 'off the rack' costumes, (suitable for her Army wife character), be designed by fashion hot-shot Jean Louis. The studio felt otherwise and she was out. Lee was thought to have been less fortunate when she inherited Marilyn Monroe's role in Something's Got to Give (1962) after Marilyn, too, had been fired from the set. Co-star Dean Martin, however, was a friend of her's and he refused to resume filming unless she was re-instated. It was in his contract that he had right of refusal regarding all lady co-stars in his movies. He got his way but poor Marilyn was found dead at her home and the picture went unfinished. That was the story planted in the newspapers anyway. In truth, Lee was never signed for the picture. In fact, she knew nothing about it until much later. The film was re-made as Move Over, Darling (1963), starring James Garner and Doris Day, and was the sixth biggest money-maker of 1964. Sadly, the lovely Miss Remick passed away from kidney, lung and liver cancer in 1991. She was only fifty-six.