AUDREY HEPBURN (1929 – 93)             
After filming completed on Roman Holiday (1953), Audrey became engaged to businessman James (later Lord) Hanson, a man she had known since her early days in London. The Fontana sisters even designed an ivory satin wedding gown for her, but the bride to be called off the wedding at the last minute, concerned their careers would surely keep them apart most of the time. 'When I get married', she declared in a public statement, 'I want to be really married.' A relationship with future Hair producer Michael Butler also failed to go the distance around this time.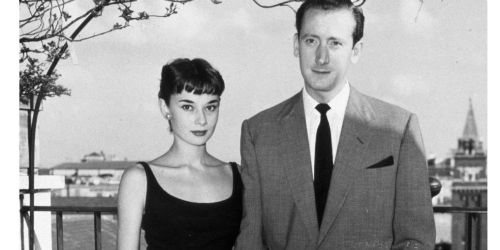 Audrey & James Hanson 1952
She married for the first time in September 1954, tying the knot with actor Mel Ferrer who was 12 years her senior. In July 1960 she presented him with a son, Sean Hepburn Ferrer.  The couple had first met at a party hosted by Gregory Peck early in 1954, prior to them co-starring in Ondine on Broadway. Eight months later they wed in Switzerland, while preparing to star together in War and Peace (1955).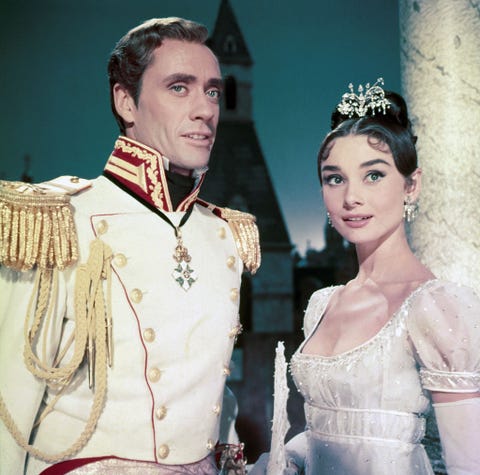 With husband Mel Ferrer in War and Peace (1955)
Audrey made Sabrina (1954) and, although still married to Ferrer, fell in love with one of her co-stars, the very married William Holden. 'I loved William Holden', she later confessed, 'but I could not have knowingly married an alcoholic.' She also wanted children desperately and Holden led her on in that regard, finally admitting that he could not father any more children (he had three), because he had previously undergone a vasectomy. A deeply hurt Audrey ended their relationship at once. Holden's wife, actress Brenda Marshall, knew of his many affairs but was extremely territorial nonetheless. She insisted he bring his latest lover home for dinner to meet her. She quickly realized that her husband was totally smitten with Audrey and demanded he drop her at once. When Audrey starred in The Nun's Story (1959), she again became involved with another man on the set, this time with the writer of its screenplay, Robert Anderson. It was a short-lived relationship.
Audrey & Bill Holden in Sabrina (1954)
Still wed to Ferrer, Audrey made How to Steal a Million in 1966 with Irish actor Peter O'Toole. When she fell pregnant she was unsure if the father was Mel or Peter. She miscarried for the third of four times during her marriage. O'Toole, believing himself to be the father, was devastated. At the commencement of their affair she had told him, 'I believe that an actress has to be at least a bit in love with her leading man, and vice-versa.' She divorced Ferrer in 1968. He was rumoured to be too 'controlling' and possessed of a bad temper. Besides, both parties took lovers anyway throughout their marriage.
Audrey next married Dr Andrea Dotti in January 1969, a psychiatrist-neurologist she met on a Mediterranean cruise in June 1968. In February 1970 she gave birth to her second son, Luca Dotti, in Lausanne, Switzerland, but would miscarry yet again in 1974. Her husband was repeatedly unfaithful. As for Audrey, she entered into an intimate relationship with actor Ben Gazzara when they made the movie Bloodline (1979).
Marriage to Andrea Dotti 1969
With Ben Gazzara in New York City 1980
The marriage to Dotti would end in divorce in 1982. By then his affairs were being reported in detail in the press. 'She was unhappy in her marriage and hurting', Gazzara said later. 'I was unhappy in my marriage and hurting. We came together and gave solace to each other and we fell in love, but it was impossible. She had a life in Europe and Switzerland and where you will. I'm in L.A. with another life. Life got in the way of romance.' Nevertheless, when filming ended, both returned to their unhappy marriages.
Audrey & her last love Robert Wolders
From 1980 until her death, Audrey lived in Switzerland with her last partner, Dutch actor Robert Wolders whom she met at a 1980 party. He had been previously married to actress Merle Oberon. Though they never married, it was clear to those who knew them that Robert and Audrey were truly passionate about each other. Sadly, in November 1992, Audrey was diagnosed with appendicular cancer, and it soon spread to her small intestine. After undergoing one surgery, she reluctantly agreed that a second would be pointless. Perhaps, her three-pack-a day smoking habit (she started smoking back in 1944) had finally taken its toll. The unique and quite wonderful Audrey Hepburn died in Switzerland, aged 63, in 1993.
BARBARA HERSHEY (1948 – )               
Barbara was born in Hollywood, California and always wanted to be an actress. At seventeen, in 1965, she found an agent (with the help of her high school drama coach) and promptly landed a spot on Sally Field's TV series Gidget. In 1968, she met actor David Carradine on the set of the Glenn Ford film Heaven with a Gun (1969) and romance blossomed. The couple were soon living together, an arrangement that would last until 1975 and produce one child but no marriage.
Barbara, Free & David Carradine
In 1969, Barbara was making Last Summer when a seagull was accidentally killed during filming. She had been required to throw the bird in the air several times during a number of takes. After the final take she was informed that the gull had tired and its neck had broken as it struck the ground. The incident distressed Barbara enormously, so much so that she changed her name to Barbara Seagull and acted under that name for several years. The name change was not positively received, newspaper articles callously labelling her a 'kook'. She changed her surname back to Hershey after she broke with Carradine in 1975.
Barbara Seagull/Hershey
During their eight-year relationship, David and Barbara posed together for a nude Playboy Magazine spread, re-enacting several sexy scenes from their 1972 feature film Boxcar Bertha. October 1972 saw the birth of their son, a boy they named Free. In 1974, however, David embarked upon an affair with actress Season Hubley, one of the guest stars on his hugely popular series Kung Fu, and he and Barbara ended their relationship. Whether or not Barbara's dating of Warren Beatty in 1976 influenced the break-up is not known.
Barbara & Naveen Andrews
She dated actor Kevin Kline for two months through April and May 1984, and had a brief encounter with Sean Penn the following month, but mostly kept her personal life private from then onwards. In 1990, she met an artist named Stephen Douglas, fell in love with him, and eventually wed him in 1992. It was not a happy union, one that ended in divorce a year later. Barbara's next serious relationship began on the set of Drowning on Dry Land (1999) and involved British actor Naveen Andrews. He was starring in the TV series Lost and was twenty-one years her junior. They moved in together at once and were happy for several years until, unfortunately for Barbara, Naveen fathered a child by another woman, resulting (not surprisingly) a brief separation in 2005. They soon resumed their live-in arrangement but by the time Naveen had won sole custody of his son (in May 2010), he and Barbara had already chosen to call it a day six months earlier. Today (2019) she is content to share her time between her residences in New York, Hawaii, Los Angeles and Connecticut.