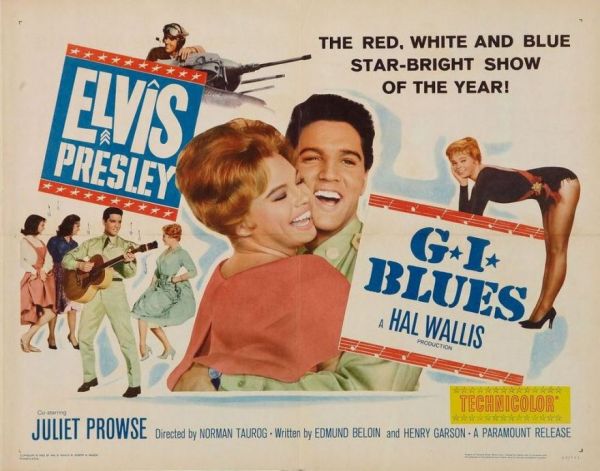 G.I. BLUES (1960)                                        668
Elvis Presley made a total of thirty-one movies between 1956 and 1969, most of which are quite difficult to sit through. In fact, the man himself had little time for them either. He wanted to progress as an actor by playing meaningful roles, but his manager Colonel Tom Parker had complete control over his career and insisted he stick to the shallow musicals his fans wanted. In this writer's opinion G I Blues, the fifth one he made, was the best of the lot, because it contained the best soundtrack, rivalled only by the tunes in Viva Las Vegas (1964). As for the plot and the acting, well, neither film was any better (or worse) than the other twenty-nine.
Elvis in G I Blues (1960)
Elvis was drafted into the US Army in 1958 and stationed in West Germany. By the time of his discharge, in 1960, he had attained the rank of sergeant. Public opinion suggested he would be given preferential treatment because of his fame, but he was treated the same as any other serviceman and completed his stint for Uncle Sam in an exemplary manner. In August 1959, seven months prior to his discharge, he was visited in West Germany by producer Hal Wallis. The purpose of the trip was to a) enable Elvis to go over the script for G I Blues, and b) for a film crew to shoot some on-location scenes. Elvis himself did none of his scenes in Germany. All his acting would be shot back at Paramount after he had again become a civilian. His double, Private First Class Tom Creel, was used for a couple of shots in Europe. Elvis returned to the United States in March 1960 and shooting on the picture commenced in earnest in April.
Juliet Prowse
Ursula Andress unsuccessfully tested for the role of Lili. May Britt and Elke Sommer were also considered, but South African dancer Juliet Prowse was eventually given the nod. She had just received good personal reviews for her performance in Can-Can (1960), although the film itself was derided by the critics. The enormous publicity surrounding the visit by Soviet Premier Nikita Khrushchev to the set of Can-Can, and his subsequent derogatory remarks regarding western decadence, gave Ms Prowse's career an unexpected burst of publicity that would not have harmed her chances of selection in the slightest. Paramount borrowed her from 20th Century Fox, expecting G I Blues to pave the way towards her becoming a major star, but it was not to be. She was a fine dancer but had little charisma otherwise. When we consider the sensational debut of Ann-Margret in Viva Las Vegas four years later, Juliet was simply not in the same class.
This was the first Elvis film to add the trademark 'echo chamber' reverb to his vocals, even when he was singing 'Pocketful Of Rainbows' outdoors in a ski-lift! In the movie the tune is sung as a duet, with Ms Prowse lip-syncing to an unknown back-up singer's vocals. The song 'Tonight is so Right for Love' is clearly based on Offenbach's 'Barcarole' aria from his 1864 opera 'The Mermaids of the Rhine.' Even 'Wooden Heart' is a cover version of a famous German folk song from the 1830s. Elvis sings his old 1956 hit 'Blue Suede Shoes' in this movie, the only time he makes use of a previous hit in any of his films.
G I Blues, in spite of its shortcomings, proved to be the fourteenth highest grossing film of the year in 1960. Presley's next two pictures Flaming Star (1960) and Wild in the Country (1961), were both straight acting vehicles with few songs and did not fare as well box-office wise, so it was decided to focus on light-weight musicals for all his future films. Blue Hawaii (1961) was the first of these and it returned even more revenue than G I Blues. The pattern was set for the formulaic films he would churn out for the remainder of his less than satisfactory screen career.
KISS ME KATE (1953)
Bob Fosse & Carol Haney – 'From This Moment On'
Fans of the music of the inimitable Cole Porter will probably be mortified to learn that this fabulous 1953 musical failed at the box-office! Despite it being shot in the new-fangled 3-D format, (or maybe because of it), Kiss Me Kate lost about a half a million dollars ($5 million or so in 2019 dollars), according to MGM studio records. Many people would argue that this delightful film contains more magical moments than any other. The only weak point is the less than memorable vocal performance of the leading lady, Kathryn Grayson as Lilli Vanessi. The producers tried desperately to convince Deanna Durbin to come out of retirement to play Lilli, but she would not budge, so they went with Ms Grayson. Incredible as it might sound, Howard Keel was not the studio's first choice to play Fred Graham either. They preferred either Laurence Olivier or Danny Kaye! Keel's rendition of the wonderfully witty 'Where Is the Life That Late I Led?' is flawless in its presentation although, in fairness to him, his entire performance is of the highest standard throughout.
Ann Miller – 'Too Darn Hot'
The steamy dance duet between Bob Fosse and Carol Haney in 'From This Moment On', was choreographed by Fosse himself and though it lasts for only 66 seconds, it is arguably the greatest piece of movie choreography ever put on film. Another superb moment comes when Ann Miller as Lois Lane (Bianca) belts out 'Too Darn Hot' at the beginning of the picture. Character actors Keenan Wynn and James Whitmore (playing two gangsters), almost steal the film with their terrific presentation of 'Brush up Your Shakespeare'. Director George Sidney thought their bungling of their lines in the rehearsals was deliberate, just as a couple of thugs might be expected to do in real life. He was unaware that both Wynn and Whitmore thought the song was plain silly and had barely rehearsed it.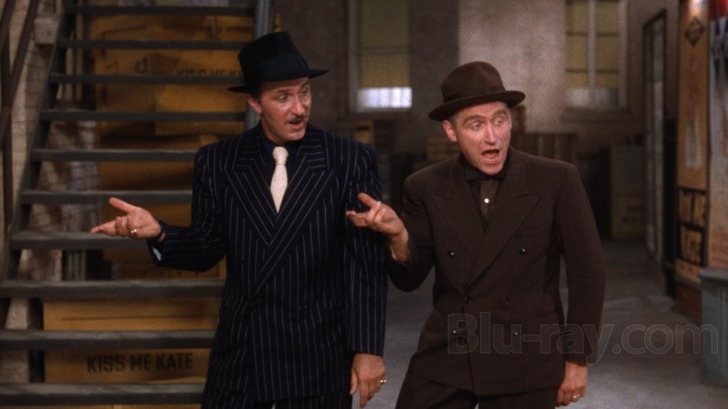 Keenan Wynn & James Whitmore – 'Brush up Your Shakespeare'
In the song, 'We Open in Venice', the line 'No theatre guild attraction are we', is probably lost on most cinema-goers, but to performers it had meaning back then. Theatre Guild shows tended to tell a story, stop for a song, and then continue on with the story. The songs were always unrelated to the plot. In Kiss Me Kate (and later in Oklahoma! (1955), each song was directly connected to the storyline. The players singing 'We Open in Venice' were merely endeavouring to tell the audience what to expect. Today, of course, this is standard through most musicals.
Kathryn Grayson – 'I Hate Men'
Unfortunately, in 1953, some of the original Broadway lyrics were considered to be 'too spicy' for movie audiences to hear, so changes had to be made. Even the phrase 'according to the Kinsey Report' was changed to 'according to the latest report' in the song 'Too Darn Hot'. Evidently, the censors feared some kind of lusty audience reaction to hearing the word 'Kinsey' uttered on celluloid. As for 'Brush up Your Shakespeare', a whole verse of bawdy puns was removed in its entirety. The album soundtrack also contained several phrases that had to be changed in the 'I Hate Men' lyrics. Altering or removing lyrics by Cole Porter might be construed by some to border on committing a felony! Even with the changes and deletions, his brilliant tunes in Kiss Me Kate set the benchmark for musicals to come.