RITA HAYWORTH (1918-87)                               
Rita began life as a brunette named Margarita Cansino in Brooklyn, New York City at the end of World War One. In 1989, biographer Barbara Leaming claimed that Rita's father sexually abused her for years, and that the incest in her childhood impacted dramatically on her adult life; that she was forever seeking a loving and affectionate father figure. Rita signed her first studio contract with Fox at the age of sixteen and made her screen debut in Dante's Inferno (1935). Two years later she married her first husband, Edward Judson, a man twice her age who pimped his 19 year-old wife around to influential executives, in much the same way as her equally sleazy father had done before him. It was said that Judson would have sold her to the highest bidder if it would have advanced her career. He also urged Columbia head Harry Cohn to have Rita undergo painful electrolysis treatments to drastically alter her hairline and appearance. When she eventually divorced Judson in 1943, Columbia paid him to keep quiet about the identities of the men his young wife slept with to get ahead. 'He helped me with my career', Rita generously conceded. 'And helped himself to my money.'
Margarita Cansino
Rita & husband #1 Edward Judson
After a dozen or so minor roles at Columbia, Cohn loaned her out to Warner Bros for The Strawberry Blonde (1941), which gave her career an enormous boost. However, it was her splendid dancing with Fred Astaire that same year in You'll Never Get Rich that made her a star. 'From the time I was three and a half', she recalled, 'as soon as I could stand on my own feet, I was given dance lessons.' Blood and Sand (1941) was shot in Technicolor and showcased her natural beauty even more.
Rita in The Strawberry Blonde (1941)
She was no longer Margarita Cansino, Cohn having changed her name to Rita Hayworth and her hair colour from black to red. When America went to war in December 1941, Rita was soon a favourite pin-up with US servicemen around the world, second only to Betty Grable. A fling with billionaire Howard Hughes in 1943 left her pregnant to him, but Hughes quickly paid to have the baby terminated before ditching Rita and moving on to his next conquest.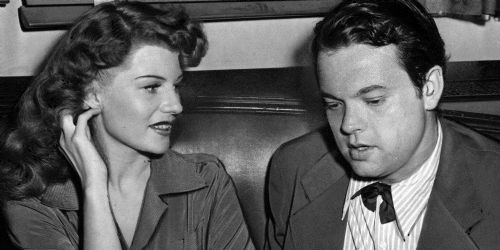 With her 2nd husband Orson Welles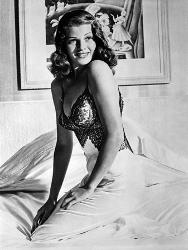 The Bob Landry photograph in Life August '41
Husband number two came along when she wed boy wonder Orson Welles in September '43. Asked why he had pursued her, he replied: 'I saw that fabulous still in Life magazine, where she's on her knees on a bed. She was in alluring repose, dressed in a satin and lace nightgown. That's when I decided.'  Welles was referring to the Bob Landry photo that graced page 33 of Life's August 11, 1941 publication. Rita would also appear four times on the cover of Life between 1940 and 1947. When asked why she divorced Welles in 1948, she replied, 'I can't take his genius anymore.' 'He showed no interest in establishing a home', she added.
However, Welles was the love of her life, she often said. 'He tried to help me to be a great actress', she remembered, 'but he always needed money.' While pregnant with his child in 1944, she read Walter Scott's Ivanhoe and was so impressed she named their daughter Rebecca after the heroine of the story. In the final analysis, Orson grew bored with her and she tired of his egotism. In an interview he gave the night before he died in 1985, he described his ex-wife as, 'one of the dearest and sweetest women that ever lived.' Most people who knew her well would agree.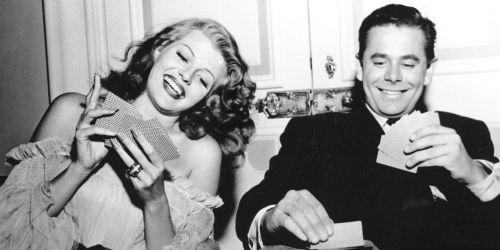 Glenn Ford & Rita dating
Rita and Glenn Ford made five movies together, three in the forties, one in the fifties and the last in 1965. Late in life, Ford grew concerned about her as she grew older and frailer. 'I love the woman', he said. 'She lives next door to me, you know. I worry about her. There used to be lights on over there, late at night, every night. Now, I don't see them.' His son Peter said his father always carried a torch for her, keeping Rita's photograph on a table near his bed for most of his life. She was married to Welles when she and Ford co-starred in Gilda in 1946, and her marriage was going through one of its many difficult phases. It was no surprise, therefore, when rumours began circulating that the two stars were romantically involved. Columbia head Harry Cohn was afraid of bad publicity and bombarded his love-struck stars with angry phone calls. He even ordered Rita to return home to her husband. When that advice was ignored, Cohn had their dressing-rooms bugged. 'The sound department tipped us off', said Ford. While they were filming The Loves of Carmen (1948), Rita fell pregnant to Ford. They solved the problem with a quick trip to France to abort the child.
Marriage to Prince Aly Khan 1949
Rita had studied dancing all her life and her expertise showed on the screen, not just when she partnered Astaire, but also in her biggest hit Gilda (1946). Unfortunately, the films she made after Gilda were disappointing as her career started to hit the skids. Before long she was replaced as Columbia's resident 'love goddess' by newcomer Kim Novak. In person, Rita was shy, quiet, and unassuming, a far cry from the alluring, sexy characters she was required to portray. Only when the cameras rolled did she exude the sexual charisma that had made her a star. 'Men fell in love with Gilda', she said, 'but they woke up with me.' Above all she wanted domestic bliss, but she looked for it in the wrong men. Judson was a creep, Welles' ambition drove him to the exclusion of all else, and husband #3, Prince Aly Khan, was a notorious womanizer, a man seemingly incapable of devotion to any one woman.
Rita married Khan in May 1949, becoming Hollywood's first real life princess, several years before Grace Kelly became Princess Grace of Monaco. But Aly was a serial philanderer and his new bride was aware of it. He also wanted their daughter Yasmin to be raised as a Muslim. When the marriage broke down he even offered Rita a million dollars to let Yasmin go. Of course, she rejected the offer, insisting their daughter be raised in America as a Christian.
The Khan family was heavily involved in horse racing, owning and racing some truly great thoroughbreds, but Rita had no interest in the sport, although she played along by purchasing horses herself. Early in 1951, her husband was spotted dancing with Joan Fontaine at the very nightclub where he and Rita had met. An irate Hayworth filed for divorce.  In May, she moved to Glenbrook, Nevada on Lake Tahoe, in order to establish the six months of legal residence necessary to enable her to divorce Aly. This she duly did in January 1953. 'Just because I was married to Aly Khan, people think I'm rich. Well, I'm not', she later said in an interview. 'I never got a dime from Aly or from any of my husbands.'
Rita weds Dick Haymes in 1953
She met crooner Dick Haymes when he was still married and his career was on the wane. He was also desperately broke, owing alimony to two previous wives, Errol Flynn's ex Nora Eddington and actress Joanne Dru. Rita ended up paying most of his debts when she became the next Mrs. Hames, but it did not stop there. Haymes was determined to use her clout at Columbia to get him acting roles, but his methods backfired. She was no longer a major player and Harry Cohn at Columbia sent her packing instead. 'I stood by him as long as he was in trouble', she said of Haymes, 'but I can't take it anymore.' It is significant that her obnoxious husband was known in Hollywood as 'Mr. Evil'. Their torrid two-year marriage ended after he publicly hit her in the face at the Coconut Grove in Los Angeles in 1955.
With husband James Hill in happier times
In 1957, she began a relationship with producer James Hill. They married in February 1958 and he put her in one of his last major films, Separate Tables (1958). Sadly for Rita, marriage #5 fared no better than the previous four and she filed for divorce in September 1961. Charlton Heston wrote of Hill's appalling behaviour at dinner one evening in a restaurant, detailing the man's callous and abusive treatment of his wife. 'I'm ashamed of walking away from Miss Hayworth's humiliation', Heston later admitted. Hill claimed years later that the marriage had collapsed because his wife refused to continue making movies. Rita countered: 'He would come in the door, go straight to his room and wouldn't even talk to me all night', she said. 'He said I was not a nice woman in too loud a voice.' This would be her final attempt at marital bliss.
Rita's wartime romance with Victor Mature
There is no doubt that Rita Hayworth had affairs with numerous men in her fruitless endeavour to find 'Mr. Right'. She was heavily involved with Victor Mature when they co-starred in My Gal Sal (1942). In fact, they were even engaged to be married for a while that year before going their separate ways. In the forties there were rumours that she was seriously involved with singer Tony Martin and that he, too, may have been engaged to her. Anthony Quinn and James Stewart have also been cited as possible wartime lovers. In fairness to Jimmy, however, it should be stated that his name was romantically linked by the press to every woman he dated, even though many of those dates were simply publicity exercises ordered by studio executives.
Teddy Stauffer
After the war, Rita entered into a five-month relationship with Swiss-born big band leader, playboy, hotelier Teddy Stauffer after his marriage to Faith Domergue collapsed in 1947. Rita was approaching thirty and hoping for a stable relationship with him, but Teddy enjoyed playing the field, even whilst he was briefly engaged to her. David Niven's name was bandied about in the early fifties as one of Rita's lovers and so was that of Kirk Douglas. Both men dated her after she broke with Bette Davis's ex-husband Gary Merrill in 1953. Rita and Gary had been an item for three tempestuous years but his drinking ultimately destroyed their relationship, just as it had ruined his marriage to Bette.
By the late fifties, the former love goddess was drinking a lot, and almost certainly encountering the early symptoms of the Alzheimer's disease that would later kill her. And her looks were fading fast. Dominican playboy Porfirio Rubirosa seduced her in 1956 and so did Peter Lawford a couple of years after that. The latter rather ungallantly described the universally acknowledged sex goddess as 'the worst lay in the world.' 'She was always drunk and she never stopped eating', he whined. She was in her forties by then and her health was fast sliding downhill. She was vulnerable and easy prey for aging Lotharios eager to add another scalp to their belts. In 1965, the 60 year-old Gilbert Roland is believed to have taken advantage of her also.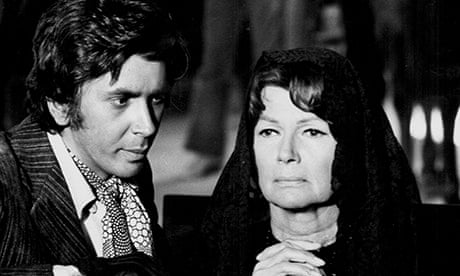 Langella & Rita in The Wrath of God (1972)
Actor Frank Langella wrote about sleeping with the 54 year-old Rita in 1972 (he was 34 at the time). 'Often she desperately clings, weeps and talks in words I cannot understand', he wrote, 'and it is not always my name she calls.' While he refrained from actually boasting about his dubious conquest, he offered no apology for it either. He and Rita were making The Wrath of God (1972) alongside Robert Mitchum when they connected. Langella suggested that Mitchum had used his considerable clout to get her the role because they were once lovers and he felt obliged to help her out. Rita's Alzheimer's had probably begun around 1960 when she was 42, but it remained undiagnosed until 1980. In February 1987, she fell into a semi-coma, passing away three months later at the age of sixty-eight. Fred Astaire, who had starred with her in two musicals back in the forties, died thirty-nine days after her.