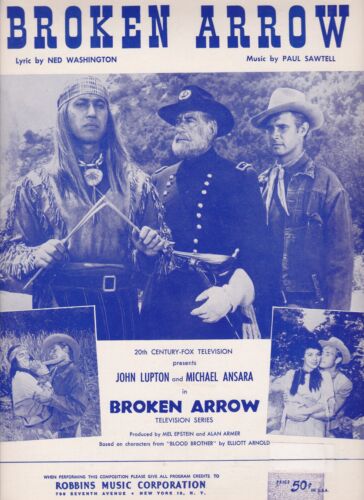 BROKEN ARROW (1956-58) – 72 EPISODES                                  
This series was inspired by the popularity of the 1950 feature film of the same name that starred James Stewart as Tom Jeffords and Jeff Chandler as the Chiricahua Apache chieftain Cochise. The fifties were the era of the television western anyway, and executives were on the lookout for suitable themes around which they might build a series. Author Elliott Arnold wrote the novel Blood Brother, on which Broken Arrow is based. Incidentally, the 'broken arrow', which signifies the end of hostilities, is a Blackfoot symbol and not an Apache one. Not for the first time (or the last), Hollywood indulged in a little poetic license for effect.
Tom Jeffords (1832-1914)
Between 1867 and 1869, Jeffords had been the superintendent of a mail line from Tucson to Socorro. During that time he led people to believe he had personally met with Cochise, befriended him and negotiated a peace for his mail riders. In reality, war with the Apaches was still in full swing and mail riders were still being attacked, so his claim really did not hold water. Nevertheless, this so-called friendship between the two men would form the basis for both the 1950 film and the 1956 television series.
Possible photograph of Cochise?
Back in 1871, President Grant sent General Oliver Howard, an honourable man who had headed the Freedmen's Bureau, the agency responsible for assisting freed black slaves after the Civil War, to end the Apache wars by negotiating treaties with the tribes. The general enlisted Jeffords to guide him to Cochise's camp and a treaty ending the decade-long war with the Chiricahua was signed there in 1872. Cochise requested that his people be permitted to remain in the Chiricahua Mountains, and that Jeffords be appointed Indian agent for the region. His requests were granted and the Indian raids subsided.
By 1875, however, Jeffords had been removed as agent and the Chiricahua had been re-located to the San Carlos Reservation. Not for the first time the US Government had broken a treaty with Native Americans. Cochise did not live to see this, having died at the age of 69 from natural causes, about a year after he had signed the treaty. The Apache wars began again and continued until Geronimo surrendered his band in 1886. Hollywood chose to have two much younger actors portray Cochise in the film and in the series. Both Jeff Chandler and Michael Ansara were in their early thirties. Jeffords, who was in his thirties when he knew Cochise, lived on until 1914, when he passed away at 82.
JOHN LUPTON (1928-93)
Twenty-seven year-old, Illinois-born, John Lupton played Jeffords in the series. Both he and Michael Ansara (Cochise) appeared in all 72 episodes. Lupton was a contract player with MGM whose career lasted over 43 years and 150 plus screen credits. He kind of resembled a young-looking Sterling Hayden at his peak, but his career never really hit any great heights. In fact, it would be fair to say the Jeffords role was clearly the highpoint. Lupton died of unreported causes in 1993 at the age of 65.
MICHAEL ANSARA (1922-2013)
Michael & wife Barbara Eden
Michael Ansara impressed as the Apache chieftain Cochise and many fans assumed he was an Amerindian himself. Not so. He was born in a small village in Syria, his parents taking him to the United States when he was two years old. Portraying Cochise on television in this series made him famous. Marrying stunning Barbara Eden of I Dream of Jeannie fame made him even more so. They met on an arranged publicity date set up by 20th Century Fox and were wed in 1958. They divorced 16 years later. Their only child, Matthew Ansara, died from an accidental drug overdose at 35 in 2001. Michael passed away, aged 91, from the effects of Alzheimer's disease.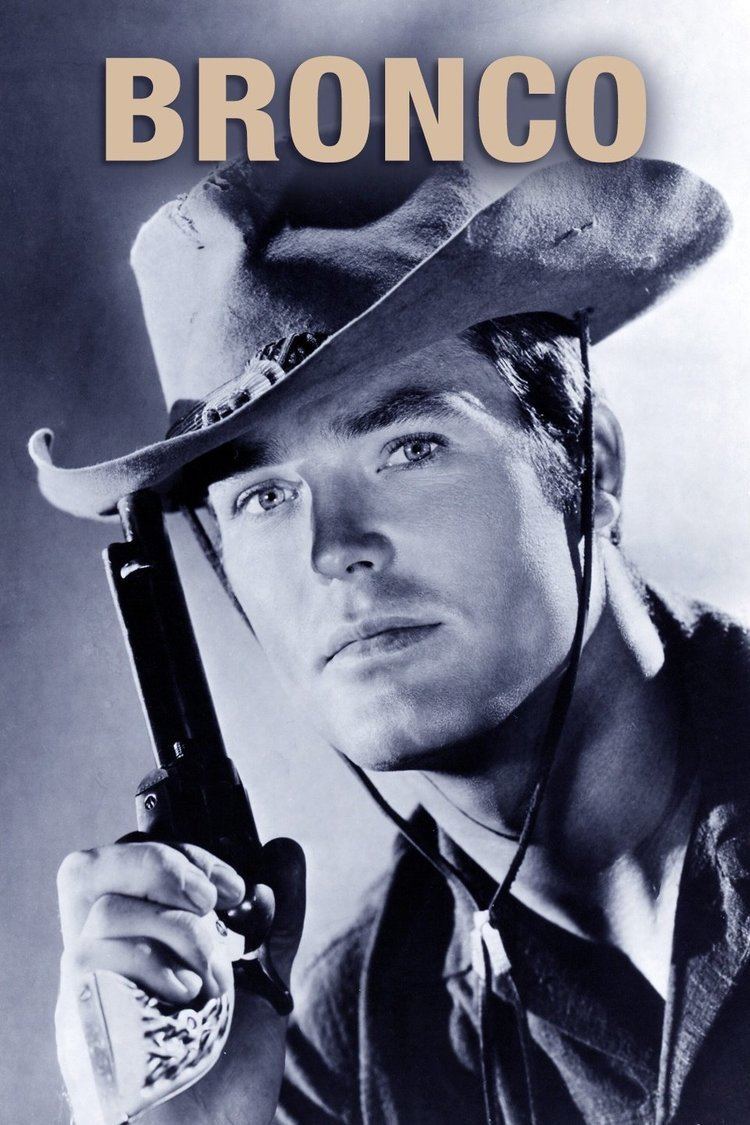 BRONCO (1958-62)              68 EPISODES                       
This series came about through necessity when Cheyenne (1955) star Clint Walker temporarily quit his series over a contract dispute. While that was being sorted out, the producers decided to continue with 'The Cheyenne Show', rotating Cheyenne, Sugarfoot (1957) and Bronco. Ty Hardin was cast as Bronco Layne and by the time Walker returned, he had gained a following. Bronco became a series in itself. Layne is a former confederate soldier who roams the west, meeting famous individuals such as Jesse James, William Frederick 'Buffalo Bill' Cody and Teddy Roosevelt. It was an interesting premise that ultimately ran out of ideas.
 TY HARDIN (1930-2017)    68 EPISODES
Hardin was born Orson Whipple Hungerford Jr, in New York City but was raised in Texas. It was his grandmother who nicknamed him 'Ty', because she said he resembled a 'Texas typhoon'. During the Korean War he was commissioned, becoming a pilot of Forward Observer O-1 Bird Dog liaison aircraft. He returned from the war a first lieutenant and moved to California in search of an acting career. In 1957 he acquired the services of renowned agent Henry Willson who landed him a contract with Paramount Pictures. He enjoyed a taste of success (especially with Bronco), but by the seventies his career had lost any momentum it had initially generated and had faded away.
Hardin in PT 109 (1963)
By this time he had become a self-proclaimed 'freedom fighter', leading a radical right-wing group calling themselves 'The Arizona Patriots'. They were anti-Semitic, anti-immigrants and anti-blacks. In fact, they hated everybody except themselves, as they began stock-piling weapons and baiting government officials. In the mid-seventies he opened a 'tax protest school' called the Common Law Institute and, in the early eighties, edited an anti-Semitic publication 'The Arizona Patriot'. In 1986, a two-year FBI investigation culminated in a raid on the group's headquarters. The Feds confiscated a hoard of illegal weapons (with ammunition) and publications from Aryan Nation groups and affiliates. Hardin quickly left Arizona and the group ceased to function.
Miss Universe 1961 – Marlene Schmidt
It might surprise fans to learn that Ty Hardin was the producers' first choice to play the title role in Batman (1966), but he was in Italy making a western and had to reject the offer. He had already turned down the lead in A Fistful of Dollars (1964), the role that put Clint Eastwood on the road to super-stardom. Hardin married eight times in his life, the third of these to the 1961 Miss Universe, Marlene Schmidt. Seven of these unions ended in divorce. He died of natural causes at the age of 87.