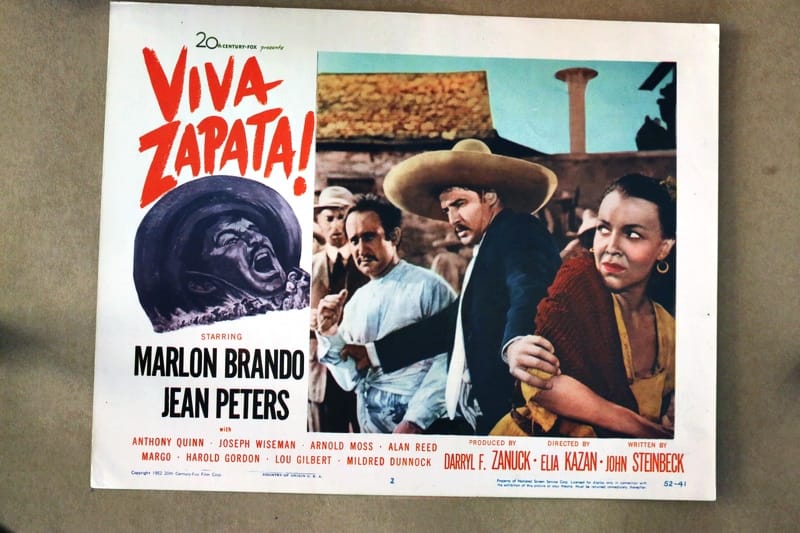 Over the years I have been on the receiving end of a considerable amount of criticism (not to mention downright abuse) from fans of director Elia Kazan, especially from those self-appointed aficionados of movie-making who seem to delight in informing me that he was (and still is, in their eyes), one of the greatest directors in Hollywood history, and that any criticism of him on my part is based on my total ignorance of the art of movie-making. Uh-huh. Well, in my defence, I wish to stress (not for the first time) that I base my personal opinion of movies and their creators on one thing and one thing only. Do they entertain me? A motion picture, in my mind, must entertain, above all else. I do not care a fig for clever camera angles, artistic lighting; subtle, messages, innovative direction or the rest.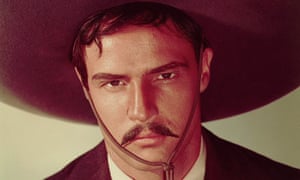 Marlon Brando as Emiliano Zapata
Mr. Kazan directed a total of just nineteen films and two short documentaries. Nineteen! For the record, I enjoyed three of them – Gentleman's Agreement (1947) was OK, On the Waterfront (1954) was better, and Viva Zapata! (1952) was terrific. The rest, in my opinion, were ordinary as dishwater. As for the man himself; had I been present at the 2000 Academy Awards, I would certainly have counted myself among those who sat, arms firmly folded, refusing to acknowledge his Honorary 'Achievement' Award, or whatever the hell it was. Kazan shafted colleagues in order to avoid endangering his own lousy career during the McCarthy witch-hunts of the late forties and early fifties. And that was (and still is) unforgiveable. Kazan named names to the HUAC in 1952, the same year that saw the release of Viva Zapata!
Brando & Joseph Wiseman in Viva Zapata!
With that off my chest, I would like to focus on that very film – Viva Zapata! Despite having his eyelids glued together at the edges; despite the plastic rings in his nose and the two-way stretch inside his mouth, Marlon Brando gave a riveting performance as the Mexican revolutionary Emiliano Zapata. Like most biopics, this one bends the truth considerably, portraying Zapata as a man of high moral virtue who falls in love and marries his true love (played by Jean Peters). In reality, the man was less moral than an alley cat, having been directly involved in well over twenty bigamous marriages, not to mention his responsibility for at least a thousand executions! In the movie, the illiterate Emiliano spends his wedding night getting his bride to teach him how to read! Let's face it – if we are prepared to swallow that, well, we will swallow just about anything. Besides, the real Zapata was an educated man, anyway.
Frank Silvera as General Huerta in Viva Zapata!
Brando is terrific (once we get used to the way he looks), but it is the supporting cast that makes this picture special. Anthony Quinn won a Supporting Academy Award for portraying Zapata's brother, yet I was more impressed by the performances of Joseph Wiseman and Frank Silvera. Canadian actor Wiseman was always watchable, long before his face (and wonderfully unique turn of phrase), as the title character in Dr No (1962), made him known to the world. In his later years he appreciated his role as Dr No, but he always felt he should be remembered for his stage acting rather than for his movies.
Anthony Quinn as Zapata's brother
Silvera has always been under-rated. Fans of the Paul Newman western Hombre (1967) will surely recall his superb turn as the Mexican in Richard Boone's gang. It is one of the film's many highlights. In this picture he plays the sinister, merciless, General Victoriano Huerta and is all but recognizeable. Indeed, I had to check and double-check to make sure it was he. It is not a huge role but most memorable. Sadly, just three years after the release of Hombre, Silvera was accidentally electrocuted in his kitchen. He was attempting to repair a garbage disposal, would you believe? He was just 55 and the screen lost a wonderful character actor.
Eddie Albert's wife Margo played the revolutionary Soldadera. Alan Reed portrayed Pancho Villa in a small role. Reed would become the voice of Fred Flintstone in the animated TV series until his death in 1977. Interestingly, Reed would be replaced as Fred's voice by Henry Corden for the next three decades, and he also appears in Viva Zapata! He plays a senior loyalist officer but is uncredited. Two more interesting bit players in this movie are Henry Silva, who has a line or two towards the end, and Frank De Kova (the future Chief Wild Eagle of F Troop fame) has a moment at the very end of the film. This was the movie debut of both actors.
The Young Lions (1958) pandered to the American and German box-offices by toning down both the anti-Semitism and the brutality of the Nazi regime. The result was the character of Diestl, played by Marlon Brando, being reduced to a wishy-washy, disillusioned idealist, as opposed to the ruthless killer depicted in Irwin Shaw's novel. In the novel he kills a French boy in order to steal his bicycle, but in the movie he observes with the deepest compassion, a crippled lad hobbling through the ruins of the city. The decision to 'soften' Diestl's character was a joint one by Brando, the director Edward Dmytryk and screenwriter Edward Anhalt. Shaw was most unhappy about the changes. After all, his book was based on his own wartime experiences in the US Army. The re-opening of the German market since WW2 put potential profits ahead of everything else and the picture suffered for it.
Monty Clift looking every bit his age
Montgomery Clift was not a well man when he agreed to co-star in The Young Lions. Most critics, in fact, felt he was both too old and too unhealthy to be classed as an A1 soldier. Dean Martin was also thought to be too old. The criticism on both counts was justified. Clift did, however, give much-needed acting assistance to Martin who was making his first picture since breaking with Jerry Lewis. Everyone expected Dino's career to die a natural death without Lewis, but that was not to be. He only got the part because Tony Randall was indisposed and he was pretty good in it. Meanwhile, Clift, evidently drug and alcohol dependent by now, was openly describing Brando as 'a slob' and using only about one third of his talent. Clearly, there were issues on the set and the picture paid the price.
Dean Martin
I can forgive an awful lot in movie stories, but the climax in The Young Lions was simply too 'stagey' even for me. Of the millions of participants involved in World War Two all over the planet, we find the two men (played by Brando and Dean Martin) who had been in love with the same girl (played by Barbara Rush) prior to the war, arriving in the same place at the same time for an unplanned showdown, neither knowing who the other is, or of their common bond! I have no idea what the odds would be of this happening in real life, but…sheesh!