BONANZA    (1959-73)                                430 EPISODES                    
Few TV westerns were as successful and as long-running as Bonanza (1959-73). In fact, only Gunsmoke outdid it both in episodes (635) and seasons (20). Initially, Bonanza was screened on Saturday nights, but the figures were so dismal that thought was given to cancelling it. As a last ditch effort to save the show, its timeslot was moved to Sunday evenings and it suddenly took off! By 1961 it was #1. Fans probably noticed that, after the third season, the stars and regularly recurring characters wore the same clothes in almost every episode. This was done to cut the cost of re-filming action shots, particularly riding shots that were used over and over throughout the fourteen seasons.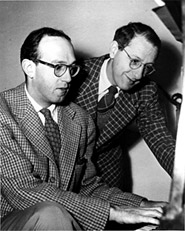 Jay Livingstone & Ray Evans
Songwriters Ray Evans and Jay Livingstone were asked by Desi Arnaz to write a theme song for a western TV series. He told them he could not pay them much in the way of a weekly salary because the series was probably only going to run for one year, so the two men made a deal with Arnaz that enabled them to keep the rights to the Bonanza theme song. When the series became an unexpected smash hit they made millions from it. They also wrote the theme for another hit TV show Mister Ed (1961). In fact, it is Jay's voice you hear singing it on the series. Both men were amazed when the studio decided to use his demo tape instead of hiring a professional singer.
Livingston & Evans picked up three Oscars during their long collaboration. In 1948 they won for 'Buttons and Bows' presented in the Bob Hope hit comedy The Paleface. Two years later they won again for the Nat 'King' Cole hit 'Mona Lisa' which featured in Captain Carey, USA (1950). In 1956 they struck once more with Doris Day's signature tune 'Que Sera, Sera', which she sang in Hitchcock's The Man Who Knew Too Much. 'Tammy' and 'Silver Bells' were two more of their extremely popular songs.
LORNE GREENE (1915-87)                      430 EPISODES
Canadian actor Lorne Greene played Ben Cartwright, the patriarch of the Ponderosa Ranch, and graced every one of the 430 episodes over Bonanza's fourteen seasons. In 1978, five years after he played Ben for the final time, the prematurely grey actor (unbeknown to his fans, he wore a toupee throughout his career), starred in another popular small-screen series titled Battlestar Galactica. He was 44 when the first episode of Bonanza was aired, and 59 when the last one hit screens in 1973. He died from pneumonia in 1987 in his 72nd year.
MICHAEL LANDON (1936-91)                 428 EPISODES
Michael Landon was born Eugene Orowitz in Queens, New York City, in 1936. He played Joseph 'Little Joe' Cartwright in the series and, at 5'9" (1.75m), opted to wear 4" lifts throughout the series in order to appear taller alongside Ben, Adam and Hoss who were all over 6 feet. Unfortunately, for the last five seasons, according to colleagues, he became more and more difficult to work with. 'Nearly every line, every scene, every set-up, everything would halt for endless story conferences on the set', recalled series creator David Dortort. 'It got increasingly bitter towards the end.' Landon was nicknamed 'Socks' on the set. It was said he smoked so heavily that even his socks smelled of cigarette smoke. By the third season he was smoking four packs of unfiltered Menthol cigarettes daily! He began Bonanza when he was 22 years old and was 36 when the final episode aired in 1973. A year later, he joined the cast of Little House on the Prairie. The pancreatic cancer that claimed his life was probably contributed to by his smoking habit. He was four months shy of his 55th birthday.
DAN BLOCKER (1928-72)                         415 EPISODES
Dan Blocker played Eric 'Hoss' Cartwright. He taught high school out in West Texas at Sonora High School before becoming an actor. With the success of the series clearly assured by 1963, he started the Bonanza Steakhouse Chain. An ownership change saw all of these establishments renamed 'Ponderosa'. When the 6'4", 300 lb Blocker unexpectedly died just before shooting commenced on the final season, the writers decided to have his character, Hoss, die in an accident in a season-opening, two-hour episode focused on him.
At the time of his death, Blocker's weight, according to friends, had ballooned to a dangerous 365 lbs. For years a normal breakfast for him would consist of a dozen eggs, two loaves of bread and two quarts of milk! When he opted to improve his lifestyle by eating 'normal' breakfasts years later, he did so at a cost. 'I'm always hungry', he lamented. Dan Blocker Beach is a one-mile stretch of coastline in North Malibu, California, located at 26000 Pacific Coast Highway, and is named in his honour.
PERNELL ROBERTS (1928-2010)           201 EPISODES
Pernell Roberts, who played Adam Cartwright, was unhappy with the series from the outset. He thought it was 'poor quality' and beneath him as an actor. At the end of the 1964-5 season he suddenly announced he would not be renewing is contract. Fans were stunned. According to Mike Landon, Roberts rarely spoke to him, on the set or off it. He particularly disliked the way Lorne Greene's character (Ben) talked to his sons as if they were still children. The fact that Greene was just 13 years older in real life than both him and Blocker grated on Roberts until he abruptly walked away from the series. His career after Bonanza never reached the heights he had hoped for, but neither did he regret leaving the show. In 2007, he was diagnosed with cancer and passed away three years later at 81. He had outlived all his Bonanza colleagues.
BRANDED (1965-6)             48 EPISODES
Chuck Connors character is an ex US Army cavalry captain named Jason McCord, the sole survivor of the fictional Battle of Bitter Creek, an Apache massacre of US cavalrymen. Evidently, a cavalry victory over Amerindians is described as a battle, but an Amerindian victory over the cavalry is deemed a massacre, possibly because massacre implies that the winners did something underhanded, against the laws of chivalry and combat. Anyway, McCord finds himself court-martialled and branded a coward, hence the name of the series. Rather than besmirch the good name of the Army commander responsible for the 'massacre', he takes the rap.
The series shows him roaming the Old West righting wrongs and endeavouring to restore his good name and reputation. The first season of Branded was (mostly) shot in black and white. Season two, however, was shot entirely in colour. Parts one, two and three of an episode titled 'The Mission' was released to theatres in May 1965 as a movie titled Broken Sabre. It gives a conclusion to the series, for we see Jason regain his commission, resume his army career and successfully propose marriage to a young woman. Happy endings all round.
CHUCK CONNORS (1921-92)
Kevin 'Chuck' Connors was born in Brooklyn, New York City, in 1921. He played minor league baseball from 1940 until 1942, prior to joining the US Army where he served as a tank warfare instructor in the States. After the war he played professional basketball for the newly formed Boston Celtics from 1946-8, then played one game of professional baseball with the Brooklyn Dodgers in 1949. From there he moved to the Chicago Cubs in 1951 where he played a further 66 games as a first baseman, thus completing the rare double of having played both professional basketball and baseball. Only a dozen or so men have achieved this in the USA.
His movie career was not overly spectacular, but he did gain household name status via television, first with his series The Rifleman in the late fifties, and then with Branded (1965-6). He always disliked Kevin as his Christian name, eventually changing it to Chuck, a nickname he earned whilst playing baseball and regularly exhorting his team-mates to, 'Chuck it to me, baby. Chuck it to me!' A long-time smoker, he was hospitalized with pneumonia three weeks before his death from lung cancer at 61.