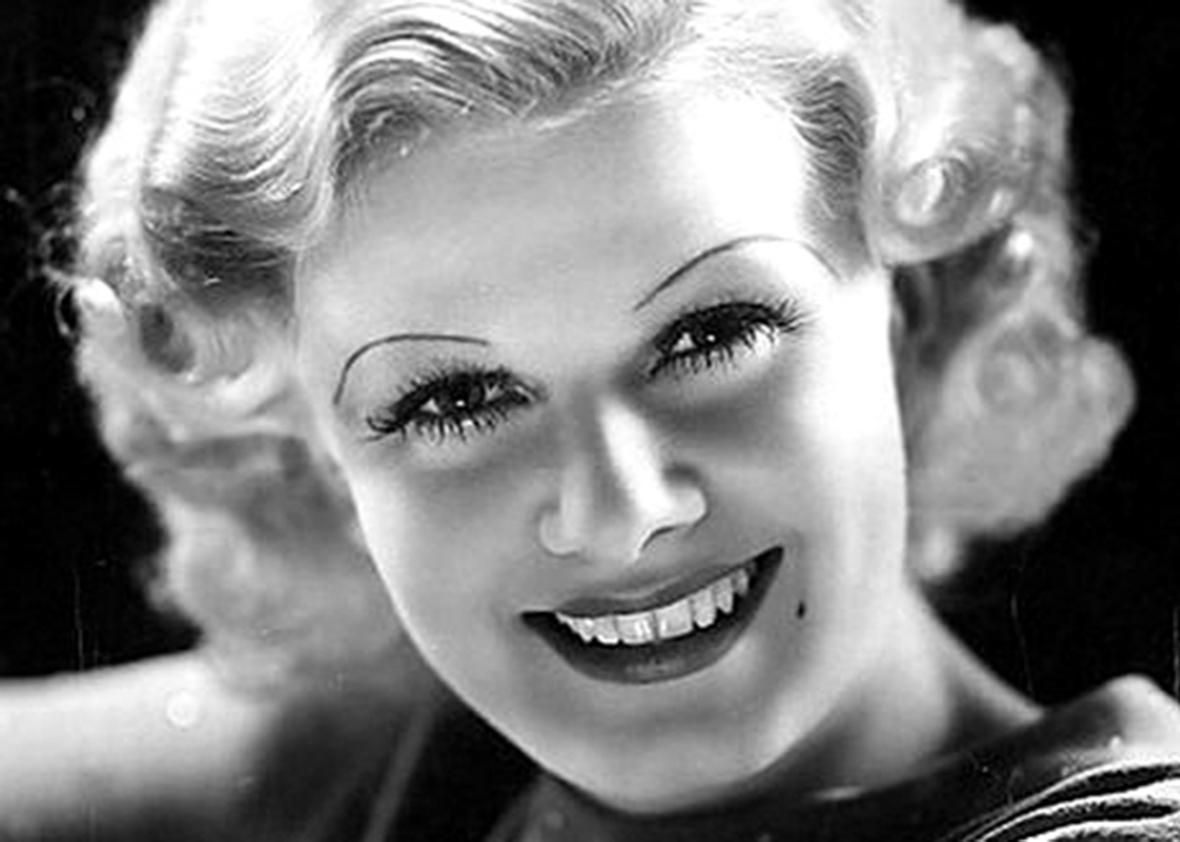 JEAN HARLOW (1911 – 37)         
Born Harlean Carpenter in Kansas City, Missouri, to a dentist and his wife, the young actress who would one day become Jean Harlow and known around the world as 'The Platinum Blonde', ran away from home at sixteen to marry a 23 year-old businessman named Charles McGrew. The couple moved to Los Angeles where Jean soon found work in the movies. Posing nude at seventeen for photographer Edwin Bower Hesser in Griffith Park probably hastened her career opportunities, but it did little for her marriage which had turned into a disaster. She and Charles divorced after fifteen months.
Jean in colour – Hell's Angels (1930)
Jean met Howard Hughes and he cast the unknown girl as the lead in his smash hit Hell's Angels (1930). The picture made her a star overnight and saw her enjoying affairs with both its leading men, Ben Lyon and James Hall, as well as Hughes, of course. Hall was ten years her senior but she fancied older men for most of her short life. Randy director Howard Hawks also dated her in 1930 and bedded her too, if his track record is anything to go by.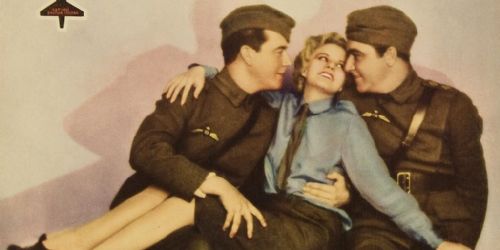 With Ben Lyon & James Hall in Hell's Angels
There is an eight-minute, two-colour Technicolor sequence in Hell's Angels, the only colour footage ever shot of Jean Harlow. Suddenly, the world was at her feet. She made Iron Man (1931) with the bisexual Lew Ayres and they were an item briefly. Charles Boyer were seen out on the town with her a few times in 1932. She was happy to tell friends and colleagues that she never wore underwear, slept in the nude, and often rubbed ice on her nipples just before shooting a scene, to make her look even sexier.
Marriage to Paul Bern 1932
On July 2, 1932, she shocked the movie world when she wed Irving Thalberg's rather bookish right-hand man Paul Bern. Two months and three days later he was found dead at his home. He had been shot in the back of the head. MGM officials arrived at the scene long before the police were even called, and proceeded to 'arrange' things to make it appear that the dead man had committed suicide! One of Jean's older lovers, studio 'fixer' Howard Strickling, then went to work. Police were paid off and employees were coached to recite stories that painted Bern as a gay, inadequate lover who had killed himself because he was ashamed of not being able to 'satisfy' the world's most famous sex symbol. Jean played along with the plan and Bern's reputation was deliberately sullied, more or less to protect his widow's career.
Abner 'Longy' Zwillman
Today, it is generally accepted that Bern's first wife Dorothy Millette had turned up at his home, argued with him, then shot him dead. His killer's body was found in a river a few days later, an apparent suicide. The suicide story concocted for Bern's death protected Jean from any taint by association. She was making Red Dust with Clark Gable at the time and MGM had no intention of risking any bad publicity involving their leading lady. In all, she would make six pictures with 'the King'. Several sources suggest they were lovers from August until September in 1932, during the period she was married to Paul and occasionally sleeping with mobster Abner 'Longy' Zwillman on the side!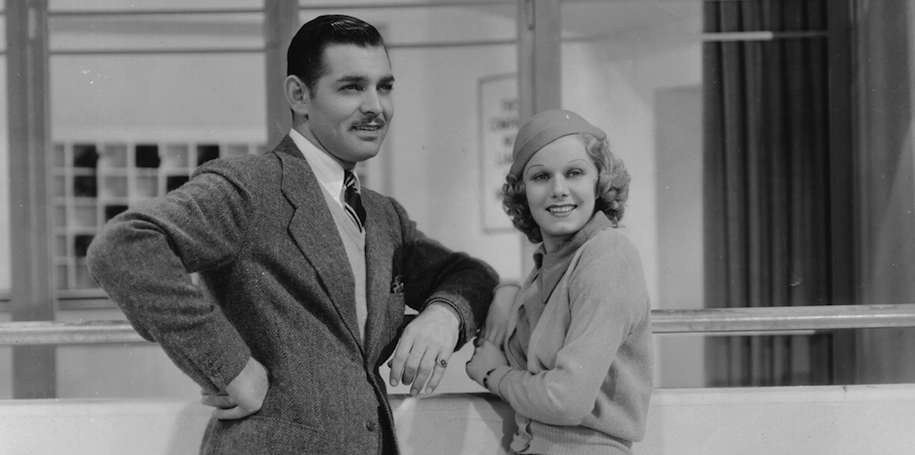 Gable & Harlow
Zwillman had apparently secured a two-picture deal for her with Harry Cohn of Columbia, by loaning him $500,000 in cash, a tidy sum for the early thirties. The mobster liked to show clips of Harlow's pubic hair to his associates whenever he felt like impressing them. Another of her gangster lovers was Benjamin 'Bugsy' Siegel. He was introduced to her by her step-father, a shady character named Marino Belle, the same man who had introduced her to Zwillman. 'Bugsy' would actually name Jean as godmother to his daughter.
Jean with 3rd husband Harold Rosson
Jean seemed to get over her husband's death quite quickly. Being 31 years her senior did not keep Paramount head Jesse Lasky from her bed in 1933. George Raft and singer Harry Richman were 16 years older than her; Humphrey Bogart a mere ten years her senior. She found time to indulge several younger stars as well – Johnny Weissmuller, Gilbert Roland, Joel McCrea and Douglas Fairbanks Jr, for instance. When she started an affair with boxing champ Max Baer early in 1933, MGM decided it was too soon after Bern's death for his widow to be servicing a married man, so the studio had her marry cinematographer (and her close friend) Harold Rosson to avoid a potential scandal. They did not want their superstar being named as co-respondent by Max's wife in a divorce hearing. Jean and Rosson quietly divorced eight months later once everything had died down.
Jean & Howard Hughes
After that there were short romances with Russian screenwriter Sy Bartlett, producer Charles K. Feldman, agent Victor Orsatti and author Thomas Wolfe. She even found time for a fling with bisexual British tennis champ Fred Perry. James Stewart and Jean were involved for around three months until they went their separate ways in January 1936. 'When it came to kissing', said Jimmy years later, 'Harlow was the best.' She fell quite heavily for the popular William Powell, their on again-off again romance surviving for around three years. In fact, they were engaged to be married at the time of her death.
Jean with fiancee Bill Powell
Jean was certainly no rocket scientist as the following much-told tale demonstrates. She was at a dinner party and seated quite near the wife of British Prime Minister H.H. Asquith. Throughout the evening Jean continuously addressed Margot Asquith as 'Margot', pronouncing the 'T' each time. The lady finally had enough and made a point of correcting her. 'No, Jean', she said, 'the 'T' is silent – like in 'Harlow'. In fairness to Jean, it should be acknowledged that she was most popular among her peers, not one to put on airs and graces as many other big stars of the day were prone to do. She was a gentle soul, too. When the famous canine star Rin Tin Tin was dying, she went across to his master's home nearby and cradled the ailing animal in her arms, his head in her lap, until he passed away.
Gable & Harlow in her last film Saratoga (1937)
During the filming of Saratoga (1937), Jean was suffering from kidney failure that caused her limbs to swell up with water. Gable, her co-star, noticed immediately how much heavier she was in a scene that required him to lift her into the upper berth of a Pullman car. Before long, she was hospitalized for uremic poisoning, before dying on June 7 of cerebral oedema. And she was only 26 years old. Her will bequeathed her entire estate (roughly one million dollars) to her mother.