TED KNIGHT (1923 – 86)                         
The hilarious Ted Knight dropped out of high school to enlist in the United States Army during World War Two. As a member of A Company, 296th Combat Engineer Battalion, he earned five battle stars whilst serving in Europe and was in one of the early units to enter Berlin after the Soviets had captured the city. TV fans of The Mary Tyler Moore Show (1970) loved him as the inept anchorman Ted Baxter. No doubt movie fans (of whom I am one) will recall his delightful turn as Rodney Dangerfield's antagonist in Caddyshack (1980). Cancer took this exceptionally funny comedian far too early at 62.
DON KNOTTS (1924 – 2006) 
Don Knotts & his ventriloquist's dummy 'Danny'                
This much-loved comedian hailed from Morgantown, West Virginia, where he entered this world in 1924. His father was afflicted with schizophrenia and alcoholism and sometimes terrorized Don with a knife, causing the boy to turn inward at an early age. At nineteen he joined the US Army (Special Services) in 1943. As part of a performance group called 'Stars and Gripes', he traveled around the Pacific entertaining American troops. Don started out as a ventriloquist (his doll was named Danny), but ditched his act in favor of straight comedy as he got older. According to Don, he tossed Danny overboard somewhere in the South Pacific. Service in the US Army for Technician Grade 5 Don Knotts lasted from June 21, 1943 until January 6, 1946. Particularly adept at portraying a nervous 'man in the street', a shy individual, uncomfortable about being interviewed, Don perfected this shtick over the years and it would serve him well. His 'Deputy Barney Fife' in television's The Andy Griffith Show (1960) made him famous and led to starring roles in films. Lung cancer finished him at 81.
HARDY KRUGER (1928 – )
Hardy was born in Wedding, Berlin to parents who were ardent Nazis. 'I was raised to love Hitler', he told an interviewer in 2016. At the age of 13, like all thirteen year-old Aryan German boys, he was enrolled in the Hitler Youth, to prepare him for military service. At 15, he made his acting debut in a German film titled Young Eagles but, in April 1944, was drafted into an infantry regiment of the German Wehrmacht. He was 16. March, 1945 saw him conscripted into the 38th SS Division Nibelungen and soon drawn into heavy fighting. When the boy refused to kill a group of US prisoners he was sentenced to death for 'cowardice'. Another SS officer intervened on his behalf and his life was spared. Disillusioned with Nazism by the experience, he managed to escape while delivering messages for the SS, and hid out in Tyrol until the end of the war. He was said to have been captured by Allied soldiers but escaped custody three times.
Kruger in the Wehrmacht 1944
In 1957, he starred as Franz von Werra in the movie The One That Got Away, the story about the only German POW to escape captivity and make it back to Germany. Today, Hardy is in his nineties and a member of the Amadeu Antonio Foundation. As such, he frequently speaks out against extremism while supporting democracy and citing his wartime experiences with the SS. Since 1970 he has published sixteen books. In this writer's opinion, Kruger's performance as Heinrich Dorfmann in The Flight of the Phoenix (1965) was the pinnacle of his fine career. He was nominated for a Golden Globe for it but refused the nomination.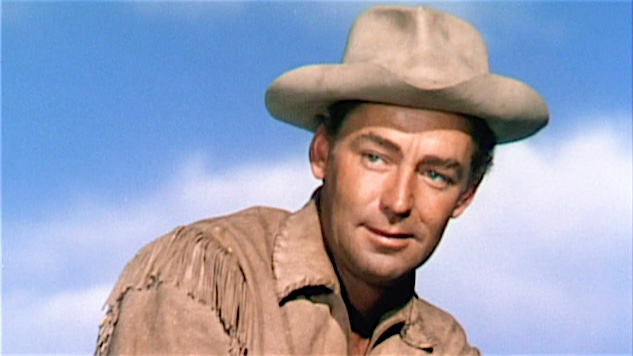 ALAN LADD (1913 – 64)                                                               
Twenty-nine year old Ladd suffered an early diving accident (and pneumonia), the combination resulting in the Army initially classifying him as 4-F. The Air Corps, however, appeared to be less worried by this and took him in, amid enormous publicity. Paramount put on a farewell luncheon for Ladd, after which he made a heroic speech: 'Like every other guy, I am going into the Army because there's a job to be done. When the job is finished…I'll be back.' Stirring stuff. He sat down to a standing ovation, the model GI going off to war. The magazines, intent on keeping his myriad fans up to date, wrote articles every week about him. Rather un-heroically, he then went off to Fort MacArthur just outside Pedro, California – and came home on most weekends! He briefly served in the USAAF First Motion Picture Unit, beginning his military service in January 1943.
Corporal Alan Ladd USAAC 1943
The diminutive actor found himself posted to Walla Walla Army Air Base at Walla Walla, Washington, and given the rank of corporal. In March he was even given leave to attend the Oscars. While in the service he was reportedly receiving 20,000 fan letters every week! The New York Times declared he had 'built up a following unmatched in film history since Rudolph Valentino skyrocketed to fame.' When Ladd fell ill, he was sent to military hospital in Santa Barbara for several weeks in October '43. While there he was diagnosed with a severe stomach disorder, complicated by influenza, which saw him honorably discharged on the 28th of the month. Despite all the initial ballyhoo, Alan Ladd never left the states. In January 1964, he was recuperating from a knee injury at his Palm Springs home when he suffered a cerebral edema, caused by an acute overdose of alcohol and three other drugs. The coroner ruled his death as 'accidental'. He was 50.
VERONICA LAKE (1922 – 73)                                                                             
Veronica loathed the silly 'peek-a-boo' haircut that had made her famous so she was greatly relieved when she was forced to change it. Evidently, an estimated 20,000 women working in defense plants were wearing their hair similarly, and there were instances of it getting caught in machinery. At least, that is what the government said, anyway. Veronica was ordered to pose for a publicity shot in which she was to react painfully to her hair getting caught in a drill press. It was all designed to heighten public awareness about the hazards of young women wearing 'peek-a-boo' hairstyles. A 1943 Paramount newsreel showed Miss Lake sporting her new upswept hairdo, done at the behest of the War Womanpower Commission. Servicemen preferred the old Veronica in their pin-ups, but she relished any opportunity to prove she could act without the help of gimmicks. As patriotic as the next man or woman, she travelled throughout the United States for the duration raising money for war bonds.
Veronica died of hepatitis and acute kidney injury on July 7, 1973, just five days after Betty Grable passed away. The 50 year-old, pint-sized actress's ashes sat on a shelf at a funeral home for three years until her cremation was eventually paid for! Supposedly, her remains were to be spread on the Florida coastline, although some sources claim she requested they be scattered in the Virgin Islands. A portion of her ashes were reported to have resurfaced in a New York antique store in October 2004. Veronica's mother published her biography, titled, Peekaboo, and in it she claimed her daughter had once been diagnosed as a paranoid schizophrenic which, allegedly, accounted for her alcoholism, numerous infidelities, mood swings, and vindictiveness. It must be noted that it was Veronica's mother who sued her successful daughter for 'non-support' in the 1940s. It should equally be taken into account that Veronica's former husband, Andre De Toth, wrote in his 1964 autobiography titled Fragments, that her childhood had been destroyed by her overly domineering mother.