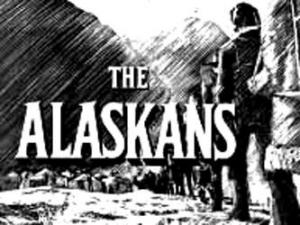 ALASKANS, THE   1959-60 (37 episodes)
Roger Moore (1927 – 2017). Moore played the lead in The Alaskans, a character with the unlikely name of Silky Harris. The first episode aired on October 4, 1959, but in January 1960 the Screen Writers Guild went on strike and did not settle with the major studios until six months later. By then Warner Bros had used all their scripts and had begun recycling old Maverick stories, something fans were quick to pick up on and did not appreciate. After episode # 37aired on June 19, the series was ditched. This was Moore's third TV series – Maverick (1957) and Ivanhoe (1958), having preceded it. Of course, much bigger things lay ahead for him. He would go on to become James Bond and even be knighted by the Queen of England in June 2003. Cancer claimed him in his 89th year.
Dorothy Provine (1935 – 2010). Born in Deadwood, South Dakota but raised in San Francisco, lovely Dorothy Provine became better known for her TV appearances than for her movie career which never really took off. She was the saloon singer Rocky Shaw in The Alaskans, but her turn as Pinky Pinkham, the Charleston-dancing flapper in another short-lived (but infinitely superior) series titled The Roaring 20's (1960-2) gave her moments to look back on with satisfaction. In 1969 she abruptly left the business and focused on her marriage and family. She suffered from emphysema in her final years and passed away at the age of 75.
ALIAS SMITH & JONES     1971-3 (50 episodes)           
Pete Duel (1940-71). The first episode of Alias Smith & Jones hit American TV screens in January 1971 and the show looked set to be a success. Sadly, however, before the year was out Pete was dead by his own hand and the series without him lost much of its impetus and appeal. Alias Smith & Jones was loosely based on the hit 1969 feature film Butch Cassidy & the Sundance Kid and quickly caught on with youthful audiences due in no small part to Duel's personality. Beset with serious alcohol issues and suffering from depression, the thirty-one year old actor chose to end it all with a firearm on December 31, 1971. His unexpected death caused the studio to shut down production on the show – for a half a day! A voice actor was brought in to dub his voice for some completed outside footage in the unfinished 19th episode of season two. Then his replacement was named.
Ben Murphy (1942- ). Arkansas-born Murphy moved around a bit before studying acting at the prestigious Pasadena Playhouse in California. The former top-seeded tennis player in all of Southern California, chose to focus on an acting career and promptly landed the role as Kid Curry in this series, primarily because of his facial resemblance to Butch Cassidy & the Sundance Kid star Paul Newman. It could be argued that Duel's suicide seriously impeded Murphy's chances of becoming a movie star, although he featured in no fewer than eight television series over the next five decades.
Roger Davis (1939 – ). Kentuckian Roger Davis has been unjustly blamed for the demise of Alias Smith & Jones, critics saying that his failure to adequately replace his friend Duel in the role of Hannibal Heyes caused the series to be cancelled midway through season three. By 1973, however, westerns were on the way out (even the blockbusting Bonanza breathed its last that year), so it was really no-one's fault. Westerns were no longer the flavour of the month. They had been done to death, so to speak. In hindsight, we are left to wonder, for instance, what might have happened to George Peppard's screen career had he been successful in landing the Heyes role, instead of being pipped at the post by Davis. Since those days Roger has made the most of his impressive voice-over skills on more than 6,000 TV and radio commercials! It is his voice we hear narrating the early episodes.
ANNIE OAKLEY    1954-7 (81 episodes)
Gail Davis (1925-97). Gail was born Betty Grayson in Little Rock, Arkansas. Singing cowboy star Gene Autry discovered her and placed the girl in many of his westerns before producing the Annie Oakley series that made her famous. He had been married to wife Ina since 1932, but that did not hinder his affair with Gail which went on for many years. Even so, he and Ina remained husband and wife until her death in 1980. As Annie Oakley, Gail Davis achieved the distinction of becoming the first female to command the nominal lead in a western TV series and was enormously proud of the show. 'Annie Oakley had to deal with the same ruthless characters – rustlers and killers – that the cowboys dealt with', she said. 'And she did it without ever killing one of them.' Braided pigtails and all. Gail married three times in her life and produced one child before cancer claimed her at 72.
Gail & Gene Autry
Brad Johnson (1924-81). Brad was one of a plethora of screen actors of miniscule ability who found employment in westerns during the 30s, 40s and 50s. He briefly emerged from the pack as Deputy Sheriff Lofty Craig in all 81 episodes of Annie Oakley, but when the western craze faded, so did he. By the late sixties he had drifted into real estate as he perfected a fast-draw act he demonstrated in later years at circuses and county fairs.
Jimmie Hawkins (1941 – ). Very few child actors enjoyed the success that fell to Jimmie Hawkins over his career. He was in everything from movies to TV series. In Annie Oakley he portrayed Annie's little brother Tagg in 80 episodes, always accompanied by his adored horse Pixie, who could shake his head 'yes' or 'no', smile, bow and even, visually pretend to 'say his prayers'. Often, Jimmie and Pixie would put on charity shows for children. Hawkins missed the pilot episode of Annie Oakley because Billy Gray played Tagg in it. But then Billy opted instead for the role of Bud Anderson in Father Knows Best (1954-60) and pulled out, leaving the door ajar for Jimmie.
Over the years Jimmie Hawkins has played the son of some of the biggest stars of the silver screen. Jimmy Stewart's boy in It's a Wonderful Life (1946) was one credited role he scored, but there were numerous uncredited bits as the son of Spencer Tracy, Katharine Hepburn, Greer Garson and Lana Turner, to name but a few. He was Shelley Fabares' boyfriend for eight seasons on The Donna Reed Show (1958-66), did four seasons on The Adventures of Ozzie and Harriet (1962-4) and a further two seasons on Petticoat Junction in the mid-sixties. He was even Elvis Presley's sidekick in Girl Happy (1965) and Spinout (1966). Over the years he has raised millions of dollars for various charities.