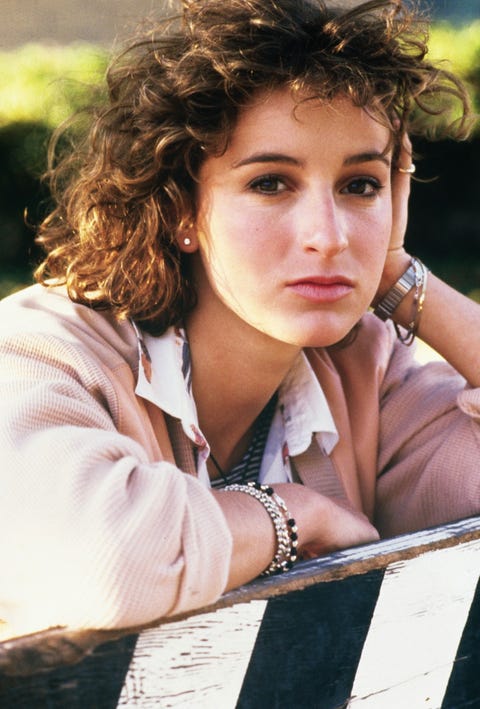 JENNIFER GREY (1960 – )                                                                              
Jennifer is the daughter of Oscar-winning actor Joel Grey (he won for Cabaret in 1972) and actress/singer Jo Wilder. As a teenager young Jennifer studied dance and acting at a private school where she met her best friend, actress Tracy Pollan. Tracy met Michael J. Fox in the eighties, when she played his character's girlfriend in the TV sitcom Family Ties. They wed in real life in 1988. Jennifer dated actor Timothy Hutton from August to September 1982, and was also romantically involved with her pal Tracy's future husband for several months in 1986.  
Jennifer & Matthew Broderick
Beginning in May 1987, while they were playing brother and sister in the hit comedy Ferris Bueller's Day Off (1986), Jennifer and Matthew Broderick started a semi-secret relationship that continued for the next seventeen months. While they were holidaying in Ireland a year after completing the picture, their rented BMW collided head on with a Volvo on August 5, 1987, instantly killing both of its female occupants, a 63 year-old woman and her 28 year-old daughter. As the only survivors of the accident, Matthew and Jennifer insisted they could recall nothing about how it had happened, but it was later revealed that Broderick had crossed into the wrong lane and was responsible for the accident. Later, after returning to America, he was fined a paltry $175, in absentia, by an Irish court for careless driving.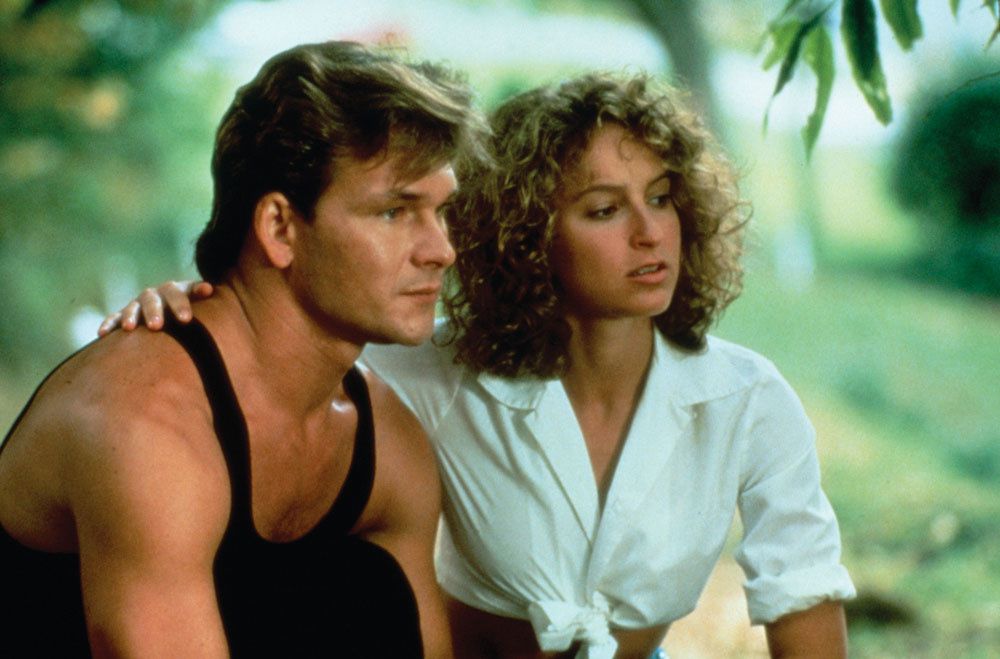 Jennifer & Patrick Swayze in Dirty Dancing (1987)
Jennifer suffered a severe whiplash and chronic neck problems in the collision and was said to have been racked with guilt and sorrow over the tragedy. Dirty Dancing (1987) was released on August 23, less than three weeks after the accident, and the picture made her a star virtually overnight. In both psychological and physical pain, she found little joy in her success and even withdrew from acting for a time.
Dating Johnny Depp
Johnny Depp broke up with his fiancée, Sherilyn Fenn, in 1988 and was soon reported to be involved with the now quite famous Jennifer. It was claimed by the tabloids that the couple also became engaged, even though the relationship was short-lived, (lasting only a few months). In fairness to Johnny, the papers tended to label any of his romances that lasted past a one-night-stand as an engagement. There does not appear to be any definitive proof either way.
Jennifer before surgery (L) & afterwards
In 1989, she underwent the first of two rhinoplasty procedures. They so altered her face, however, that even close friends failed to recognize her! Worse still, because she no longer looked like the Jennifer Grey of 'Ferris Bueller' and 'Dirty Dancing' fame, acting jobs dried up for her. Today, she bitterly regrets having had the procedures at all. For the next three years, until 1991, Jennifer dated actor William Baldwin. After the couple went their separate ways she and TV personality George Stephanopoulos were briefly an item during part of 1992.
Jennifer & husband Clark Gregg
Happily, she met the love of her life in 2000, actor Clark Gregg. They married in 2001 and are still together as of November 2019. Their daughter Stella, was born in December 2001. Fans of Iron Man (2008), Thor (2011) and The Avengers (2012) will recognize Clark who played S.H.I.E.L.D. Agent Phil Coulson in all three. He is two years younger than Jennifer.
MELANIE GRIFFITH (1957 – )                                         
Melanie is the daughter of model/actress Tippi Hedren and former child actor and advertising executive Peter Griffith. She was born in New York City about five years before her mother was chosen by Alfred Hitchcock to make her screen debut opposite Rod Taylor in The Birds (1963). Melanie was four years old when her parents divorced and Tippi moved with her to Los Angeles, looking for a new start. Tippi married her agent, Noel Marshall, in 1964, and the family grew up surrounded by lions and tigers being trained by Tippi and Noel for a movie they planned on making called Roar. It would eventually be completed and released in 1981, a year before Tippi and Noel divorced.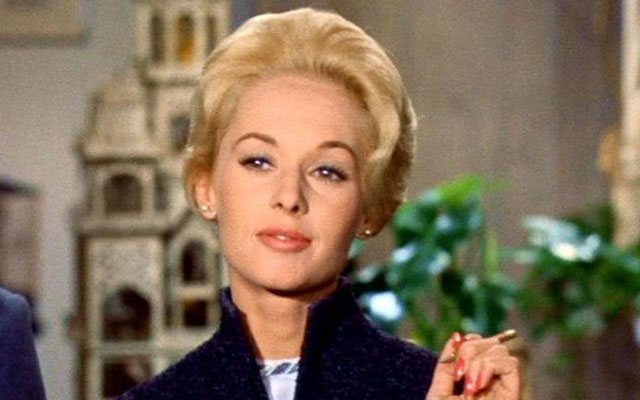 Melanie's mother, actress Tippi Hedren
Back in 1972, fourteen year-old Melanie started sleeping with 22 year-old, twice-divorced, actor Don Johnson, her mother's co-star in The Harrad Experiment (1973). Tippi gave her consent for her daughter to move in with Johnson at a very tender age. The couple married as soon as Melanie turned eighteen but divorced four months later. By that time she had made Night Moves (1975) for director Arthur Penn. The movie featured Melanie in some racy nude scenes that quickly established her as a screen nymphet willing to display her quite beautiful body for the cameras.
Melanie & Don Johnson
After parting with Johnson, she took up with the always eager Ryan O'Neal and they were together for a year. His daughter, Tatum, wrote in her autobiography that Melanie, actress Maria Schneider and an un-named man, lured her into a drug-induced 'foursome' in a Paris hotel room in 1975 while Ryan was elsewhere. Around that time Melanie also dated Warren Beatty. The romance quickly faded but she has remained friends with him, his sister Shirley MacLaine and wife Annette Bening ever since. She also dated Beatty's pal Jack Nicholson. Producer Don Simpson claimed that a totally naked Melanie knocked on his hotel room door when he was attending the Deauville Film Festival in 1976 and invited herself in. The nineteen year-old beauty, he said, departed at sun-up.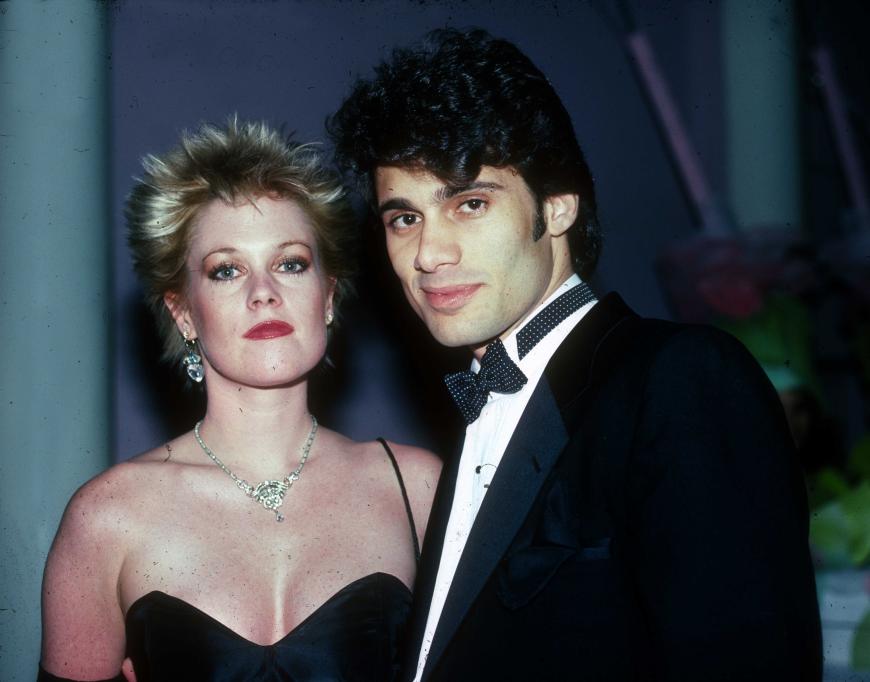 With husband #2 Steven Bauer
Her blossoming drug and alcohol problems soon became such common knowledge and studio executives stopped considering her for feature film roles. Desperate to work, Melanie turned to television where she met her second husband, actor/producer Steven Bauer, on the set of TV movie She's in the Army Now (1981). They married the year the picture was released and he helped her to temporarily overcome her substance addictions. He also enrolled his new wife in acting classes with Stella Adler in New York and her hard work ultimately paid off. Brian De Palma cast her as a porno actress in Body Double (1984), for which she received rave notices.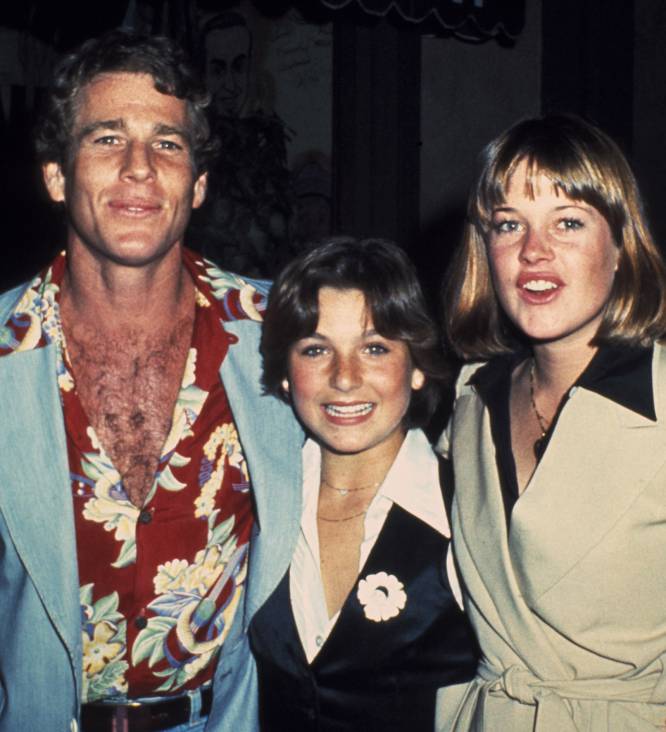 Ryan O'Neal, daughter Tatum & Melanie
She and Steven had a son, Alexander, in 1985, but it could not save their struggling marriage. Her Oscar nomination for Working Girl (1988) could not hide her ongoing substance abuse and director Mike Nichols pushed her into a rehabilitation clinic, in an endeavour to save her career before it was too late. After her release from the clinic, Melanie reconciled with Johnson, fell pregnant to him, divorced Bauer, and remarried Johnson who had dumped Barbra Streisand for her. It was 1989. Their daughter, Dakota Johnson, was born later that year. A sober Melanie then focused on her career. Unfortunately, she chose a string of quite poor films and her career lost momentum.
With husband Antonio Banderas
By 1995, she and Johnson had split again, this time primarily because of his substance abuse. They reconciled briefly when he sobered up, but then Melanie met the already married Antonio Banderas, her co-star in Two Much (1995). The tabloids followed their torrid romance until they divorced their spouses and Melanie became pregnant. They married in 1996 and their daughter Stella Banderas was born soon afterwards. It all came crashing down, however, in 2015.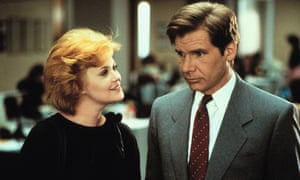 In Working Girl (1988), her biggest hit, with co-star Harrison Ford
Melanie's determination to continue to undergo plastic surgery in an endeavour to ward off middle-age, particularly griped Banderas. 'This lust for beauty is a terrible thing', he wailed. 'I've forbidden her to ever go to a cosmetic surgeon again. It is something we have agreed to for the sake of our marriage.' Nevertheless, on December 4, 2015, their 20 year marriage came to an end. In 2018, Banderas publicly declared, 'I will love her until the day I die.' Griffith responded with, 'I will always love him and he will always love me. We had a great twenty years together.' In the divorce settlement she got the Aspen house, half the profits from the sale of their Los Angeles mansion, and $65,000 per month spousal support. To this day, Melanie remains on friendly terms with all three of her ex-husbands.