RUSSELL JOHNSON (1924 – 2014)                                                                     
His name may not be immediately familiar but his face certainly would be, especially to the many fans of TV's iconic series Gilligan's Island (1964-7). Russell Johnson portrayed Professor Roy Hinckley in all but one of its 99 episodes. In November 1942, he enlisted in the US Army and served for two years before being discharged in January 1944. He then enlisted as an aviation cadet in the USAAF, eventually rising to the rank of First Lieutenant. Flying as a bombardier, mostly in B-25 aircraft, he took part in 44 combat missions over the Netherlands East Indies and the Philippines. He earned his Purple Heart for injuries he received when the B-24 Liberator bomber in which he was a crewman was shot down during a bombing run against Japanese targets in the Philippines in March 1945. When the US Air Force (not to be confused with the United States Army Air Force) was formed in the late forties, Russell was augmented into the US Air Force Reserve, ultimately receiving his final discharge papers in August 1957 when he was 33. He lived until 2014 when kidney failure took him at the age of 89.
VAN JOHNSON (1916 – 2008)                                                                                                                  
Van was working on his seventh film, A Guy Named Joe, in 1942, when an automobile accident left him with a fractured skull that would require a metal plate inserted in his head. LB Mayer at MGM was all set to replace him in the picture until the star of the film, Spencer Tracy, threatened to walk out unless the studio agreed to suspend filming until Van was fit enough to return to work. Johnson always insisted Tracy was responsible for his stardom. The metal plate ensured the affable blonde star would not be called up during the Second World War. Instead, he got to play soldier on the silver screen time and again. 'By war's end', he reminisced, 'I'd been in every branch of the service, all at MGM.' He was 92 when he passed away from 'natural causes in New York in December 2008.
AL JOLSON (1886 – 1950)                                                                                                                                     
Jolson was fifty-five years old when Japan attacked Pearl Harbor on December 7, 1941. Within two months he was performing in front of soldiers at a training camp in Jacksonville, Florida. In fact, he would become one of the most dedicated troop entertainers of the war, despite the fact that he disliked being part of a troupe, much preferring to tour alone. His ego did not lend itself to sharing the limelight with anybody. Nevertheless, he went everywhere, including some of the toughest, dirtiest outposts in Africa. After one trip he contracted malaria. His fame was such that he could take liberties with senior officers that lesser personages would not dare to try. In North Africa, for instance, he informed General Dwight Eisenhower that he had been asked to deliver a message from his wife, Mamie. Then, in front of the assembled troops, he kicked Ike in the backside 'for not writing home more often.' Mamie had asked him to deliver her 'message' personally.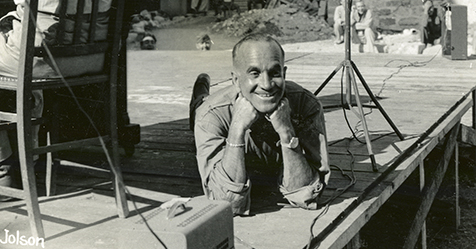 Jolson 1943
In June 1942, arrangements were made to send Jolson to Alaska via Seattle and Washington. He gave two performances in Anchorage, each for an audience of 1,500 men. 'Each show lasted an hour', he reported to Variety, 'and I almost wore out the knees of my pants singing 'Mammy'. He neglected to mention that the GIs were there because a rumor had spread through the camp that either Lana Turner or Dorothy Lamour was going to appear. When Al walked onto the stage and was greeted by a disappointed, deafening silence, he cracked a couple of jokes and then talked about home and what he thought of Hitler and Hirohito. Then he sang a few songs. By the time the show had concluded the audience had forgotten all about Lana and Dorothy. The man truly was a born showman.
It was during the Alaskan tour that a young soldier called out to him: 'Kiss my wife for me when you get back to New York, will you, Al?' 'I'll do better than that', Jolson called back. 'I'll take her out to dinner. What's her name?' He wrote down the lady's name and phone number, then asked: 'Are there any more?' He jotted down as many names and numbers as he could, promising to call each and every one of them when he got home. And he did, informing mothers, wives and girlfriends that their men were safe and sound. A lot of GI's would remember him fondly for that.
Al & Erle
On one tour he and his troupe, Ben Lyon, Bebe Daniels and Merle Oberon, were asked to perform at the London Palladium. Merle indignantly refused. 'We are here to entertain the troops', she justifiably argued, 'not the general public.' Jolson, however, was furious and announced he was returning to the United States alone. He was hoping to be able to do one-man shows anyway. In late September '43, however, that plan was stillborn when he collapsed in the lobby of a New York hotel. He had contracted malaria and it had developed into pneumonia and a temperature of 105F. There would be no more overseas tours for him but that did not stop Jolson from visiting hospitals and camps in the US until a bout of severe chest pains ended that idea too. A year after meeting a pretty 20 year-old x-ray technician named Erle Galbraith in Hot Springs, Arkansas, the 58 year-old singer walked her down the aisle. It was March 1945. She was still at his side when his heart gave out forever less than five years later.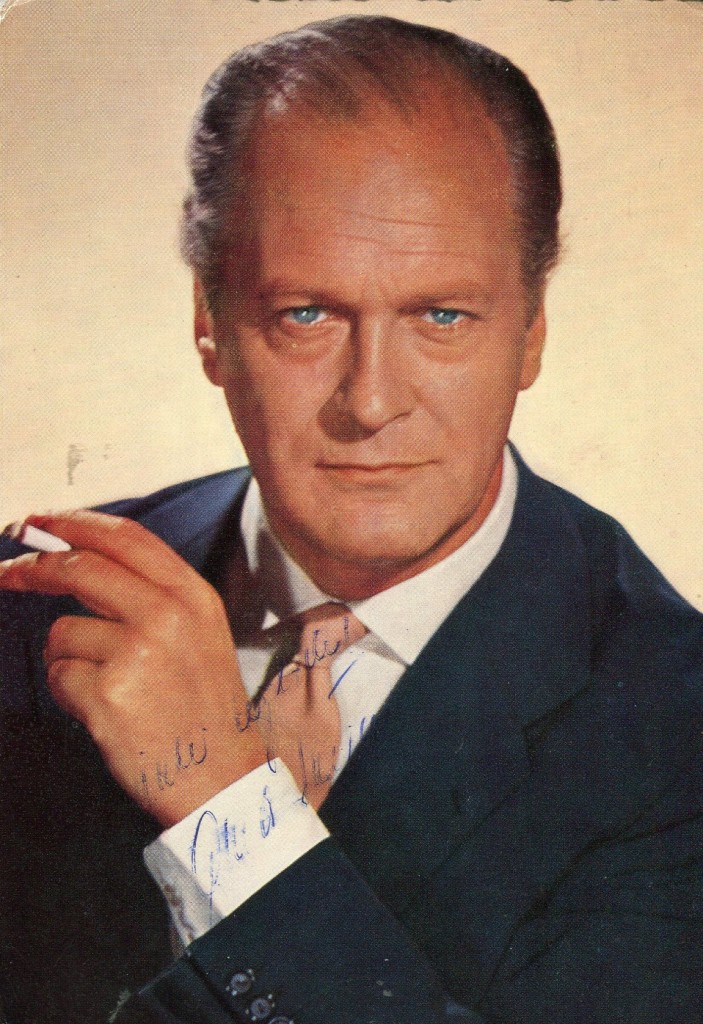 CURD JURGENS (1915 – 82)                                                                   
Jürgens was born in Munich, Germany in 1915. He spent much of his early acting career on the stage in Vienna, but his criticism of National Socialism in his homeland saw him sent to an internment camp in Hungary as a 'political unreliable' in 1944. In the final days of the war he had an altercation with the brother of high-ranking Gestapo official Ernst Kaltenbrunner, which resulted in him being drafted into the German Army. This whole episode sounds a little fishy, however. If Jürgens was in a Hungarian camp, how did he have an altercation with Kaltenbrunner's brother? Furthermore, he was 29 years old in 1944, at a time when the Nazis were sending boys and old men to fight, so why did it take a special set of circumstances to get him drafted? It is also unclear if he saw action in the dying months of the war. It was his experiences in Nazi Germany that prompted Curd to take up Austrian citizenship after peace had been declared.
His screen credits totaled an impressive 169, but western audiences would probably rate his fine performance as the German U-boat commander opposite Robert Mitchum in the excellent WW2 drama The Enemy Below (1957) as his most memorable moment. He made the news a few years prior to his death when he suffered the first of two heart attacks and told an interviewer that he had briefly died 'and gone to Hell'. The second attack, in 1982, proved fatal and he was dead at sixty-six.