One of my pet hates is watching a biopic about a great sportsperson's life in which the actor chosen to represent him or her hasn't the faintest idea how to play the sport in question! Admittedly, this is often the fault of casting, but that does not excuse the actor for accepting the role in the first place. Nor is the director excused for signing on when he, too, has not the foggiest idea how to even go about faking it. I always find it surprising that studios bother making sporting movies at all. They have always been considered to be box-office poison and for good reason. Women not only make up more than half of movie-going audiences, they are usually the ones who decide what their family or partner will be going to see. And sporting topics are not high on their agenda. In fact, more often than not, they are at the very bottom.
Lou Gehrig
There have been numerous examples of non-sporting performers being given the go ahead to over-stretch themselves as sports heroes. One of the most notable of these has to be the casting of Gary Cooper as Lou Gehrig in The Pride of the Yankees (1942). In fairness to Samuel Goldwyn, he polled American baseball writers, while The Sporting News polled the fans, asking each group's opinion of who they felt was best suited to playing the legendary Gehrig. The answer came back – Cleveland Indians pitcher Johnny Humphries – because of his strong facial resemblance to Lou. Goldwyn weighed up all this advice, then completely ignored it. He went with Gary Cooper instead.
Gary Cooper and Teresa Wright as Lou & Eleanor Gehrig
There was no question that Coops (who was over forty at the time) was a box-office superstar and guaranteed to draw ticket-buyers, so the choice seemed like a good one – except for one rather important detail. He knew absolutely nothing whatsoever about baseball! Not only had he never played a single game in his entire life (not even as a child), he had never even seen a game of baseball. Ever! Like a lot of movie stars, he spent every waking hour pursuing his mostly indoor profession and could not play any sport convincingly or otherwise. Furthermore, he could not throw or catch and was incapable of running out of sight in the middle of a sand-storm! He had a dodgy hip for starters. If Goldwyn had personally examined every actor in Hollywood, he could not have found one with less ball-playing ability than the boy from Helena, Montana. No doubt, Sam figured the magic of movie-making would compensate somehow. And in a way it did. Kind of.
Lou & Eleanor Gehrig
Although Coops was given some extensive training, it soon became evident that Gehrig's accomplishments in the game would have to be covered by montages of ballparks, pennants, and shots of Cooper swinging bats and running bases. Any thought of Coops attempting to emulate the great man's hitting was out of the question. Consequently, there is very little baseball action throughout the entire movie. In the decades since 1942, there have been stories of all kinds of trickery used to disguise the actor's ball-playing shortcomings, but tales of him donning mirror-image uniforms, and of film footage being run backwards etc, are simply not true. Lefty O'Doul tried unsuccessfully to teach Cooper to throw left-handed but soon gave up. '[He] threw the ball like an old woman tossing a hot biscuit', Lefty reported back to the director Sam Wood. Consequently, any shots of Gehrig throwing for the Yankees were made with Cooper's stand-in, the left-handed Babe Herman, substituting for him.
Gehrig's farewell to baseball July 4, 1939
The final assessment of The Pride of the Yankees was a mixed one for fans and critics. Fans who went to see a baseball picture would be disappointed. Those who expected a touching love story, an inspiring account of a nice guy's life and dignified response to adversity, would exit the cinemas contented. Despite the picture finishing the year as the seventh highest grossing film of 1942, it did not quite break even cost-wise, due in part to Goldwyn's small distribution fee negotiated with RKO. The Academy liked it, however, nominating The Pride of the Yankees for eleven Academy Awards, including a Best Actor nod for Coops! He didn't win. Indeed, the only win out of the eleven was for the picture's editing.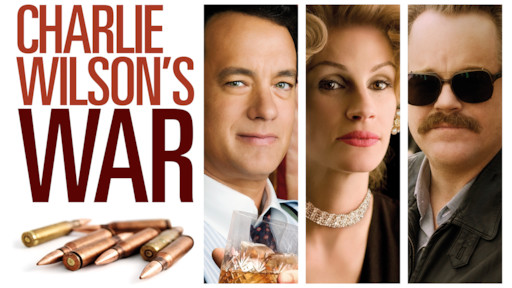 The 2007 biographical comedy/drama Charlie Wilson's War is one of my all-time favourite films. There are three reasons for this. One reason is the highly watchable performance by the best male movie actor in the world today – Tom Hanks. I still cannot believe he was beaten to the Best Actor Oscar by Roberto Benigni for Life is Beautiful in 1999. Hanks was superb in Saving Private Ryan (1998), was nominated that year but missed out. There was only one Oscar nomination for Charlie Wilson's War, and that was for Philip Seymour Hoffman's fabulous turn as CIA agent Gust Avrakotos, the second reason why I love this picture. Reason number three? The screenplay by the brilliant Aaron Sorkin, based on George Crile's book. Interestingly, the Golden Globes people nominated the movie, Hanks, Seymour Hoffman, Sorkin and even Julia Roberts. All five nominations came up blank. The picture cost around $75 million to make and promote. It returned $118 million worldwide.
Aaron Sorkin
The real Charlie Wilson (portrayed by Hanks) was a fascinating character. In the 1980s, he was a congressman from Texas who represented a constituency that did not want anything. And that meant, as he told Gust, that he got to vote 'yes' a lot. He was also a member of two major foreign policy and 'covert-ops' committees which enabled him to OK funds for the Afghan Mujahideen in their fight to defeat the invading Soviet troops. It can be persuasively argued that the Russian defeat in Afghanistan may well have substantially led to bringing down the Soviet Union altogether. For much of the time that Wilson was accomplishing his goals he was, as described by his colleagues, a 'functioning alcoholic'. In fact, his drinking almost ended his career one evening in Washington. In 1980, his Lincoln Continental collided with a Mazda on the Key Bridge in Washington DC. It was the night before his first trip to Pakistan and the drunken congressman foolishly fled the scene of the accident. Inexplicably, he was never convicted.
     Portrayed by Tom Hanks, Julia Roberts & Philip Seymour Hoffman
Joanna Herring (now 90 years old) was the driving force behind the funding for the Mujahideen, for it was she who got Wilson to meet with President Zia of Pakistan who advised him to visit an enormous refugee camp to see for himself evidence of the plight of the Afghan people, and learn first-hand of the appalling Soviet brutality, especially against Afghan children. Wilson was deeply affected by what he saw and determined to do all in his power to defeat the Soviet invaders. Julia Roberts plays Joanna in this movie and she and Charlie appear to have had an intimate relationship. Some sources claim they were even engaged to be married at one time but I have been unable to confirm that. She was an intimate of Zia for many years, their relationship culminating in her being awarded Pakistan's highest national honour.
Gust Avrakotos was the Pennsylvanian son of a Greek soft drink manufacturer from Lemnos. Joining the CIA in 1962, Gust's fluency in Greek saw him assigned to take part in an anti-communists mission to Greece. While at the CIA's headquarters in Langley, Virginia, he led Operation Cyclone, the covert op aimed at expelling the Soviets from Afghanistan. He was re-assigned just as the first Stinger missile brought down the first Soviet gunship. Gust retired from the CIA in 1989 and died of a stroke in 2005. Wilson passed away five years later.