It could be argued with confidence that there was more going on off-screen than there was on it, with regard to the 1944 feature film Since You Went Away. This superb example of what this writer considers to be ideal cinema entertainment, focused on the trials and tribulations of an American family on the home front during World War Two. Claudette Colbert is perfect as the matriarch, Anne Hilton, faced with the financial and moral responsibility of seeing her daughters through those harrowing times, while her husband is away at war legally killing people. Jennifer Jones and teen-aged Shirley Temple play her daughters, Jane and Brig respectably.
Jennifer Jones & David O Selznick
Twenty-four year old Jennifer was hot off her Oscar-winning stint playing a fifteen-year old virgin in The Song of Bernadette (1943), albeit if she was committing adultery most evenings with David O. Selznick, the producer of Since You Went Away. Jennifer was married to actor Robert Walker at the time. Whether by accident or out of sheer spite, Selznick cast him as her lover in SYWA, even going to the trouble of borrowing him from MGM for the role. The love scenes between Jennifer and Walker were especially harrowing for both stars, particularly Jennifer, who would run to her dressing-room in tears between takes. Selznick was hopelessly in love (and lust) with her, but that did not prevent him from doing his utmost to lay both Claudette and Shirley as well. His unsuccessful pursuit of Claudette resulted in a letter of apology from him to her husband, Dr Joel Pressman. Soon afterwards, he complained about her taking three days off whenever she got her period, suggesting she take just one day 'like everybody else'.
Robert Walker & Jennifer as lovers in Since You Went Away (1944)
Former child super-star Shirley was under contract to him but equally resistant to his advances, so Selznick made the position quite clear to her. If she did not 'put out' she would be 'loaned out'. She stuck to her guns and Selznick, true to his threat, began loaning her out to other studios. He also drastically cut down her role in SYWA, while simultaneously building up Jennifer's. 'David kept expanding Jennifer's role', said Shirley in retrospect, 'and every afternoon she would disappear for an hour or two with him. No wonder the movie took forever'. When he told Shirley her breasts needed to be strapped down to make her appear younger she steadfastly refused to comply.
Anne Hilton & her girls in SYWA
To further embroider the already concocted portrait of propriety, Fox dutifully informed gossip columnist Louella Parsons that Jennifer had arrived at the Selznick studio, straight from Oklahoma and read for him. He had been instantly overcome by her beauty and talent and signed her on the spot. Uh-huh. Louella swallowed the tale hook, line and sinker and passed it on to her readers. ' To re-inforce the charade even more, Selznick had his gay talent scout at Vanguard Pictures, Henry Willson, escort Jennifer on dates that were sure to be photographed by the press. Henry even took her to the Academy Awards the night she won for Song of Bernadette. Five years later, in 1949, Selznick and Jennifer married and remained husband and wife until his death in 1965. They had one child together.
Brig (Shirley Temple) & Jane (Jennifer Jones) in Since You Went Away
Minor male roles in SYWA were left in Willson's capable hands and he did not let the studio down. The part of a sailor (Harold Smith) went to a real-life US sailor Henry spotted in the audience at a Lux Radio Theatre broadcast. His name was Robert Mosely but not for long. Henry changed it to Guy Madison and the former telephone linesman made it into SYWA, much to the delight of bobby-soxers across America who took an instant shine to him. Guy could not dance and could not act. In fact, he was hard-pressed to even carry on a conversation, so Henry told him to chew gum in the picture. It would give him something to do. Guy did as he was told, thankfully slept with Henry and then returned to duty in the South Pacific. His arrival back in Hollywood a few months later saw him lauded as an American beefcake pin-up and a World War Two poster boy.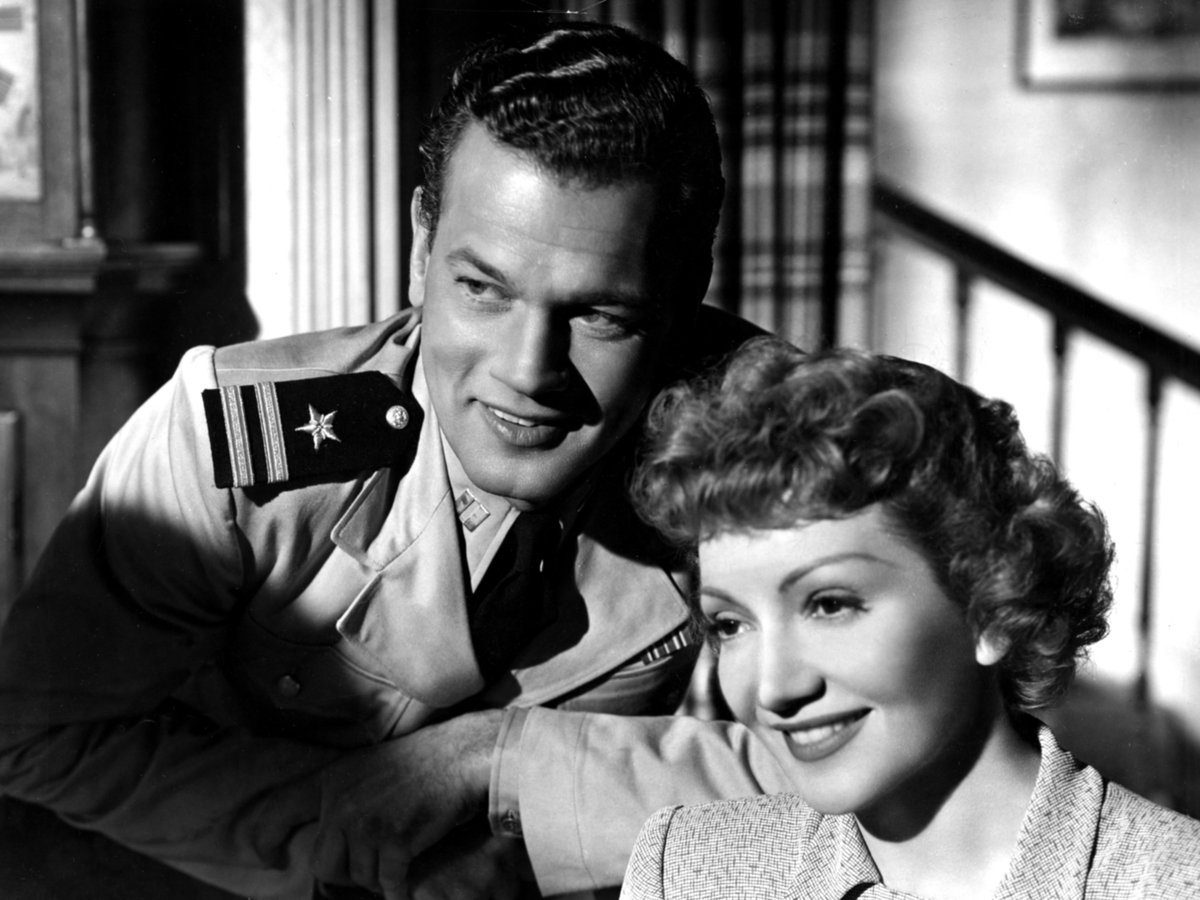 Joseph Cotten & Claudette Colbert
Handsome Gail Shikles, another friend of Willson's, was handed a small part in the film under his new, more heterosexual acting name of Craig Stevens. He played Danny Williams, a serviceman psychologically damaged by his wartime experiences. Henry suggested he further enhance his new image by marrying actress Alexis Smith. And both Craig and Alexis obliged, tying the knot to coincide with the picture's release in the spring of 1944. Craig would later make it big on TV as private eye Peter Gunn in the series of the same name. An uncredited John Derek, another of Henry's stable, was also handed a bit part.
Guy Madison (L) & his agent Henry Willson
Claudette Colbert was only forty when shooting was about to start on this picture. Still a very beautiful woman, she was most reluctant to accept the role of a mother with two teenaged daughters, but Selznick utilized the services of gossip columnist Hedda Hopper to convince her to take it. He then offered her the huge amount (for 1944) of $150,000 for a 'yes' response and the deal was done. The movie ran for three minutes short of three hours and was the second most expensive feature in Hollywood history to that point in time, beaten only by Gone with the Wind (1939).
Monty Woolley, 'Soda', & Shirley Temple
Probably, the most under-rated performance in the picture was that of Joseph Cotten as Lt. Tony Willett, the playboy friend of Anne and her absentee husband. Cotten got to know Selznick well and in time became his closest friend. He was also very close to Jennifer and appeared opposite her in four films in all while he was contracted to her husband's studio. The two friends co-starred in Love Letters (1945), Duel in the Sun (1946), Portrait of Jennie (1948) and, of course, Since You Went Away. He and Claudette are entirely comfortable in the scenes they share, as old and trusted friends would be. In many ways Joe Cotten provides some of the film's best moments.
Agnes Moorehead as Emily Hawkins
Another terrific performance is delivered by one of Hollywood's premier character actresses, Agnes Moorehead. She plays the quite appalling hypocrite Emily Hawkins. A veteran of radio in the thirties, Agnes befriended Orson Welles and Cotton, who asked her to become a charter member of Orson's Mercury Theatre on the Air. Consequently, she was involved in the notorious 'War of the Worlds' radio broadcast in 1938. She was quickly snapped up by RKO and paid $100,000 per picture! Agnes would be unsuccessfully nominated four times for Oscars, yet would be chiefly remembered for playing Endora in TV's Bewitched (1964-72).  Audiences need someone to hate and in this picture she is perfectly cast in that role.
Craig Stevens & Alexis Smith tie the knot 1944
Yet another wonderful and most memorable performance is turned in by the highly watchable Monty Woolley as Colonel Smollett, grandfather of Bob Walker's character. He was deservedly nominated for a Best Supporting Actor Oscar and should have won. Instead, Barry Fitzgerald got the nod for virtually playing himself in Going My Way (1944). Indeed, the monumentally over-rated Going My Way was awarded the Best Picture Oscar this year, defeating both Since You Went Away and the equally superb Double Indemnity. The result almost defies belief. Then again, Bing Crosby stole the Best Actor statuette for the same picture. Enough said.