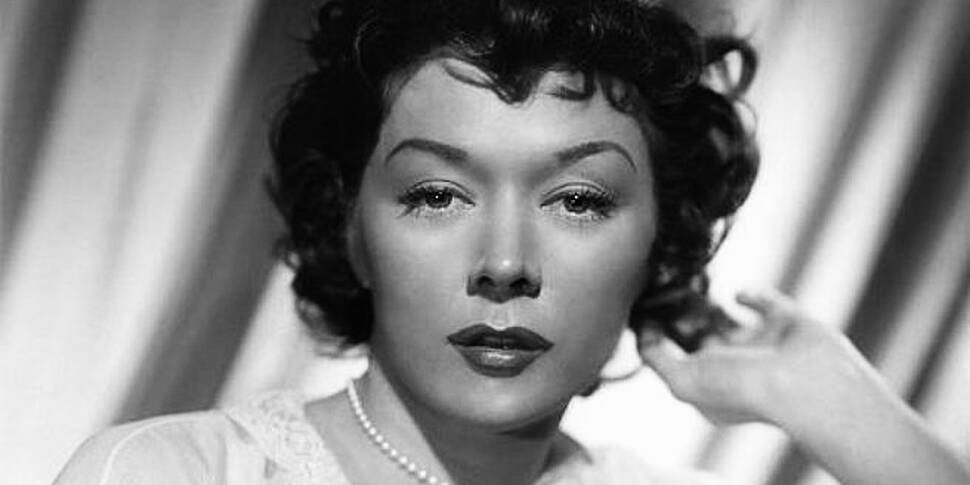 GLORIA GRAHAME (1923 – 81)             May 06 2020                       
Twenty-one year old Gloria was appearing in a couple of plays on Broadway when MGM chief Louis B. Mayer spotted her, liked what he saw, and signed her to a $250 a week contract. It was 1944. Two years later, he loaned her out to Columbia and her performance as Violet in It's a Wonderful Life (1946) projected a sexy image that LB felt did not quite fit into MGM's rigid star system. So, he sold her contract to RKO. At her new studio Crossfire (1947) earned her an Oscar nomination and made her a star. Despite her enhanced standing, she was still loaned out by RKO to Columbia, MGM and others. Although only on-screen for a total of a little over nine minutes, she won a Best Supporting Actress Oscar for MGM's The Bad and the Beautiful (1952).
Gloria in Crossfire (1947)
Gloria made no secret of the fact that she liked men. 'We don't need a man to support us', she told her sister. 'That we can do for ourselves. We just need a man to entertain us.' She had just completed her first film, Blonde Fever (1944), when she arrived in Texas to perform with the USO. Stanley Clements was a private in the US Army, recuperating from pneumonia, when he met her. They were immediately drawn to each other. Fans of the 1944 film Going My Way may recall him playing young Tony Scaponi in it. This was his 17th film and Gloria was impressed by the fact that he never once mentioned he was an actor before entering the army. He was 18, she 19, and they married almost immediately in Wichita Falls, Texas. Then they separated almost as quickly. Clements was a drunken brawler and Gloria tired of him very quickly. They divorced in 1948.
Gloria & husband Nicholas Ray
As she got older, Gloria became obsessed with improving her looks through surgery. She felt her upper lip was far too thin, with ridges that were too deep, so she started stuffing cotton or tissues under it, believing this gave her a sexier look. Eventually, her obsession led to several cosmetic surgeries that rendered her upper lip largely immobile because of nerve damage. Separated from Clements, she started dating director Nicholas Ray in October 1947. They married the day after her divorce from Stanley came through in June '48. It was a fiery marriage. Several separations and reconciliations preceded their divorce in August 1952. After they parted ways, Nick Ray told an interviewer, 'I was infatuated with her, but I didn't like her very much.'
With Jack Palance in Sudden Fear (1952)
Well before her divorce from him became final, Gloria embarked upon a three-month affair with screenwriter Stanley Rubin. She was also involved for around two months with screen star Jack Palance. They had carried on off-screen during the making of their film Sudden Fear (1952). Around that time she also began seeing writer/TV producer Cy Howard. The couple dated for two years before their marriage in 1954. Three years later they divorced and would clash in a particularly nasty child custody battle over their daughter Marianna.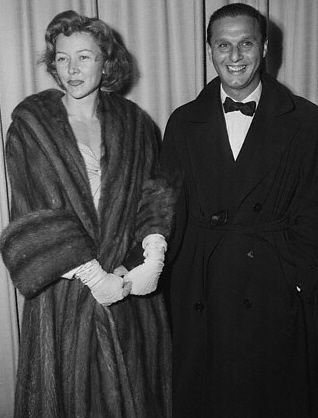 With husband #3 Cy Howard
During the custody battle, rumors surfaced that Gloria's second husband had once found her in bed with his 13 year-old stepson Anthony. Whether Nicholas started the rumor or Howard simply used it in court after the story became public in 1962, (five years after his divorce from Gloria), is still unclear, but its ramifications helped destroy Gloria's career. When she wed husband #4, none other than the afore-mentioned Anthony Ray, the press had a field day. 'I married Nicholas Ray, the director, and people yawned', Gloria recalled. 'Later on, I married his son [step-son, in fact], and from the press's reaction you'd have thought I was committing incest or robbing the cradle!' The press reaction seemed to be patently unfair and she paid a heavy penalty for what appeared to be a concocted story. The public assumed the worst. Nevertheless, she and Anthony remained married for thirteen years (1960 – 74), having got together three years prior to the ceremony. They had two sons together before divorcing in May 1974.
Anthony Ray
Two months earlier, Gloria was diagnosed with breast cancer and underwent radiation treatment. She changed her diet, gave up smoking and drinking alcohol, and sought out homeopathic remedies. The cancer went into remission inside a year but it would return in 1980. Prior to that, however, in 1978, the 54 year-old actress met 26 year-old British actor Peter Turner, they were mutually attracted and became lovers a few weeks later. Sadly, eighteen months into their relationship her breast cancer metastasized and Gloria withdrew into herself, refusing even to discuss the problem with him. Peter reluctantly returned to the UK.
Gloria & Peter Turner
In September '81, Gloria, who was back in England working again, collapsed while performing at the Dukes Playhouse in Lancaster. The local hospital wanted to perform surgery immediately but she refused. She contacted Peter and asked if she could be taken to live with his mother in his family home in Liverpool. Although she requested he not contact medical people or her family, Peter was gravely concerned for her and did so anyway. Her son Timothy and daughter Marianna were contacted and they travelled to Liverpool. Once there, they decided, against the wishes of Gloria, Peter, his family and the local doctor, to take their mother back to the United States. They arrived back in New York City on October 5, 1981, where Gloria passed away only a few hours after being admitted to St. Vincent's Hospital. She was 57.
Annette Bening (L) portraying Gloria (R)
During her brief time at the Turner home, Gloria was tended by his siblings while Peter was at the theatre working. One day, he was late arriving at work and tried to explain to the manager that he had been at home tending his dying lover. 'Film stars don't die in Liverpool', was the man's memorable response. Turner would use the line as the title for his 1986 memoir. In the book he stated that the British doctor told Gloria she had a cancerous tumor in her abdomen 'the size of a football'. Curiously, breast cancer is not mentioned at all in the book. The motion picture Film Stars Don't Die in Liverpool, based on Peter's account of his time with Gloria during her final days, was released in 2017 and starred Annette Bening as Miss Grahame. Gloria had kept an apartment at the Manhattan Plaza. The community room at the complex is dedicated to her memory and her portrait now hangs on the wall there.