One of the very first movies I recall seeing was the 1955 World War Two 'epic' Battle Cry. I suppose the word 'epic' is a bit of an exaggeration, but it was based on Leon Uris's novel of the same name, and at 704 pages it was certainly long enough to earn the accolade. I think it was supposed to be a big, big production for Warner Bros, but where were all the studio's A-graders? Van Heflin, Aldo Ray and James Whitmore were all capable actors in their day but none of them was a proven drawcard. I suppose Tab Hunter's presence might have been expected to attract a few squealing teenaged girls and Dorothy Malone would provide something for those guys who judged talent by cup-size, but the likes of Mona Freeman, Anne Francis and Nancy Olson were genuine lightweights.
Author Leon Uris circa 1950
Uris was writing from experience, for he served in World War Two as a radioman in the 2nd Battalion, 6th Marines; the same military occupation as the characters in his book and in the movie. He also saw combat during the Guadalcanal and Tarawa campaigns (both featured in this picture), but was evacuated with malaria prior to the Saipan campaign. On an historical note, it has been asserted that Battle Cry was the movie showing at the Texas Theatre in Dallas on November 22, 1963, when Lee Harvey Oswald was arrested after the assassination of President John F. Kennedy. Not so. That day there was a double-bill playing – War is Hell (1961) and Cry of Battle (1963). War is Hell was playing when the Dallas police swooped and arrested Oswald.
Clockwise: Tab Hunter, Dorothy Malone,
Aldo Ray & Anne Francis
I must admit that I enjoyed Battle Cry when I first saw it. I think I was nine or ten. Every time I have watched it since then, however, I like it less and less. So, why watch it, I hear you ask? Because it is part of my youth, I guess. Nostalgia. I regularly sit back and watch Davy Crockett: King of the Wild Frontier (1955) for the same reason. The Hunters (1958) is another of my childhood favourites. The biggest problem with Battle Cry, in my opinion, is the lousy acting. The picture is widescreen cinemascope, printed on beautiful stock (just like The Hunters), in a day when the very real threat of television compelled the studios to make big, widescreen, colour productions that looked absolutely fabulous. But the acting! I still cringe every time I watch poor Dorothy Malone emoting her heart out. Admittedly, she was given some diabolical lines to deliver and she was playing opposite Tab Hunter, an actor barely capable of helping himself, much less his co-stars. I recently watched that pitiful 'soap' Written on the Wind (1956) and continued to cringe at Dotty's performance, a performance that actually won her a Best Supporting Actress Academy Award, for crying out loud!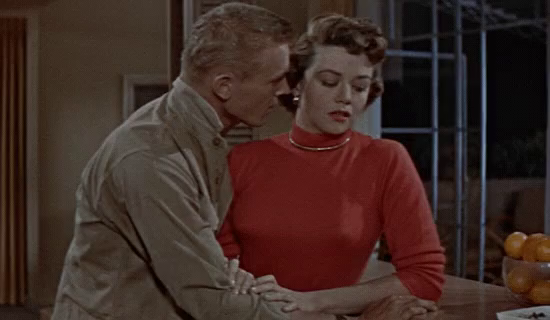 Dorothy Malone & Tab Hunter
Another lousy actor was Perry Lopez. In Battle Cry he played the platoon trouble-maker, Private Gomez aka 'Spanish Joe'. In fact, he usually played some kind of hothead and invariably over-acted, just as he did in this picture. Justus E. McQueen made his screen debut here as Private L Q Jones. He over-acted too, but at least he had an excuse. It was his screen debut. He must have enjoyed his own performance, however, because he discarded his real name and started calling himself L.Q. Jones from then onwards. Fans of The Mask of Zorro (1998), (assuming they can stop thinking about Catherine Zeta-Jones long enough), might recall him playing Three-Fingered Jack. That was his 158th screen credit and he had by then developed into a fine character actor. As of this writing (October 2019) he is still on deck and into his 92nd year.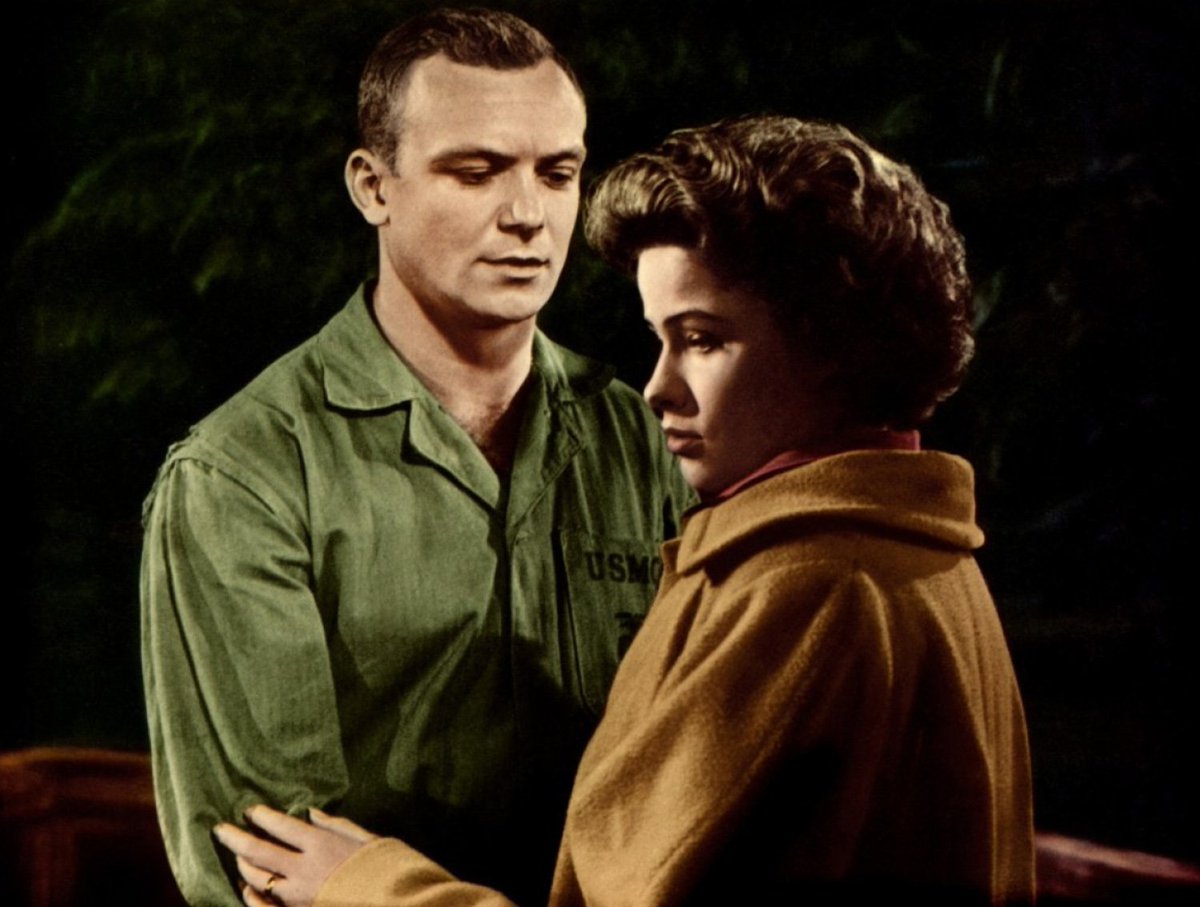 Aldo Ray & Nancy Olson in Battle Cry (1955)
The best thing about this pretty lame movie is Aldo Ray. He was a big, beefy man with a raspy voice, but he had the ability to portray softness and sincerity in his role as the former lumberjack, Private Andy Hookens. While most of the other actors playing Marines were gung-ho tough guys, Ray played it perfectly, soft and gentle enough for us to believe how a straight-laced Kiwi widow would fall for him. His Kiwi lover, Pat Rogers, was nicely played by Nancy Olson. She was Oscar-nominated for Sunset Boulevard (1950) and married lyricist Alan Jay Lerner in 1950. He wrote 'My Fair Lady' and dedicated it to her. Most pundits figured she would have a long and outstanding career but it never quite eventuated. A class act, nonetheless.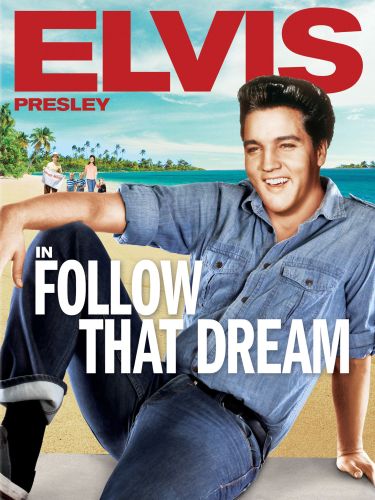 Elvis Presley made a lot of lousy movies, and if he were alive today he would, no doubt, agree with that observation. One of the worst has to be the incredibly boring 1962 feature Follow That Dream. In it he plays Tobey, a slow-witted country bumpkin and sings his usual quota of tunes in a picture that (for once) is clearly aimed at a family audience instead of the usual teenaged, screaming girls that seemed to infest his other pictures. Pretty Anne Helm plays Holly Jones and has, surprise, surprise, the hots for him. She was his real life squeeze off-screen as well at the time so she did not have to do much acting. Joanna Moore plays his other pursuer, Alisha Claypoole. Joanna was about a year away (in real life) from marrying actor Ryan O'Neal. According to her daughter, Tatum O'Neal, she did not have an affair with Elvis during the making of this picture, which puts her in a unique club when we talk Elvis co-stars. Her four year marriage to O'Neal was a tempestuous union that ended acrimoniously. Alcoholism (she was arrested for drunk driving five times in the 1980s alone) ruined her health. That and a chain-smoking habit hastened her early death from lung cancer in 1997 at the age of 63.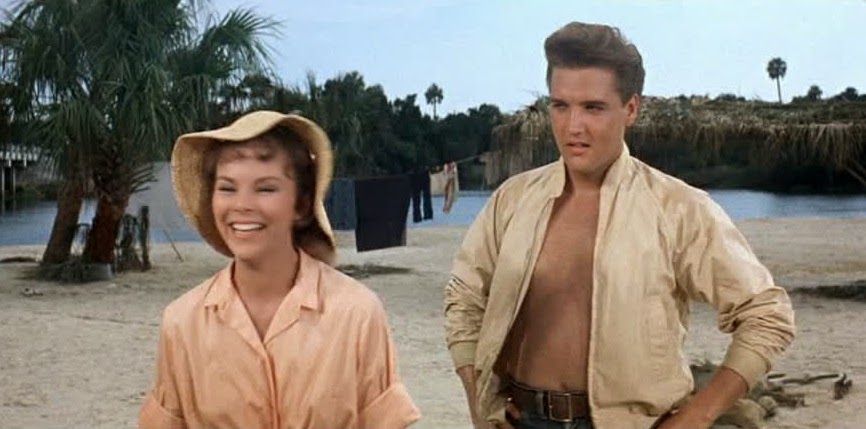 Elvis & Anne Helm in Follow That Dream (1962)
The movie was based on a 1959 novel by Richard P. Powell titled, Pioneer, Go Home! Producer Walter Mirisch, however, chose to name the picture Follow That Dream for two reasons – he liked the song and he could not come up with a rhyme for the word 'pioneer'.  It is testament to the drawing power of Elvis that this numbingly dull outing reached #5 on the Variety weekly Box Office Survey, stayed on the chart for three weeks, and finished at # 33 on the year end list of the top-grossing movies of 1962. The mind boggles. As unlikely as it might sound, in 1996, thirty-five years after filming had been completed, the community of Yankeetown, Florida officially opened a major highway they named in honour of Elvis and his movie as the Follow That Dream Parkway!
Joanna Moore